Huhu ihr lieben,
nachdem ich letzte Woche aus Zeitgründen den FFF aussetzen musste, wollt ich mich diese Woche wieder daran beteiligen. Eigentlich. Denn ich finde die dies-wöchigen Fragen sehr ähm bäähhh. Also wieder nix hier.
Ist aber auch ok. Dann kann ich mich noch ein bisschen auf mein Wochenende vorbereiten.
I'm going to THE HIVE!!!!!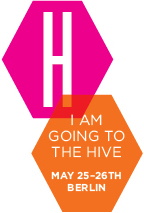 Ich habe ganz furchtbar kurzfristig noch ein Ticket ergattern können und habe dann ohne lange nachzudenken ja gesagt. Und nun sitz ICH auf einer Blogger Konferenz. Ahhhhaaaa wo ich doch gerade mal 5 Monate dabei bin. Keine Ahnung habe was ich hier tue, viele Sachen die ich gern hätte nicht umsetzen kann, bei manchen Worten nur Bahnhof verstehe und doch alles SO spannend finde. Ja, ich geh dahin. Und werde wahrscheinlich mit einem völligen Overload an Ideen, Inspirationen und To-Do unf Must-Dos und Want-Tos zurückkehren.
Aber vorher mache ich heute noch einen Abstecher in diesen Laden. Huii bin ich gespannt.
Und dann bastle ich noch ein paar Visitenkarten…
Bei mir also ein ereignisreiches Wochenende in Sicht. Und bei euch so? Treff ich jemanden in Berlin? Das wäre ja toll.
Liebe Grüße, Tobia