Ihr kennt doch sicher auch die Geschichte vom Suppenkaspar.
Lustigerweise verbinde ich mit dem Suppenkasper immer genau das Gegenteil.
Ich ♥ Suppen nämlich. Egal ob kalt oder warm, rot oder grün, süß oder herzhaft − egal Suppen gehen immer. Und Eintöpfe sowieso. Suppen sind Soul-Food. Sie wärmen. Sie sind lecker. Sie machen glücklich.

Wir starten mit meinem derzeit liebsten Rezept − Udon-Nudelsuppe.
Was man unbedingt braucht (für 2 Portionen)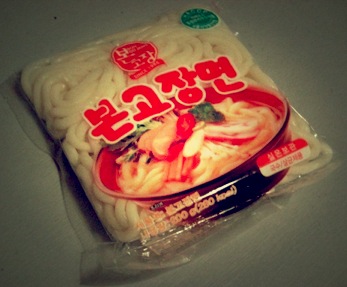 ◊ Udon Nudeln
◊ Sojasauce
◊ Instant Brühe (Gemüse oder Huhn)
Und nun etwas ganz nach Geschmack
◊ Lauchzwiebel
◊ Champignons
◊ Karotten
◊ Sellerie
◊ Garnelen
Die Zubereitung ist so einfach:
1. Man bringt die Udon Nudeln in Salzwasser zum Kochen und lässt sie dann ca. 3-4 min köcheln.

2. Währenddessen das Gemüse schneiden.
3. Nudeln abgießen und in eine Schüssel geben.
4. Gemüse kurz andünsten und mit 1Liter Brühe ablöschen.
5. Einen ordentlichen Schuss Sojasauce (ca. 2 EL). Eventuell noch Garnelen hinzugeben.
6. Alles kochen lassen bis das Gemüse gar ist.
7. Die heiße Brühe auf die Nudeln geben, servieren und genießen.
Dieses Rezept ist zur Zeit mein absoluter Liebling. Es geht so wunderbar schnell. Udon Nudeln sind bei mir mittlerweile Grundnahrungsmittel und den Rest hat man ja immer irgendwie im Haus. Probiert es mal aus und lasst mich wissen wie ihr es abgewandelt habt.
Kommt gut in die Woche!
0
Click and leave a ❤︎ if there is no time to comment.