I know I know we are almost half done with March and I still haven't shared my February books. Life is a bit stressful right now and so a few things fell to the wayside. But here I am. I had a really good reading month with many high rating books. And it is time to let you know.
Heart of the Sun Warrior by Sue Lynn Tan | ★★★★★
Goodreads says: After her perilous quest to free her mother, Xingyin thrives once more in the tranquility of her home. But her fragile peace is threatened by the discovery of a strange magic on the moon and the unsettling changes in the Celestial Kingdom as the emperor tightens his grip on power. While Xingyin is determined to keep clear of the rising danger, the discovery of a shocking truth spurs her into a treacherous confrontation.
What I thought: I couldn't wait for this book to be published so I can by it. I am glad I didn't. It is an adequate sequel to my favorite book from 2022. Again we follow Xingyin and her family and friends through turbulent times. I really liked that not everything was black and white especially when it comes to love. I found that was beautifully captured. But also the decisions made of emotions and longing. Overall wonderful read and I can not wait until I can hold both books in my hands. I am just waiting for the release date… And I just learned this duo logy will become a trilogy. Lucky me.
Medium: ebook from the library
Original Language and Title: English
Publications: not yet translated
Recommend to: Everyone loving fantasy, the asian culture and thrives for deeper characters with flaws.
Read Around the World: Malaysia
The Art of Herbal Healing by Ava Green | ★★★★★
Goodreads says: If you want to reconnect with nature and discover the healing power of herbs then keep reading… The truth is… our bodies give us signs to heal imbalances. But if we ignore these signs and ONLY rely on conventional drugs to cover up the symptoms instead of searching for and managing the root cause, it can be a recipe for disaster.
What I thought: What an amazing collection of knowledge. This was really really good. And have read a few books in this genre. First we learn specific details on certain plants. Each portrait with an illustration. Later we learn about how to harness the power of the herb in 14 different ways. Followed by 80 recipes fir specific illnesses. I really liked that Green acknowledged that wile herbal medicine is a powerful think there are certain diseases where they can not contribute and conventional medicine and doctors need to step in. This is a book I would like as a copy on my shelf.
Medium: ebook, read on kindle, snatched as freebie
Original Language and Title: English
Publications: German title "Die Kunst der Kräuterheilung: Heilpflanzen und Kräuterkunde für Anfänger"
Recommend to: Everyone wanting to learn about natures power and dabbling in homemade remedies.
Colourful Fun Embroidery by Clare Albans | ★★★★✶
Goodreads says: Take time out to be creative and de-stress with these colourful, fun embroidery projects from Hello! Hooray! Ranging from things you could complete in an afternoon to others that you can take your time over, enjoy every step of the making process as you focus on feeling good through being creative. The finished makes will bring colour and joy to your home, workspace and wardrobe.
What I thought:
Medium: physical copy from my shelf
Original Language and Title: English
Publications: no translation
Recommend to: Everyone enjoying DIY projects and who wants to get a start in embroidery.
Julia and the Shark by Kiran Millwood Hargrave | ★★★★☆
Goodreads says: Julia has followed her mum and dad to live on a remote island for the summer – her dad, for work; her mother, on a determined mission to find the elusive Greenland shark. But when her mother's obsession threatens to submerge them all, Julia finds herself on an adventure with dark depths and a lighthouse full of hope…
A beautiful and uplifting story about a mother, a daughter, and love – with timely themes of the importance of science and the environment.
What I thought: This book is something special. First thing you realize is the beautiful cover and when you open up the book it is littered with pretty aesthetic black and yellow illustrations. That alone is a standout. And therefore I can only recommend getting yourself a physical copy. The story was also beautifully written. I was engaged and read it almost in one sitting. While I knew beforehand it had mental health as a topic I found it cheerful and light. However it does get a bit darker, a bit more tense. Julia having dreams that are unsettling. While I was able to pin point the dramaturgy and understanding it I was a bit hesitant how kids would feel reading this book. I really can't say as I have no kids.
Medium: hardcover, review copy by publisher
Original Language and Title: English
Publications: German title "Julia und der Hai"
Recommend to: Readers that are interested in mental health issues and kids who have relations to bipolar disease. This is tough though. Very specific niche.
Copy provided by the publisher. My enthusiasm is my own.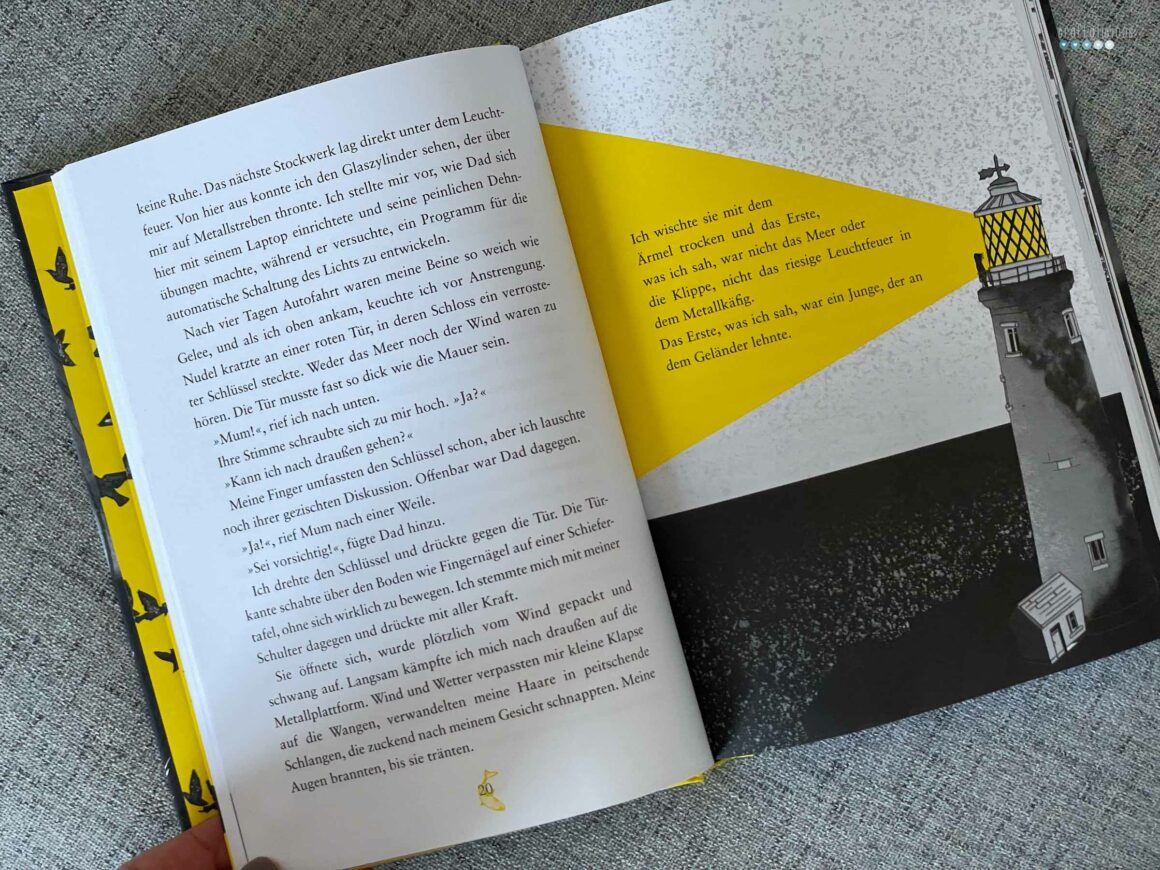 Next year in Havanna by Chanel Cleeton | ★★★☆☆
Goodreads says: After the death of her beloved grandmother, a Cuban-American woman travels to Havana, where she discovers the roots of her identity–and unearths a family secret hidden since the revolution…
Havana, 1958. The daughter of a sugar baron, nineteen-year-old Elisa Perez is part of Cuba's high society, where she is largely sheltered from the country's growing political unrest–until she embarks on a clandestine affair with a passionate revolutionary…
Miami, 2017. Freelance writer Marisol Ferrera grew up hearing romantic stories of Cuba from her late grandmother Elisa, who was forced to flee with her family during the revolution. Elisa's last wish was for Marisol to scatter her ashes in the country of her birth.
What I thought: I had no idea or any expectation about this book when I started it. So I wouldn't say I was disappointed but it also didn't grab me too much. I guess the story, the atmosphere, the thrill and fear wasn't a novelty for me growing up in Eastern Germany. So it fell a bit flat for me personally. Nevertheless I think it is a solid story and I was engaged and wanted to know what happened. I also gained a bit more insight in Cuban history and that is never a bad thing.
Medium: audiobook from the library
Original Language and Title: English
Publications: German title "Nächstes Jahr in Havanna"
Recommend to: Lovers of historic fiction and people who want to learn more about life in a dictatorship.
Books I couldn't finish
This year I will also list the books or audiobooks I started but that for some reason will not be finished. I want to keep a bit of track how many pages those books end up being.
I have nothing to report. Yeahhh.
New books on the shelves
I decided in 2022 I will also share how many books make it to my TBR list (only books I own otherwise we would sit here in years) and occupy my shelves right above the reading chair and also on my digital home on the kindle. Feel free to ask me in a few weeks if I have read them yet. HA!
What a fun month. So many good picks. True magic.
Let's hear it: What book did you enjoy this past month? What book was a total fail? Is there a new book that moved into your home? Do you like to read children's book? If I can only read one book in March which one should I pick?