Every once in a while I secretly mentioned I've spent the better part of 2013/2014 job hunting. And I hated it. But I also learned a lot. And I figured I tell you. Maybe it helps you. And if not it might at least be entertaining.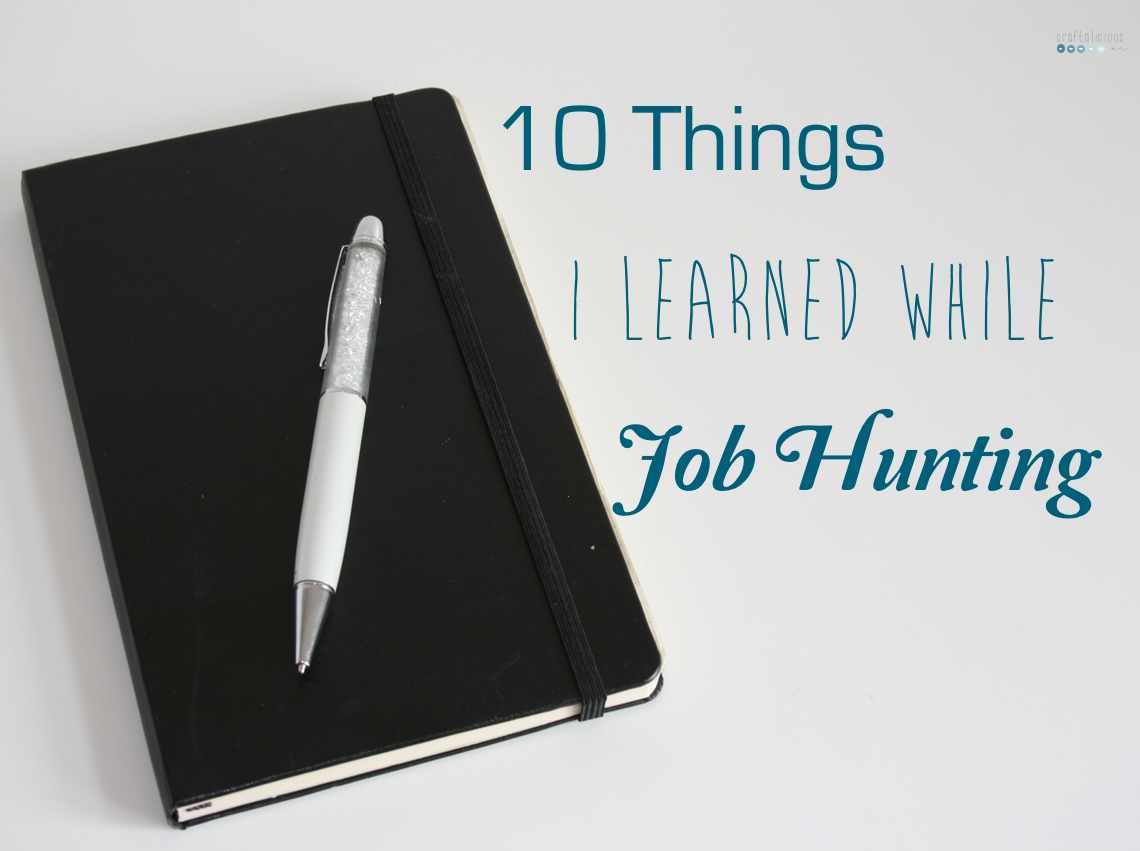 1. Take Notes before/during/after meetings
I started a little job note book and it comes in so handy. When I prepare an interview I write the important stuff in there: date, interview partner and position, position I applied for, salary I asked/will ask for, facts about the company, why me arguments, why I am interested and questions. During my first job interviews I felt stupid taking notes like I'm an eager high school student. So I wrote down all interesting things right after the meeting – best before talking to anyone because so your thoughts are not tainted. In my latest interviews I started doing pro/con lists about the job which really helped and I also kept filling in bullet points later on too. Because sometimes you ponder things in your sleep or under the shower and come up with new aspects.
2. Keep an overview of job applications
Most likely you'll write more than three applications. And you will soon get confused how exactly the title was where you asked for what salary and who your contact person is. So keep a simple excel file. Mine includes: date of application, closing deadline of application, job title, company incl. complete address, contact person incl. phone number and email address, status info, salary. I've kept a print out of this list in my purse so when I've received a call I was all prepared. And I had an overview of the applications and could call to see if I am still in the short list without spending precious time looking for phone numbers in the announcements.
3. The faster the better – 3 is the magical number
I realized that you should apply to a job opening within the first three days it's been made public. Otherwise you can just go chill in the sunshine. And if you haven't heard from the company within the first 3 days it's most likely your job app wasn't successful. This might not be true in every branche but due to my experience in marketing it is. The most successful reactions have been 20 min to 6 hours.
4. You might never hear from them again.
You don't necessarily hear back from the company even though you went to an interview.
Unfortunately that is true. Seems like there are no manners. I bet the company would like to get a reaction once offered a contract to an applicant… I actually sit down and leave a online review on job searching sites hoping they will change and someone else is not as annoyed as I am.
5. Ask who you are meeting with and become a stalker!
I find it strange that sometimes secretaries or HR personal is not giving you the name of the interviewer only if you ask. I personally like to know who I am talking to. Heck I even like to stalk them before the interview. You might learn the interviewer is from the same hometown, likes the same sport or has been on the same high school. Just drop it on the interview and it might make you the reason the remember you.
6. Try to make them remember you.
I know this one you can read in any guideline. But it is true. I make myself believe I have an advantage due to my name but who knows… And preferably they should remember you about something job related but who says you can't come up with something else? So when once the question "What's the most crazy thing you ever did?" was thrown at me I spontaneously answered: giving my white albino guinea pig a walk in a train station while I was sitting on the floor watching the Olympics on big screen. After the meeting I felt a bit stupid coming up with that story. But when I called in a couple weeks later they said: ah you are the one with the crazy guinea pig story…
7. Be true to yourself.
Now this one is a tricky one – at least for me and I am still in the process to apply this one to my life. For one you need a job to pay the bills – who doesn't? But what would you do if having all the financial freedom you want? I realized I keep on falling into known patterns because it's easier, I don't know better, I'm scared or people keep telling me I'm not good enough… BUT I promised myself I'll be listening more to my inner wishes and dreams and most of all listen to my gut feeling. When a new job feels weird and I am not comfortable with tasks/colleagues/atmosphere I leave. It's my decision and no one can force me to stay. Hopefully I take my own advice but for now I am happy.
8. Don't put up with every BS thrown at you.
When you are job hunting you really want a new job or you really need one. So most likely you're in the emotional state of being a "supplicant". At least there have been times I felt like this. There is one particular interview I can not get out of my mind because it was so unrespectful. And I wouldn't put up with it today. I've taken a day off for this one and when I walked into the door I first waited about 30 min. That can happen. But when it started they said: thank you for coming but we've given the job to someone else but still wanted to meet you. In that moment I was thinking: so why the hell I'm here wasting my time? However I figured "listen to them you always meet twice". So we started a second person showed up later (the position that needed to be filled due to her maternity leave). But then it started to get really weird: she started to move around the room opening & closing windows, curtains, getting stuff… I remember thinking "maybe I bore her". Ever since that day I wonder what would have happened if I'd have asked: am I boring you? Unfortunately I wasn't as quick and maybe too intimidated or maybe it was actually a test. Whatever, my reaction was wrong because either it was unrespectful or a test. Well I never heard back from them even though they said there will be a job opening up in another division and the would consider me.
9. Don' stress yourself.
Honestly if you are going to an interview they already like you. So don't stress yourself. I know this is easier said than done, but you are just not your best self when stressed. And if you really are stressed why not say: I'm a bit nervous because I want this job so badly. And you might even realize, that the interviewer himself is quite nervous himself.
10. Stay in contact.
Now this one is quite new for me too. I'm not that great with this networking specially with people I don't really know, met only once and might never meet again. But I've started to add them on linkedIn and xing either thanking them for the interview and wishing success to find a perfect candidate or saying that I would like to stay in contact no matter how my application will end. You never know where those people might end up or if another job will open up. Just happend to me 5 weeks after the first interview.
And now I've one more tip for you. Check out this Tedtalk by Amy Cuddy. Makes you own a situation so much more and gets rid of all the self doubt.
Good luck job hunting and leave a comment if you have more helpful tips.
Cheers, Tobia