Hello September, here you are. You came around a bit faster than anticipated but I like having you around. I've plans what we will do:
1.
I'd love to be outside a bit more and enjoy the cold summer air. Maybe have a walk through the nearby cemetery.
2.
See and actually realize the change of season. I want to appreciate nature a bit more and be awed by it. More often I hassle from one errand to the next being totally occupied with something else.
3.
Try out a new cake recipe. It's my mom's birthday and she always liked cakes a bit different. Back 15 years ago when hardly anyone knew about carrot cake it was her favorite. A couple years ago she got one with red beets. I am thinking avocado or zucchini for this year. Any suggestions?
4.
Have less migraines. August had me one too many times feeling bad. Maybe now with a little less heat it will be better. And I also need to integrate a few relaxing moments. So #2 comes in handy.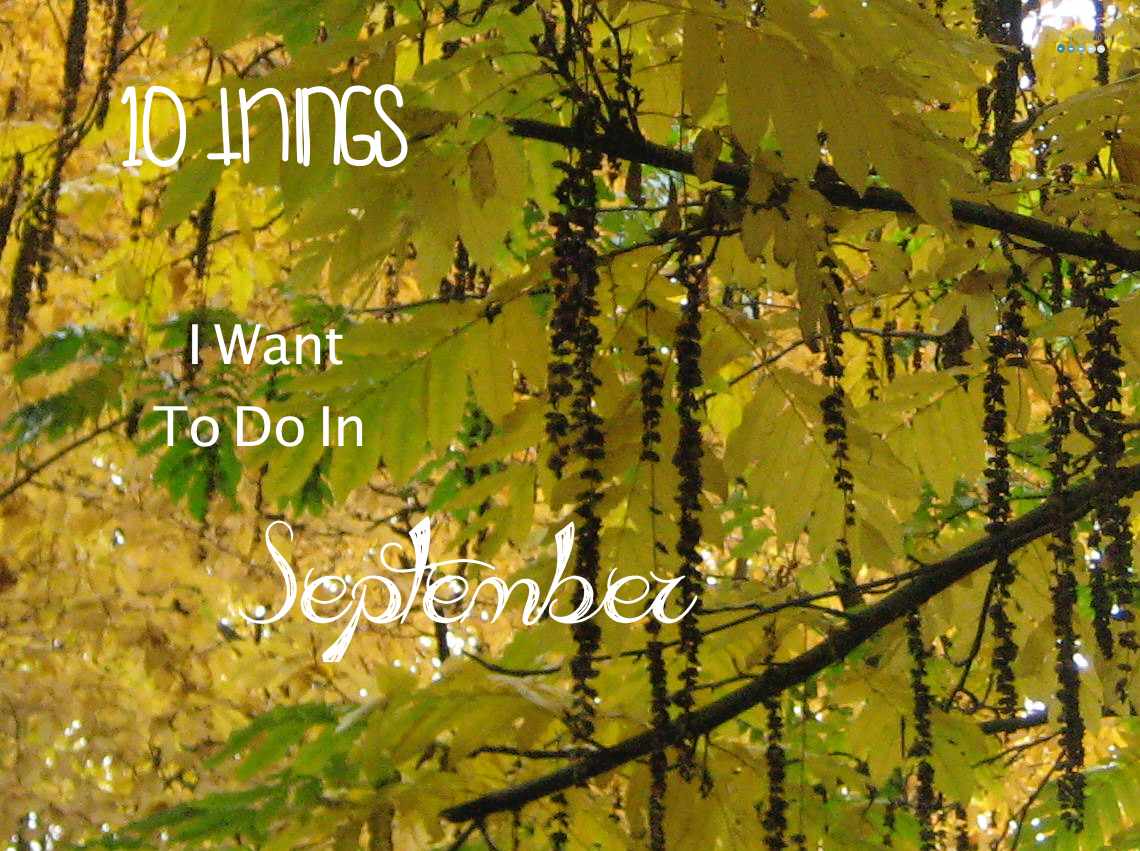 5.
Sew something for myself. I've got a billion projects on my mind. Mabe that long sleeve where the fabric is laying around for 5 years now? Or the new denim bag? Or now that the weather gets colder some PJ pants….
6.
Still struggling with one of my new year goals so I figured I walk more ways. I had a test run last week when I walked half way home from a doctors appointment. I plan on walking once a week (for starters) parts of my bus ride from work. It's a 5 km stretch and I could switch it up. I've seen there is a park parallel to the route the bus is taking.
7.
Make a chestnut necklace for my friends kid. Just because she would love it. Meeting here on Monday so better find a chestnut tree.
8.
Make the first dish with pumpkin. Last year I've came across an awesome risotto. But I also keep thinking about the butternut pasta. Or maybe try out pumpkin gnoccis.
9.
I want to dye my hair. Ever since I stumbled across Sarah's blog the thought stuck with me. And right now my hair is the longest it will ever get. If I don't like it I just cut it and ism done with it. I actually was set to do so last weekend but the highlighting didn't work out.
10.
Go to the sauna and start the season. I want to go more often but I never manage. Need to find a partner in crime. Any nice places in Berlin I should check out?
Well that's my list. Do you have plans for September? Share them, I might steal one.