The new year has started off with a whirlwind of events. I've been working for the past twelve days without much time to breath. For one of my clients the year starts with the most important trade fairs of the year and I was there for content production… and ended up doing sales jobs since so many buyers came by. It was fun but exhausting. Bonus was that the client is my cousin and we are a good team. It is always fun, inspiring and accompanied by good food. And therefore I am late late late with my book recap. And my reading goals for 2023. And a few other things. But better late than never and maybe you'll find some inspiration for your reading plans of 2023. So here is my belated book talk for November and December.
November was not a strong reading month when it comes to books. Only three books (two being audio books) were read. But December was a good one in quantity and quality. So lets see.
The Measure by Nikki Erlick | ★★★★★
What it is about: Goodreads says: Eight ordinary people. One extraordinary choice. It seems like any other day. You wake up, pour a cup of coffee, and head out. But today, when you open your front door, waiting for you is a small wooden box. This box holds your fate inside: the answer to the exact number of years you will live.
What I thought: This was another book club pick and I loved it. What a strange and thought provoking story concept. Of course we discussed if we would open the box, wanting to know the length of our string and all the philosophical and religious question that follow. Why did I like the book? Because it really had me stop reading and pondering the question. I also liked the different views of the portrayed people. I like the thought experiment of what it will do to the society, to the countries. I learned in the book club that the author plays with the greek mythology of fate and the threads of life. I do not know enough about that but I believe having that background the book gets even more exciting. This book could be an reread when I am a different phase in life.
Original Language and Title: English hardcover, paperback, ebook
Publications: German title "Die Vorhersage" hardcover, ebook
Recommend to: Everyone loving books in the Sci-fi genre but also enjoys a thought provoking story line making you think about your own choices.
Letters from Father Christmas by J.R.R. Tolkien | ★★★★★
What it is about: Goodreads says: Every December an envelope bearing a stamp from the North Pole would arrive for J.R.R. Tolkien's children. Inside would be a letter in strange spidery handwriting and a beautiful color drawing. They were from Father Christmas, telling wonderful tales of life at the North Pole. From the first note to Tolkien's eldest son in 1920 to the final poignant letter to his daughter in 1943, this book collects all the remarkable letters and pictures in one enchanting edition.
What I thought: This was such a treat to read. I read it as an advent calendar since it covers 23 years. I loved the easy stories, loved the different characters of Father Christmas, the North Polar Bear and his friends. I loved about the concept of the North Pole and all the fun little quirks. I only wished I had bought a coffee book edition (not sure that even exists) since I would have loved to look more closely at the drawn pictures. I am thinking about giving this to my godchildren when they start learning some English. I think that would be a fun way to learn the language.
Original Language and Title: English hardcover, paperback, ebook
Publications: German Title "Briefe vom Weihnachtsmann" coffee book edition, hardcover, paperback, ebook
Recommend to: Everyone loving Christmas and something special. Makes a great gift.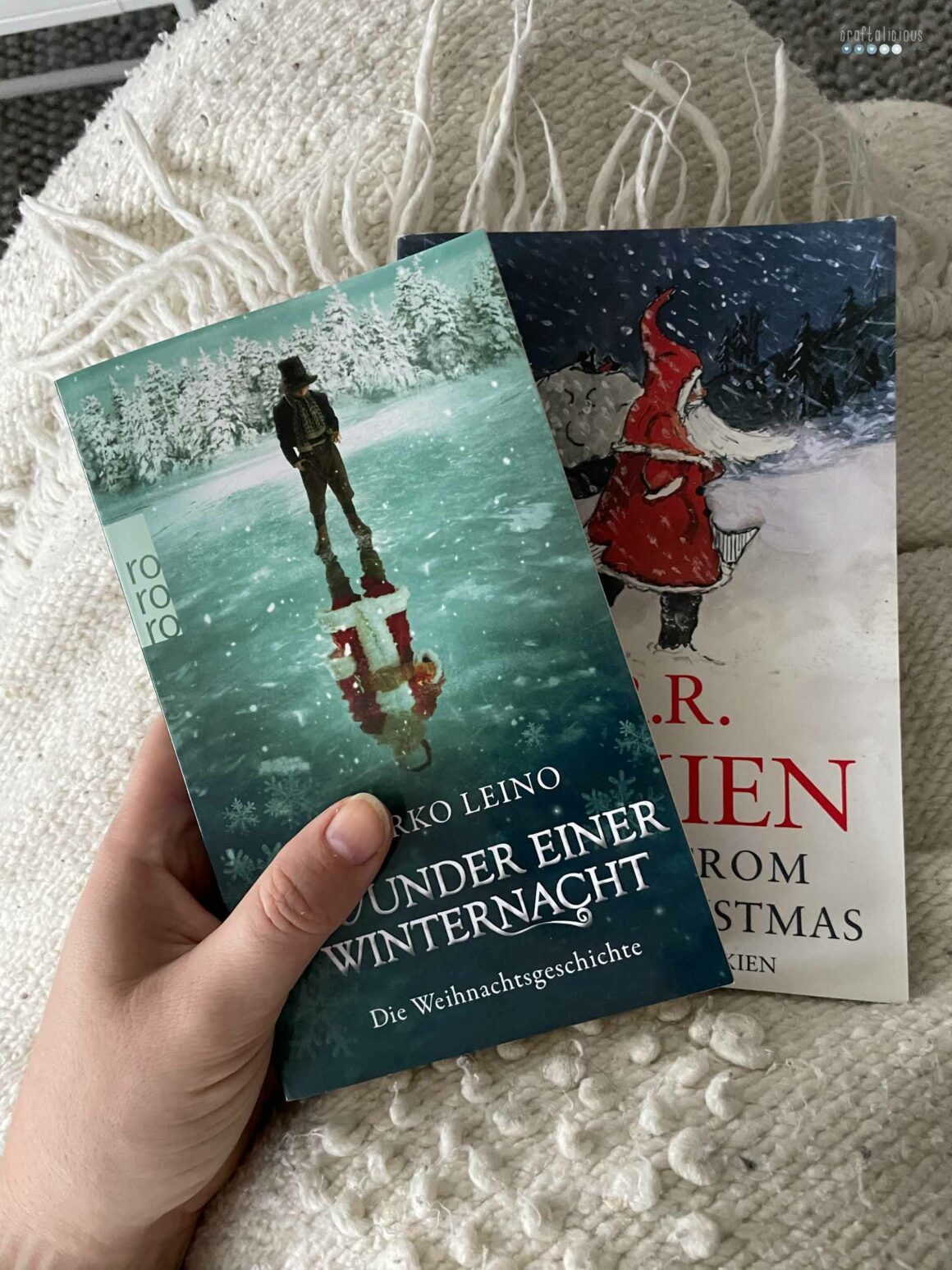 Joulutarina by Marko Leino | ★★★★★
What it is about: Goodreads says: High up in the north lives little Nikolas. When he is orphaned by a tragic accident, the whole village takes care of him. For one year, Niklas is allowed to stay with each family. When Christmas Eve approaches, he must move on. Full of gratitude, Niklas carves presents for "his" family year after year. When he is apprenticed to the vicious master carpenter Lisakki, his happiness seems to be over. The beardy old man hates children…
What I thought: I have seen the movie a couple years ago and loved it. When I learned there is a book I had to get it. I loved it even more. It is told in 24 chapters – perfect for another reading advent calendar. Also for reading to children. I love how the author tells Nikolas story from a five year old to the end. The character develops, goes through heartache and finds life again after grieving, keeping his loved ones close, spreading joy and still feeling lonely. All the emotions. I might have shed a tear. It is sad at times. But live is too. I think it is a wonderful story. Definitely something I will read again and again.
Original Language and Title: Finnish "Joulutarina"
Publications: German title "Wunder einer Winternacht" hardcover, paperback, ebook || I have seen French and Italian editions and I am hoping it will be translated to English.
Recommend to: Everyone that loves Christmas stories. Who wants to read a holiday story is not main stream or a romance.
The Last Thing He Told Me by Laura Dave | ★★★★☆
What it is about: Goodreads says: Before Owen Michaels disappears, he smuggles a note to his beloved wife of one year: Protect her. Despite her confusion and fear, Hannah Hall knows exactly to whom the note refers—Owen's sixteen-year-old daughter, Bailey. Bailey, who lost her mother tragically as a child. Bailey, who wants absolutely nothing to do with her new stepmother. With its breakneck pacing, dizzying plot twists, and evocative family drama, The Last Thing He Told Me is a riveting mystery, certain to shock you with its final, heartbreaking turn.
What I thought: Listened to it and I absolutely loved escaping into this story. I think reading it would have build up even more suspense. I liked the character development. The struggle Hannah as stepmom has. Trying to do it all right but running against the wall of a teenage daughter. How they slowly start to get closer. How Bailey tries to understand, struggling with her identity and finding her place. It was a great story and wonderful entertainment.
Original Language and Title: English hardcover, paperback, ebook
Publications: German Title "Beschütze sie" hardcover, paperback, ebook
Recommend to: Everyone loving a good mystery and suspense story set a little differently than you would expect.
Dele weds Destiny by Tomi Obaro | ★★★★☆
What it is about: Goodreads says: The story of three once-inseparable college friends in Nigeria who reunite for the first time in thirty years at a lavish wedding in Lagos for one of their daughters—a sparkling debut novel about mothers and daughters, culture and class, sex and love, and the extraordinary resilience of female friendship.
What I thought: I downloaded the audio book because of the cover. I was not disappointed. I loved that the story was set around friends in their 50s (?). They meet for one daughters wedding in Nigeria. Traveling from the U.S. with her daughter to meet. Old stories come up. Old heartaches appear. We learn that not all is how it looks like. We see each of the woman struggle with different things in her life. We see how all sorts of characters. I think the audio book was excellent as it included the accents, dialects and ways of speaking. For me that increased the experience. A wonderful chance encounter this book.
Original Language and Title: English hardcover, paperback, ebook
Publications: German title "Freundin bleibst du immer" hardcover, ebook
Recommend to: Everyone loving books about friendship and like to dive into other cultures.
Für immer Weihnachten by Linda Winterberg | ★★★★☆
What it is about: Goodreads says: Christmas heals all hearts Frankfurt, 1951: Eva has lost her husband in the war, her little daughter Lotte has been seriously injured. Now Eva hopes for a new beginning with Paul, but the experiences of the war don't let him go either, and he keeps the reason for his refusal to celebrate Christmas from her. Then Lotte meets a dwarf donkey who turns her life completely upside down. One day before Christmas Eve, Eva is standing in the street with her child, and it is the little donkey, of all things, who helps the two of them achieve a real Christmas miracle. But will they also succeed in leaving the past behind – and become a family with Paul? A touching Christmas story
What I thought: This was a. really fun audiobook to listen to and to get into the Christmas spirit. It is not one of the cheesy romances but more heartfelt, deeper. The characters struggle, they have their heartaches, their traumas. It draws a picture life in post WWII Germany. And yet Christmas miracles can happen. It feels real. It could have happened like it. Time well depend.
Original Language and Title: hardcover, ebook
Publications: didn't find any translations
Recommend to: Everyone loving a heartfelt story that gives hope.
Auftrittsverbot by Maria Nooke and Susanne Kschenka | ★★★☆☆
What it is about: The blurb says: Stephan Krawczyk and Freya Klier were among the best-known dissidents in the GDR. Banned from performing in public by the authorities there since 1985, their only option was to perform their socially critical programs in church venues. How the situation escalated in 1987, what conflicts there were between state and church, but also within the church, and how the conflicts led to the mobilization of the political opposition in the Cottbus district, is documented using the example of the Lusatian concerts of the opposition artist couple. A historical retrospective, contemporary recollections, historical photos and archive documents, an essay by Stephan Krawczyk on the content and significance of the programs classified as "hostile-negative" by the MfS, and a panel discussion with contemporary witnesses from 2019 provide revealing insights into the events of the time and the reappraisal of what happened in the present.
What I thought: I am biased about this book as it was written by my mom and a family friend. I've read it in one sitting. It is very scientific. A very niche topic about a certain time in history in a very specific location. I do not believe it is of much interest of people outside this area or for people studying that particular time in history. Nevertheless it is important to document those stories that happened and how the "Stasi" – the secret service of the GDR was operating.
Original Language and Title: German paperback
Publications: no translations
Recommend to: Historically interested people about the Peaceful Revolution.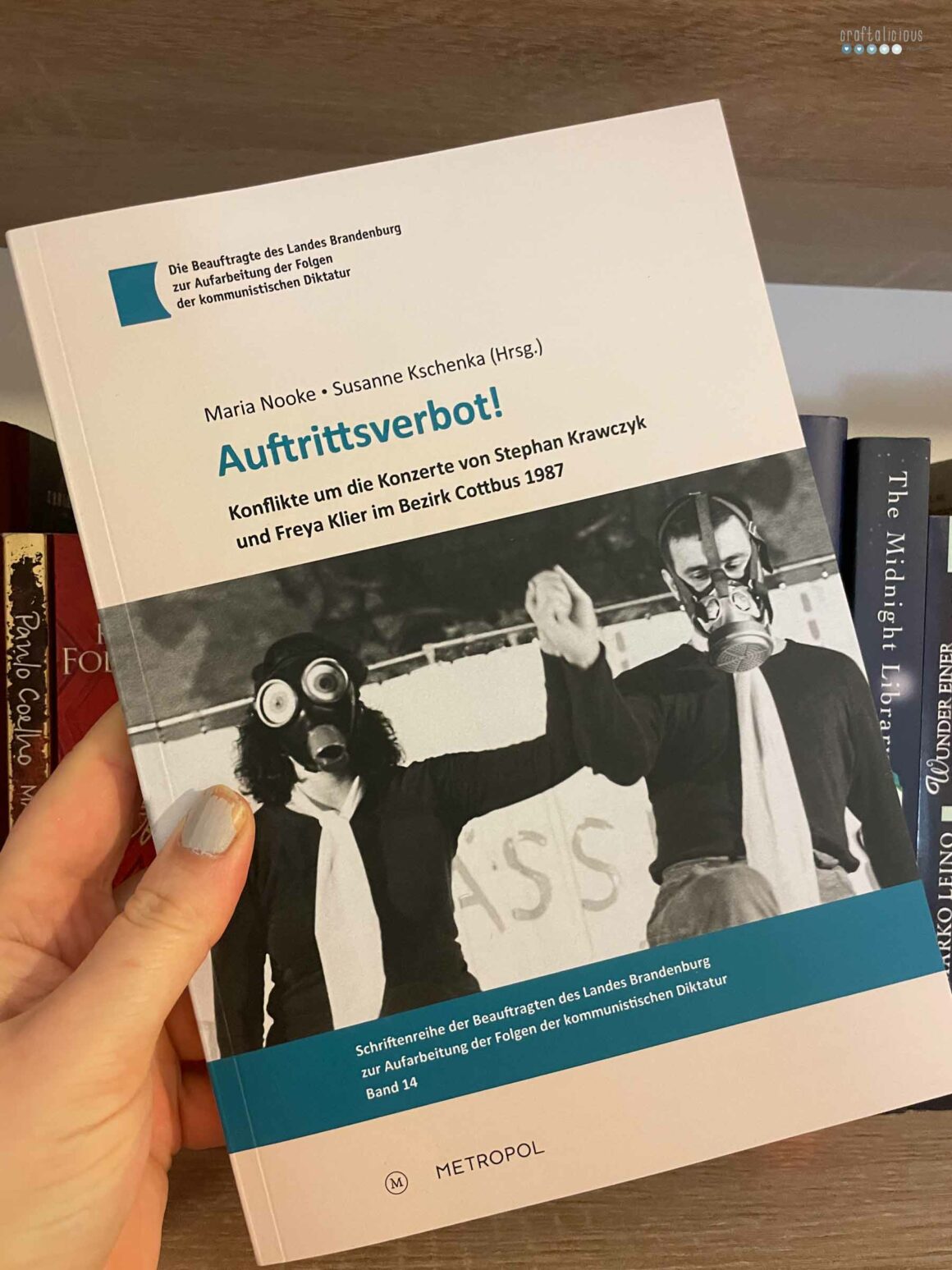 Snøsøsteren by Maja Lunde | ★★★☆☆
What it is about: Goodreads says: Soon it will be Christmas Eve. For Julian, it's the most beautiful day of the year. Gingerbread and clementines, the crackle and pop in the fireplace, the flickering light of the candles. What's more, Julian turns ten on Christmas Eve. But this year everything is different. June, Julian's big sister, is dead. A deep shadow lies over the family. And Julian really only has one feeling: Christmas is canceled. Until Julian meets Hedvig one winter's day. Hedvig has green eyes, talks faster than the wind and loves Christmas more than anything. Slowly, Julian believes that there might be a Christmas for him after all. But Hedvig has a big secret
What I thought: Another ebook to get me into the Christmas mood. I enjoyed this tale. Again it is about heartache, grief and how people come together. I enjoyed the perspective of a 10 year old. The fantasy, the joy and the longing. It is a wonderful Christmas story.
Original Language and Title: Norwegian "Snøsøsteren"
Publications: German title "Die Schneeschwester" hardcover, ebook || and many other European translations, couldn't find an English one
Recommend to: Everyone loving Christmas stories and a feel good book that isn't to bland.
The Hitchhiker on Christmas Eve by Judy Moore | ★★★☆☆
What it is about: Renee has barely slept or eaten for two weeks. Her hair is ratted, her eyes are puffy and bloodshot, and her clothes are filthy. In the throes of an anxiety attack, she decides to commit suicide by jumping off a nearby bridge, though the thought of it terrifies her. As she drives the bridge through the Virginia countryside, she considers driving into an oncoming cement truck. But at the last moment, she can't do it. Then, she sees a dark, foreboding man hitchhiking. On a whim, she stops and picks him up. What does it matter anyway? She immediately regrets her decision. Who is the intimidating, tattooed hitchhiker – and what are his plans for her?
What I thought: I read this story one night I couldn't sleep. Easy fun and entertaining. I liked that it was a bit different from the common Christmas Romance novels. A bit more dare devilish I guess. It does start off with a suicide attempt. The despair is carried into the following actions and decisions. I lied it well enough.
Original Language and Title: English paperback, ebook
Publications: no other languages published
Recommend to: Everyone loving Christmas stories and Romance.
Henry's Holiday Charade by Danielle Thorne | ★★★☆☆
What it is about: Goodreads says: Henry Caldecott is the reluctant heir to a successful hotel chain. Amanda Hill is trying to get through Christmas without any more debt. When they splash into each other at the chilly Cedarville Library pond, Henry sees the perfect opportunity to make a deal to survive the family Christmas party. All it takes is rescuing a chatty, hyper, damsel-in-distress, but Henry soon realizes Amanda is better than any debutante worthy of his snobby family's acceptance, and that he's the one in need of rescue.
What I thought: Another quick middle of the night read. For that it was nice enough entertainment. Kept me interested, but wasn't too exciting. Not a fan of the rich/famous boy trope though.
Original Language and Title: English paperback, ebook
Publications: no translations found
Recommend to: Everyone enjoying romance and Christmas stories that are easy to read.
Deutschland, Ein Wintermärchen by Herman Hesse | ★★✶☆☆
What it is about: Goodreads says: Germany. A Winter Tale is a satirical verse epic. Since 1831 Heine had been living in exile in France; because of his critical works, he no longer felt safe from the German censors and police. In late 1843 Heine went back to Germany for a few weeks to visit his mother and his publisher, Julius Campe, in Hamburg. It was on his return journey that the first draft of Germany. A Winter Tale took shape. The verse epic appeared in 1844, published by Hoffmann and Campe, Hamburg; and before the year was out, the book was banned in Prussia and the stock confiscated. In December 1844 King Friedrich Wilhelm IV of Prussia issued a warrant for Heinrich Heine's arrest. Before the book could be published elsewhere in Germany, outside Prussia, Heine had to shorten and rewrite it.
What I thought: Listened to it as an ebook. Hoped for some nice story about snow and ice and Germany. Well it was not. It was a political observation of Germany while Hesse traveled back from France to his hometown Hamburg. I did finish it and I am sure it has its relevance in literature but I found it a bit boring. I guess I was expecting something very different and wasn't prepared for it. And I obviously didn't read the blurb.
Original Language and Title: German hardcover, paperback, ebook
Publications:English title "Germany a Winter Tale" hardcover, paperback
Recommend to: Everyone enjoying classic literature and wanting to learn about historical events.
Christmas of Love by Erin Wright | ★★☆☆☆
What it is about: Goodreads says: Cowboy Austin Bishop doesn't want a lot for Christmas. He especially isn't looking for love. But romance shows up anyway, in the form of the most beautiful, curvy redhead he's ever seen. Suddenly, canoodling under the mistletoe seems like the best Christmas activity this side of eating homemade snickerdoodles. A fling with no strings attached? There's no better way to celebrate the holidays. Except, partway through the twelve days of Christmas, it stops being a fling and starts feeling like a whole lot more. But Ivy has secrets, and so does he…
What I thought: Quick read. A little bla. A little too predictable. Didn't really get the secrecy Ivy was doing. Didn't make sense to me.
Original Language and Title: English hardcover, paperback, ebook
Publications: no translations found
Recommend to: Everyone who doesn't find anything else and loves Christmas Romance. But you don't miss out if you don't read it.
As it is a tradition for me to gift my godchildren only books for Christmas I have read those that were and option. This year it was more of educational reads and no fun novels. But those novels are definitely the safer choice and will be for next year.
Mein Geld, dein Geld by Mike Schäfer | ★★★★☆
What it is about: Amazon says: Children come into contact with money at the latest with pocket money. While some spend it immediately, others put their money in the piggy bank. Children behave intuitively here, because coins and notes fascinate them and they observe adults very closely in everyday life. Understanding that money is in motion, that it can run out or multiply, forms the basis for sustainable and conscious handling. You don't talk about money? Yes, you do. A book for a relaxed approach to money.
What I thought: This was a fun read. In short chapters all the different forms of money (coins, paper, credit cards, giro, crypto) are covered. It also talks about the history of money from barter to modern days. I personally found it very up to date. It also explained that some work is paid for and some is not taking into account all the care work. often done by women. The books had fun illustrations with a few speech bubbles that make reading even more fun. A really great book to get an overview of money and why it is so important and yet not available for all.
Original Language and Title: German hardcover
Publications: no translations as of now
Recommend to: Kids who enjoy educational reads, want to get an understanding for money and enjoy learning.
Welcome to your Period by Yumi Stynes | ★★★★☆
What it is about: Goodreads says: Getting your period for the first time can be mortifying, weird and messy – and asking questions about it can feel even worse. But it doesn't have to be like that! This little book is packed with honest advice on all the things you need to know: from what cramps feel like to whether you can feel it coming out, to what you should do if your pad leaks onto your clothes. Welcome To Your Period includes case studies, first-person accounts and questions from real teens (and answers from real experts – us!) so you can manage your period like a boss.
What I thought: I really think this book is excellent for young girls who need/want to educated about the topic. I liked that it was written with a Paediatrician specialized in menstruation. The real questions and first person accounts added credibility and made it very relatable. I think the medical and scientific background was explained in appropriate depth for a first encounter with the topic. The book only briefly mentioned the whole sexuality (when explaining what periods are for) but also mentioned that this will not be discussed in this book. Added value was the chapter about girls you are raised by fathers or have no guardian to talk to. The hands-on tipps for those situations were good. I also think the whole topic was regarded playful without being ridiculous. I think I would have enjoyed this book as a young girl. And I even learned something myself…
Original Language and Title: English hardcover, paperback
Publications: German Title "Gute Tage, wie du die Regel geregelt kriegst" paperback
Recommend to: Young girls, their mothers put also father and brothers and everyone who needs to know about it. It is an excellent book to get familiar wit the topic.
Own your Period by Chella Quint | ★★★☆
What it is about: Goodreads says: This fact-filled guide to periods is bursting with positive, honest advice on managing and understanding menstruation. Having a period is an incredible thing – Own Your Period celebrates what the body can do and provides young people (age 9+) with everything they need to be prepared… and empowered.
What I thought: This book was recommended to me as a good one to give to young girls. I am very very glad I have read it beforehand. I personally do not think this book is for young girls. The author herself says it is for this age group but gets carried away in her political and feminist believes. While they are valid I do not think it is the right moment to talk that you girls when they are more than confused about their body and the changes happening. Also I find it rather disturbing that she talked about some rather intimate things without putting them into perspective (consent, health, etc.). So definitely not for young girls or as literature to get educated about this topic. One positive thing though it was very inclusive of also addressed that not all women menstruate, that some may that not identify as women. Also the images and graphics were very diverse and good.
Original Language and Title: English, paperback, ebook
Publications: German title "Mut zum Blut" hardcover
Recommend to: Definitely not recommended for kids. Maybe when you have had your period a while and want to advertise for more positivity.
New books on the shelves
I decided in 2022 I will also share how many books make it to my TBR list (only books I own otherwise we would sit here in years) and occupy my shelves right above the reading chair and also on my digital home on the kindle. Feel free to ask me in a few weeks if I have read it yet. HA
And this was my Book Talk November and December and the end of another great reading year. I have already talked about my most favorite books of 2022 in a previous post..
Happy reading,
Tobia