Es ist Wochenende. Oder fast ganz bald. Ich freue mich ja drauf – IMMER. Habt ihr schon Pläne? Also ich hätte eine Idee für einen Ausflug – egal ob Frühstück oder Shoppingpause. Ist nur leider in Berlin. Mhm naja, alle anderen müssen eben herkommen.
Vor einiger Zeit war ich zum Frühstücken in der kleinen feinen Stube von Princess Cheesecake. Ich bin schon einige Male daran vorbei gelaufen und immer lief mir das Wasser im Mund zusammen. Aber rein hatte ich es bisher nicht geschafft.
Nun aber. Und es lohnt sich. Aber seht selbst.
Yeah almost weekend. I'm so looking forward to – ALWAYS. Do you have any plans? I have an idea for a little getaway – for breakfast or after a shopping trip, it's doesn't matter. Just it's in Berlin… Well guess you just have to come here!
A little while ago I went to this wonderful magical place called

Princess Cheesecake

. I have been passing this café a few times and always was I drooling. Now I finally made it in. No mistake! But see for yourself.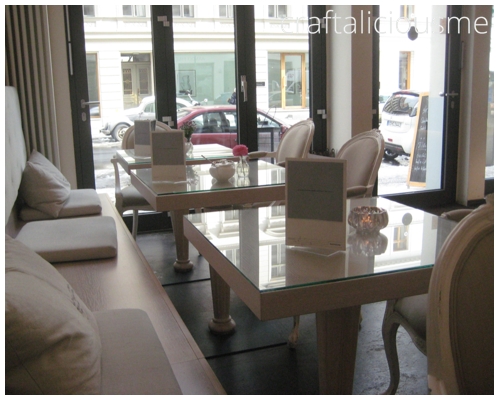 Obwohl es auch Pancakes (3 kleinere) mit Birchermüsli, frischem Obst und frischgepresstem O-Saft für 4,50 € gab, sind wir doch lieber direkt zum Kuchen übergegangen.
Wir haben uns nach langem Hin und Her für den White Coco Lala (Kokos-Käsesahne mit Mount Gay Rum extra old & Magerquark) und den I love New York (New York Cheesecake) entschieden.
Even though they offered a breakfast with pancakes (3 smaller ones) and Bircher muesli, fresh fruits and fresh pressed orange juice for 4,50 € we decided we get started with cake right away.
After some tough time deciding we picked a White Coco Lala (Kokos-Creamcheese with Mount Gay Rum extra old & low fat curd) and I love New York (New York Cheesecake).
Die Kokos-Torte ein Hauch von nichts. Ganz leichte Creme, fein im Geschmack und einfach nur zum dahinschmelzen. Der NY Cheesecake hatte dagegen richtig bums. Mächtig, leicht zitronig und unglaublich lecker new yorkig.
The Coco-Cake was like heaven. A very fluffy, delicate cream with dainty taste and just heavenly. The NY Cheesecake was much richer and stronger in it's taste with a hint of lemon and so unbelievable new york.
Wer kurz auf einen Lunch vorbeischauen will, es gab auch zwei Sorten Quiche zur Auswahl.
Ihr findet Princess Cheesecake in Tucholskystraße 37 | 10117 Berlin.
Nächste S-Bahnstation Oranienburger Straße.
If you want to stop by for lunch they also had two different quiche to choose from.
You'll find Princess Cheesecake at Tucholskystraße 37 | 10117 Berlin.
Closest train station is Oranienburger Straße (S-Bahn).
A quick question as I am new to blogging and just figuring it out on the way: Do you like to get some inside tips on cafés and nice little places in Berlin? Is that interesting?
Jetzt eine Frage: interessieren euch so kleine feine Läden? Ist das spannend? Wollt ihr mehr davon? Ich bin ja noch am Anfang des Bloggens und schreib einfach alles was ich mag…
Nun aber erstmal ein tollen Start ins Wochenende (bei -3° C und Schneetreiben). Happy Frühling. Aber wir haben ja noch eine Woche bis Ostern!