Immer Freitag beantworte ich ein paar Fragen von Steffi.
Gestern auf dem Alles wird gut Abend habe ich sie sogar getroffen hihihihihi. Ich hab immer noch ein Grinsen im Gesicht. Aber hier meine Antworten:
1. Dein Bild der Woche? * 2. Was wirst du heute nicht machen? * 3. Was hat dich diese Woche überrascht? * 4. Wofür hattest du viel zu wenig Zeit? * 5. Mit wem oder was hast du schöner Weise viel Zeit verbracht?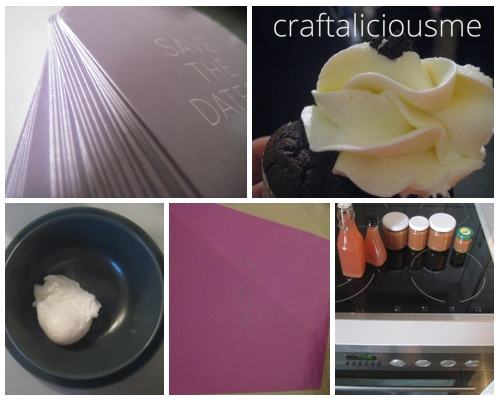 ♥
1. Unsere Save The Date Karten sind eingetrudelt. Ein bisschen stanzen, schippeln und binden ist schon erledigt. Nur die Briefumschläge fehlen noch…
♥
2. Cupcakes essen. Die gab's nämlich gestern Abend schon.
♥
3. Ich hab ein Ei poschiert ähh pochiert. Das erste Mal. Und es hat echt super geklappt.
♥
4. Mich um meine Zukunft kümmern…
♥
5. Das klingt jetzt vielleicht doof aber mit meinem Herd. Es wurde Marmelade und Sirupse, Sirups, Sirupe (was bitte ist der Plural von Sirup….) gekocht. Mögt ihr Rezepte haben?!
♥

So jetzt hol ich mir mal einen Kaffee und les mich durch eure Blogs. Hier gehts lang.
0
Click and leave a ❤︎ if there is no time to comment.