We are entering soup weather here in Germany. And I am loving it. I could eat soup (almost) every day. So many variations, so many flavors. Salty, spicy, and even sweet. A favorite is my German potato soup as it now called. It was my signature dish I cooked for my host family when I lived in Idaho. It was the first dish I could really cook all by myself. After long phone conversations with my mom because it's those kind of recipes that get made all the time and have no written record of how to make it. Well, here I am finally sharing it.
Lets cook German Potato Soup
I love homemade broth for my soups if I have the time. If I don't I try get canned one as I prefer that to the instant one. However it is up to you how you proceed here and what you prefer. I share the recipe with homemade broth as I never had it made differently.
Here is what you need for the soup:
soup greens – in Germany you can buy that prepackaged in a super market. It includes about half a piece of leek, a quarter of celery root (preferable not pascal celery), about 3-5 carrots and three stems of parsley.
Spices: 3 laurel leaves, 10 juniper berries, 5-10 allspice/myrtle pepper, parsley
1 kg of starchy potatoes – you can use other it will increase cooking time
about 6 Wieners or HotDogs
for seasoning: Instant vegetable stock, salt, pepper, more parsley if you like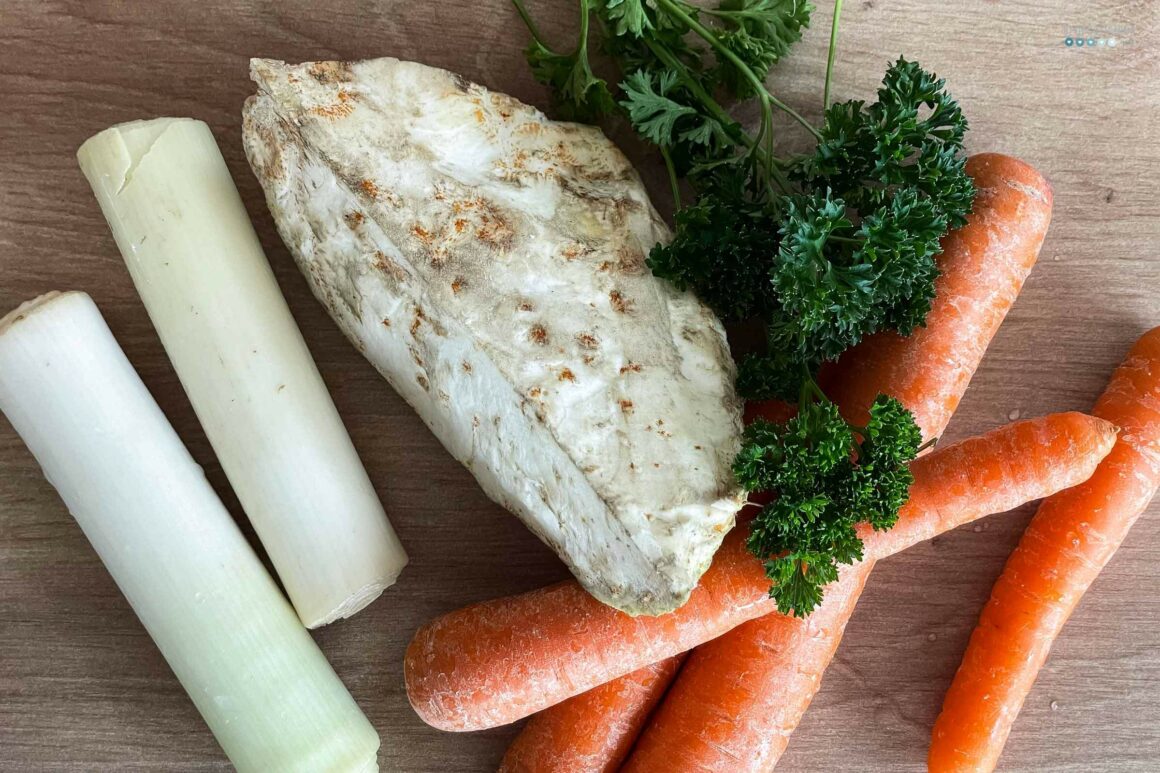 How to make the soup:
Cut up the soup greens. Don't cut it too small or it will be hard to remove them later.
Fill a large pot with cold (!) water and add in the veggies and spices. Using cold water and slowly heating it up will extract more flavor from the veggies. Let simmer for at least an hour.
Cut potatoes – don't need to cut small pieces – and add in. Let simmer for at least 30 minutes.
Now remove some of the soup greens. I usually take out most of the celery as I don't like it much. Also some of the leeks. I leave in all carrots. Also remove the laurel.
Now use a hand-held blender and blend until it's smooth.
Leave on low heat.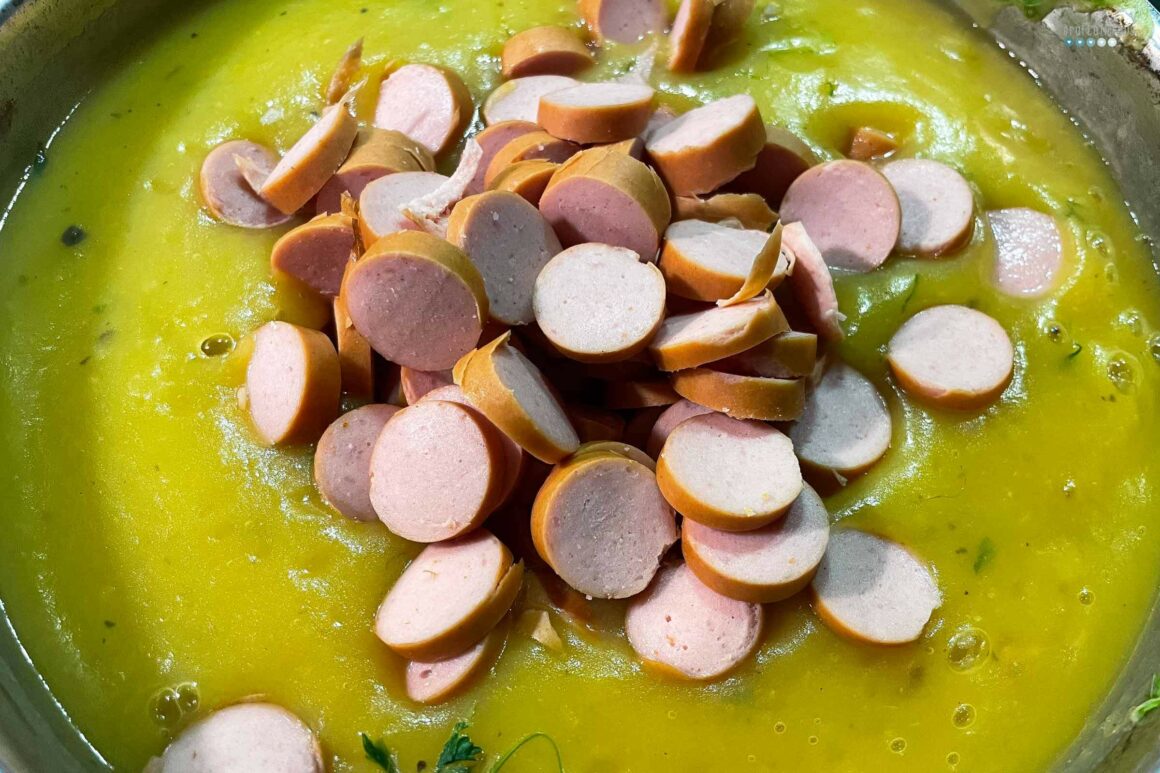 Slice wieners and add to the soup – they will give an extra flavor.
You could leave them out or substitute with vegan hotdogs. For me it needs to be with wieners for the flavor. The longer you let it sit the more flavor it will get.
now add salt, pepper and maybe a bit of instant stock for flavor. Also if you like add fresh chopped parsley.
Serve hot.
This soup actually gets better when it sits a while. So you could prepare and heat up or freeze. I usually make a huge batch and then have it again a few days later and also put some into the freezer – if I have left overs. Rarely though…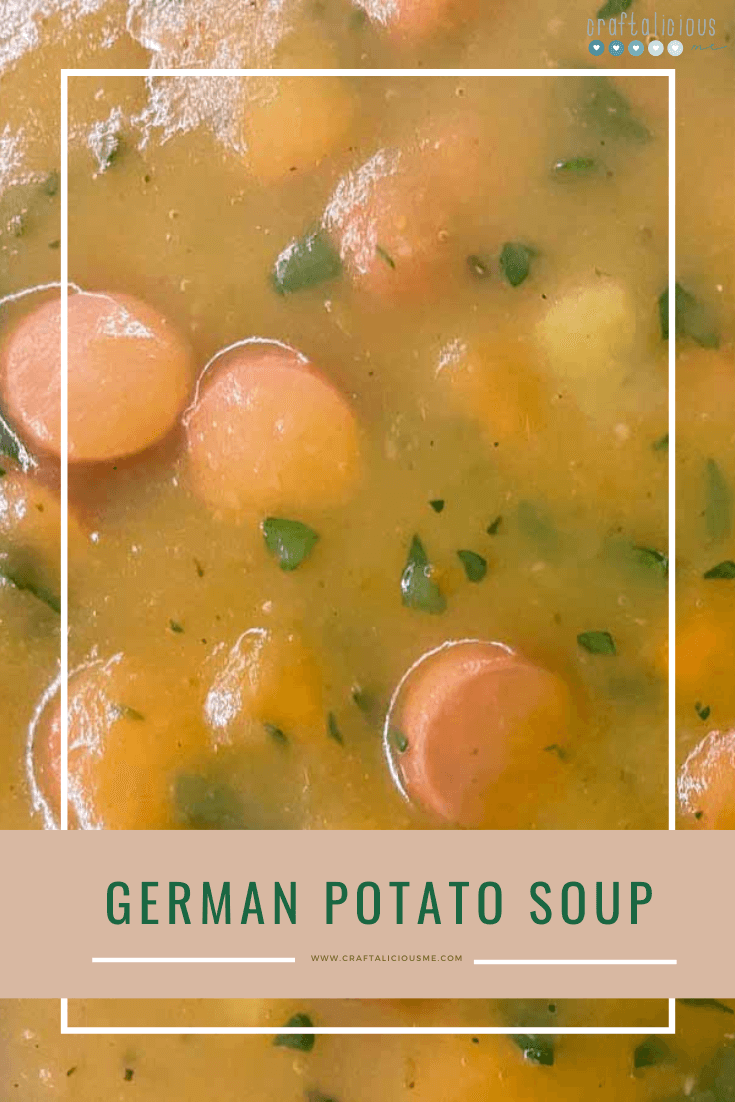 Have you ever had this sort of soup? Will you give it a try? What is your family favorite? And what was the first dish you could cook on your own?