Ok, now let's get a bit silly today and talk about socks. I recently discovered that having fun foot wear is setting me off to a good start. Happy feet happy day basically. And who can't use that right now.
I am not sure when all this started – maybe its pandemic based. Maybe it started when I became a solo entrepreneur. Being in the home office all the day and walking around without slipper it's just fun to look at happy footwear when you wiggle your toes. And no one is judging you either.
I wasn't always that adventures when it comes to my socks. For years I was actually really practical. I bought the sam socks in big backs – mainly black a few white ones and once I went crazy with blues. The advantage only having 3 kinds of sock in the drawer is obviously. Never looking for the matching pair. If one sock has a hole throw it out because the other one will fit with any spare sock. This system was working for years. I mean it's pretty smart, right?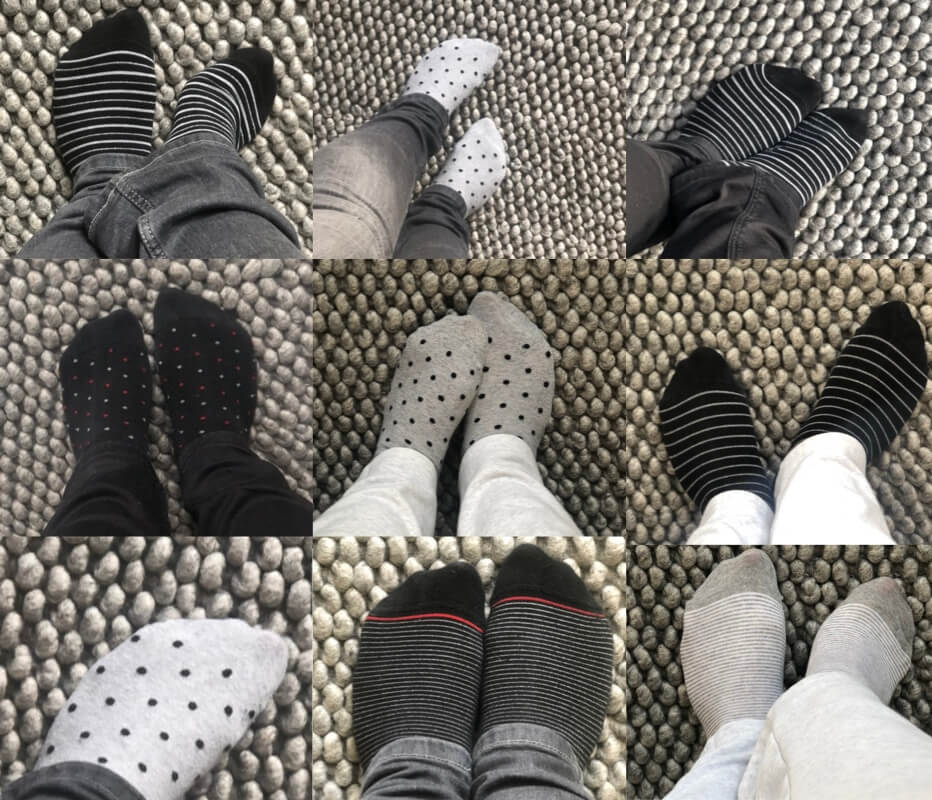 But as I mentioned for some reason it got a bit boring. However I stayed true to my main style theme. My wardrobe contains only a selection of colors – that hasn't changed in the last five years. I have many shades of blacks and grey. I do own a good selection of blues and coral shades and also whites. And my socks are actually still black and grey – now they just have polka dots and stripes and sparkles. Sparkling socks are perfect for days that need celebration. Polka dot sock are a good companion when I feel playful or need some cheer up. And stripes… Stripes are always a good choice.
Do you have any quirks when it come to socks? Or maybe style in general. Are you going only with a certain color scheme? Or patterns?
While I like my socks to look fun I wouldn't say I am an addict. I do not follow brands or instagram accounts that are dedicated to happy feet and fun socks. I didn't even know that was a thing hence a community out there. But I guess nowadays you can find like minded people with every quirk there is.
Right now I wouldn't mind some bluish socks with polka dots though.
Happy toe wiggling
Tobia