Hey Lovelies,
I have always wondered if I have a certain personal style. There are times when I feel insecure in my clothing choices. Mainly in job situations where I feel my style is not showing off this business power woman I want to be or maybe feel like I need to be?!
I love the style of these ladies. Powerful yet femine, sexy but not showing anything really.
I have a whole Pinterest board devoted to: Kate's, Gwen's, Eva's and Victoria's Style – Fashion.
I realize when browsing through patterns I usually liking and earmarking dresses maybe skirts.
So why do I usually end up with jeans and T-Shirt? Because it's comfy! So is comfy a style? But then there was a time when I loved to wear suit pants. Followed by a phase wear I just loved wearing gym clothes (the tight stuff) mixed with jeans. That felt so energetic and ready to jump at any adventure. But then came the business world and with that the confusion. Every business area has it's own styling characteristics. So the closet was stacked with black dress pants and the red sneakers found their way into the trash bin.
Well until working at a fashion label in December 2013. Since than dresses and skirts appeared in my closet. And some of those skirts I've been sewing – because, hello, easier than pants – were actually worn outside the apartment. And despite my love-hatred they actually do feel comfy too. Only I really don't like tights, but maybe I haven't found the best ones yet?! Anyway so suddenly more feminine clothing…
But what does it say about me? Am I a push-around to wear whatever is considered normal? Or am I just a chameleon trying to fit in? Even though this might be true in some situation I really don't like this thought too much.
So I wondered if there is a bigger picture I might not see. Maybe I don't see my style because it's so natural to me? Is there maybe something people comment about? Is there a thing I always do and if not feel uncomfortable by or feel bothered? Maybe not even with myself but with other people I encounter?
Looking back on my own style history, with those questions in mind, there is one constant: I am a color coding addict!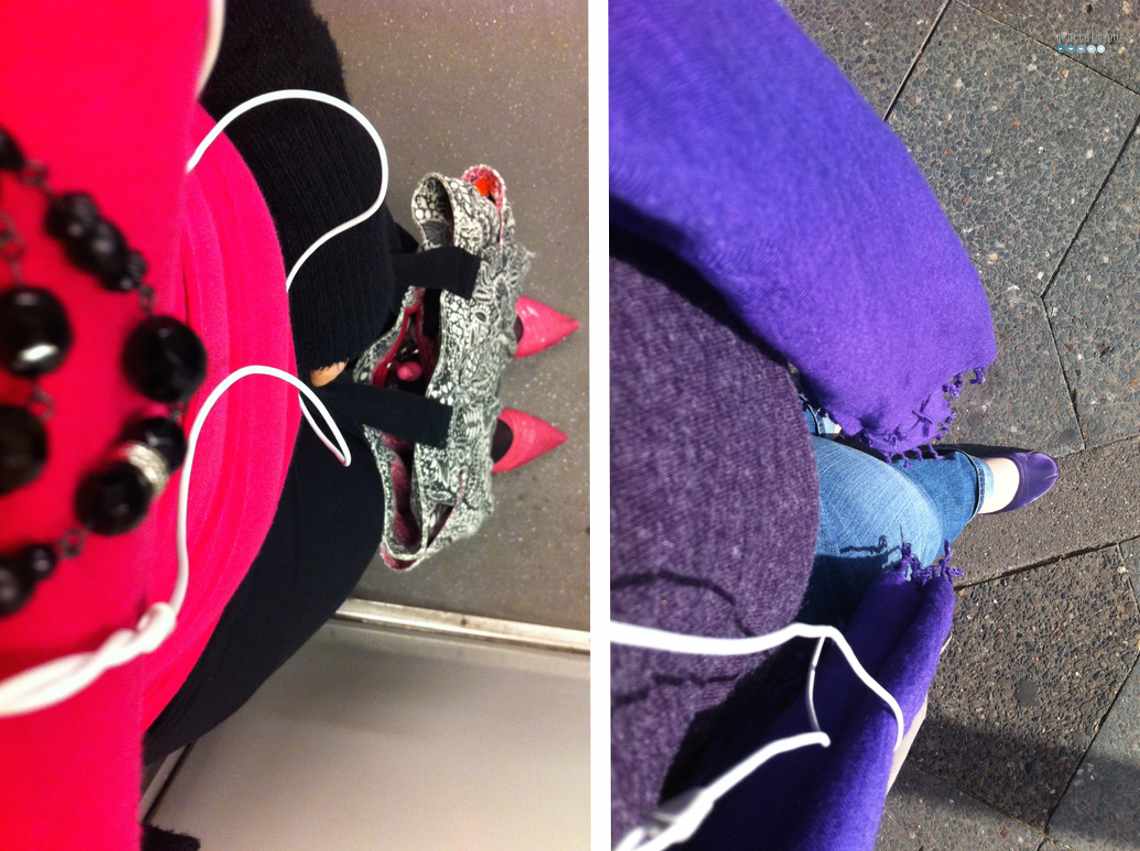 That's my style! And I love it!
Now what does it mean? I took a couple shoots off my outfits I wore lately.
I usually don't wear more than 3 colors at the same time – most likely two. I try to have a matching shoe color for all outfits. However my weakest point, as I cannot have all colors. But my accessories ALWAYS match. When I buy a new color and I do not have matching earrings? I make them! Lately I have been into necklaces – but I only got brown, red, black, silver and I needed to make a blue one.
But I do not stop here. My eyeliner also matches. Wearing white? White eyeliner it is. It's a coral day? Here we go coral eyeliner. If I don't go with the eyeliner it is the lips – working great with red and pink shades. If I have the time my nails are of course matching too. So it may happen that one week I wear the same color pallete just because my nails are painted.
I usually wear my perfume according to my mood – but more than once this means I am grabbing the "right colored flacon". Call me crazy but that's how I roll.
How about you?! Are you going with trends or how do you define your style?!
Cheers,
Tobia