Welcome back! Today I take you along our honeymoon. I know I am nice. So get some hot beverage, put on some socks because we are going to the Arctic Circle!
When we were planning our wedding we realized a week prior to the big day we didn't have any idea what to do after. Usually people go on a honeymoon. We always wanted to do lodge hopping in Canada for our honeymoon but that was just out of the picture financially. So we figured a few days somewhere to relax. But we couldn't decided and time past…
Good thing a text came in telling us to save ten days after our wedding. So end of looking and off to a surprise.
And a surprise it was. Due to the lack of snow at our winter wedding my parents figured: send them where the snow is.
Yes we were sent to the most nordic town in Finland with huskies, reindeers, ice hotels and winter wonderland. But let's go one day at a time.
Arriving in our hotel, discovering our room with a build-in sauna, a funny metal box – later figuring out it's a heated closet to dry your stuff, reindeers grasing in front of our window. We were in honeymoon heaven. We took a short walk to get a lay of the land and fed the reindeers at the hotel.
Then we had dinner and went to bed because next morning was already scheduled.
Breakfast was strange. I let a picture speak because I really can't describe: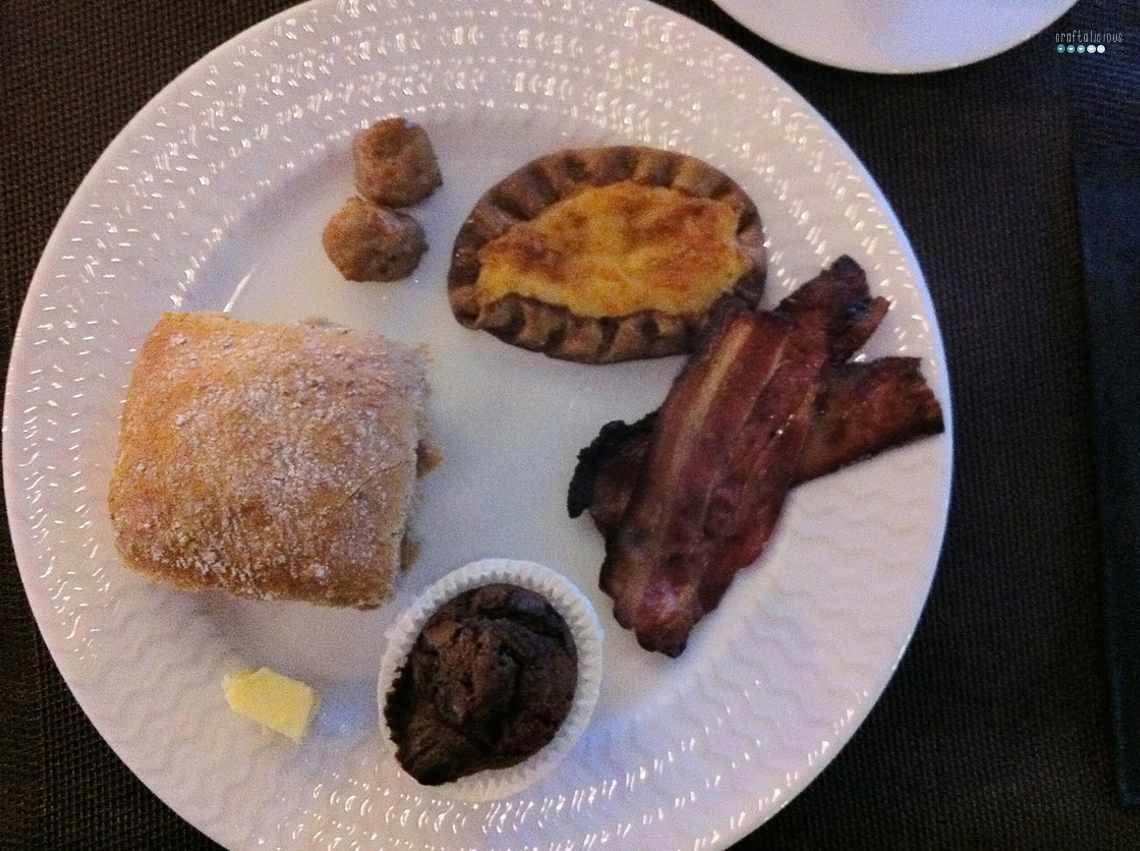 After we got in our skiing gear and went to do our introduction to snow shoeing and snowmobiling. Later that day we just wandered the town and enjoyed the snow and came across a reindeer – in the middle of town! We also hit the tourist info and booked us a reindeer sledge ride and a husky sledge driving class.
Our day with the huskies
First thing to know: I am scared of dogs! Mr. ♥ loves huskies and wants one. So going on a husky farm took a lot of willpower but I am glad I did. We went to Huskysafari Levi. First we got a little introduction to sledge riding – like never step of the sledge, Huskies will run no matter what, to go slower you push the break, they eat snow to cool of, Huskies can actually die from over-heating…
Once we knew all this we got the dogs ready and my were they ready. Got a few pics:
First it was my turn to stir the sledge and even though it was nice to try I was totally worn out (I was still really sick and the antibiotics took a toll on me too). So I was glad when we switched and I was able to enjoy the country side being chauffeured through by hubby. Again dusk was setting in early so pictures are a bit dark but that's just the way it is up there.

When being back in the camp we had hot cranberry juice, coffee and traditional sausage.
Our day with the reindeers
Our day at Wolverine Fell Wilderness and Nature started by getting a taxi and then being quite anxious if we will ever arrive. Seriously there was no way to drive on, all was white, the driver wasn't quite sure where to go. Than we passed a ensemble of three cottages and a women (trying) to push a stroller through the snow. Soon after we arrived at the gate and so did the lady. She was our tour guide Petra and brought her 3 month old with her. Her husband was busy feeding reindeers and preparing the sledge. And we were the only ones. It was a wonderful quite and very informative afternoon we spend with them. As she kept mentioning reindeers are semi wild animals. You can not train them like horses. They "work" for you because you provide food. They are herd animals and it might happen that they decide to go another way – and all animals will follow. We went for a 1 mile sledge ride which took quite a while. The surroundings were amazing. Snowy trees, snow sunken fences and a reindeers butt.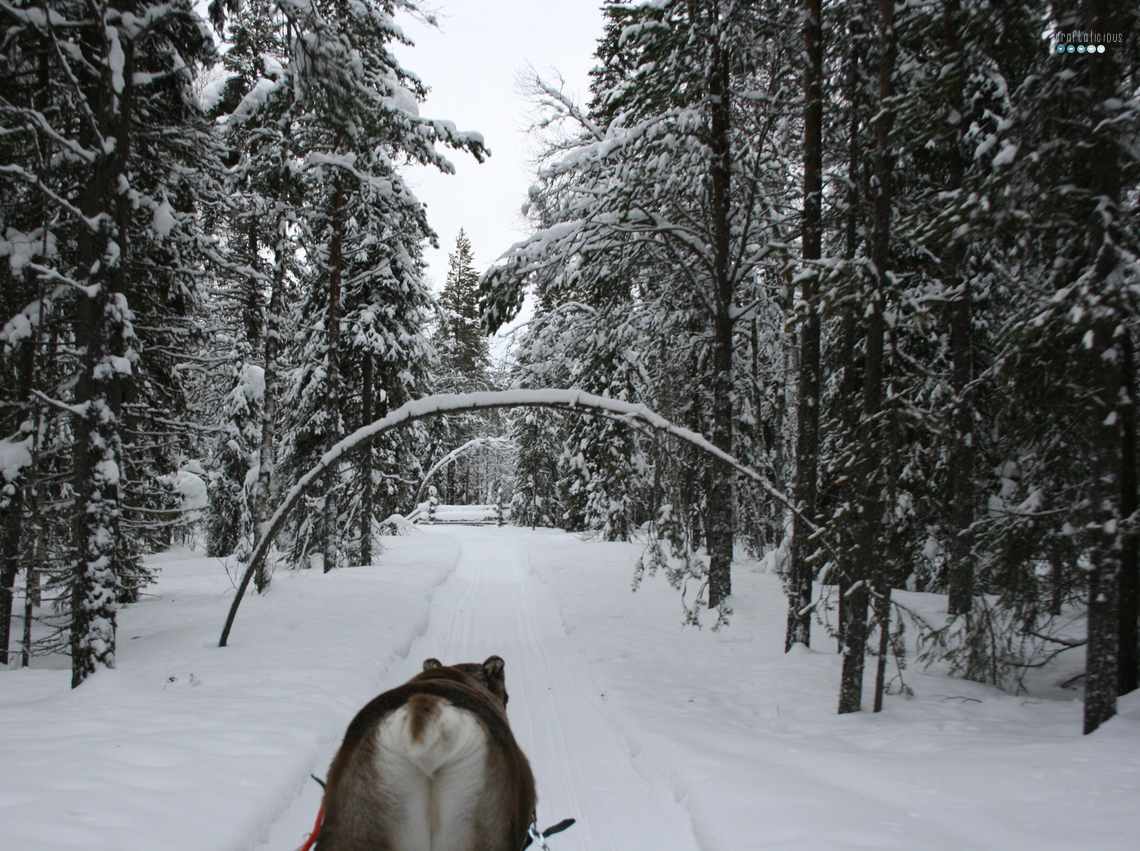 We stopped at a little cabin at Levi lake were we had hot cranberry juice and coffee.
We heard stories about crossing the frozen lake and breaking through. We looked at animal pictures and listened to hunters stories. And throughout the time we felt like visiting friends, listening about their every day life struggles and joys.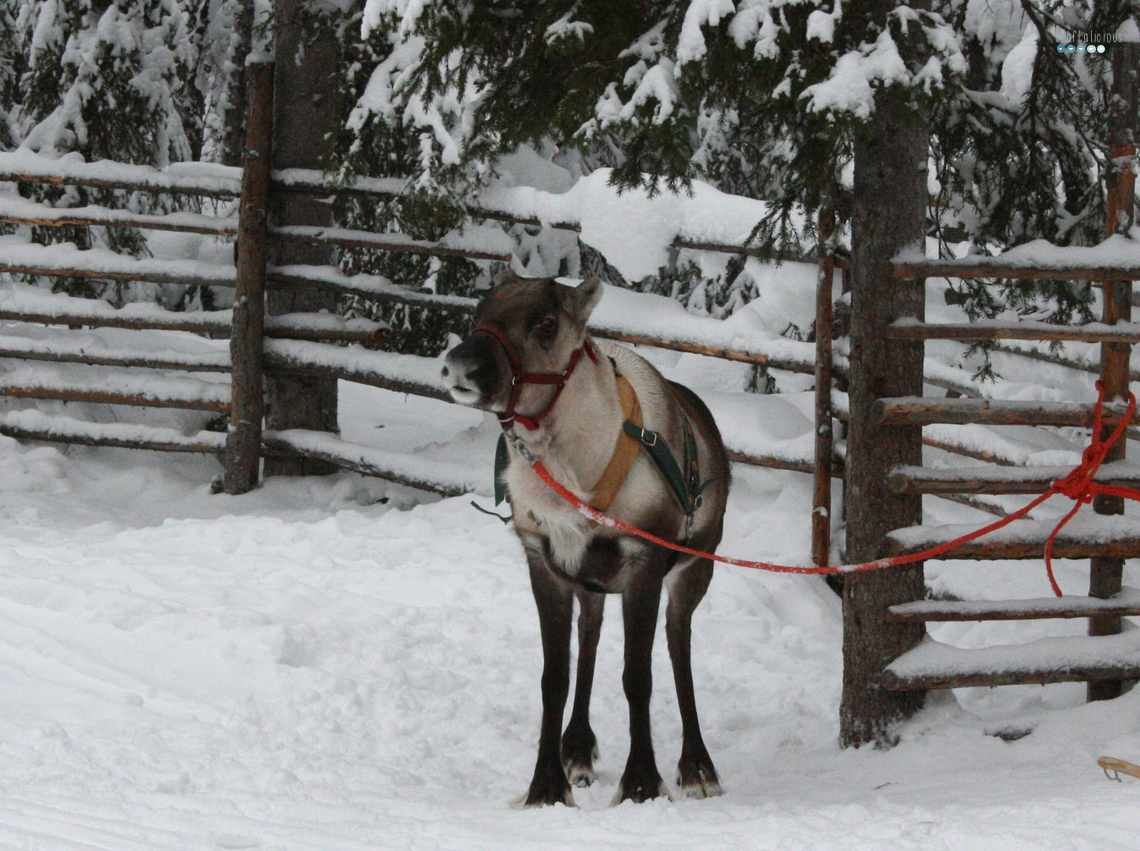 And one of their reindeers (the white one) was actually a star in a Christmas movie – unfortunately I forgot which one. So if you are ever in Kitillä you need to take a ride with them.
Our day at the glass igloo
Our last two days in Lapland we didn't spent in our sauna hotel. We went to the glass igloos for one night.
Honestly I think this was our highlight. Unfortunately due to the warm weather (only -3-6° C instead of -30° C that would have been normal around this time of year) it was very cloudy which turned the landscape in a winter wonderland but also covered up all the aurora borealis we were gonna watch.
But the snowy trees were worth the trip. Just have a look: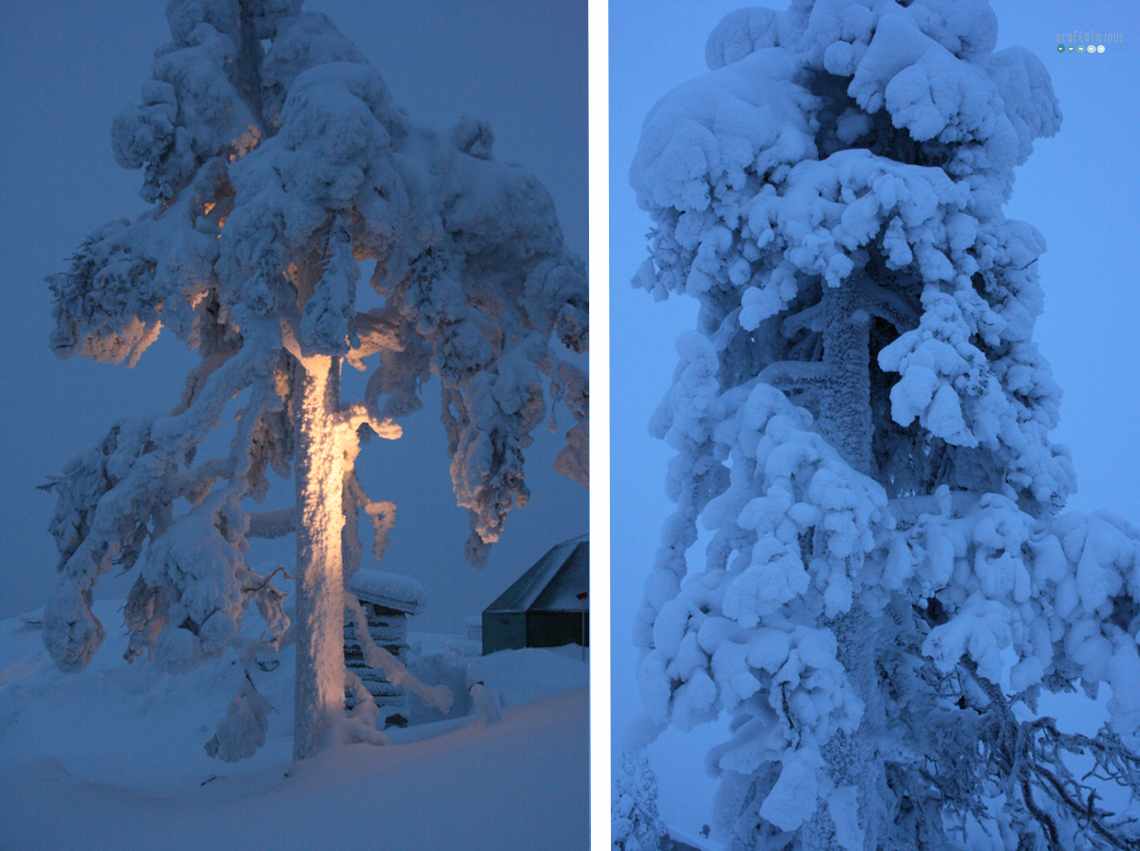 Since there wasn't anything to do up there we went to the traditional finish hut and just hang out by the fire before we headed to our igloo and heated up dinner which you have to bring yourself.
We then spend the night reading and looking out of the window. Being entertained by crazy Asians running around in hello kitty pj's and big cooking pots…
Next morning we ate breakfast that was in the fridge.
Then we headed out for another photo tour in daylight and before the bus picked us up.
We spend the day wandering the town, taking a cable car up to the mountains and enjoying the view until our trip to the next hotel.
Our day in a ice hotel
Now this was something we really looked forward too but were also a bit scared of. The brochure mentioned "cozy -5 degree". When we drove to the ice hotel with our taxi we were a bit surprised because everything was dark. After going back and forth and looking into some windows a nice lady opened saying they were waiting for us and saying we would be their only guests tonight. What that really meant took us a while to set in… First she wanted to serve us dinner unfortunately we ate because we figured there is nothing up there. So she took us on a tour through the ice hotel. The hotel is build every year by cutting ice cubes out of the river and shooting snow on a big air dome which is later removed. Art students come in and carve pictures and figures and decorate.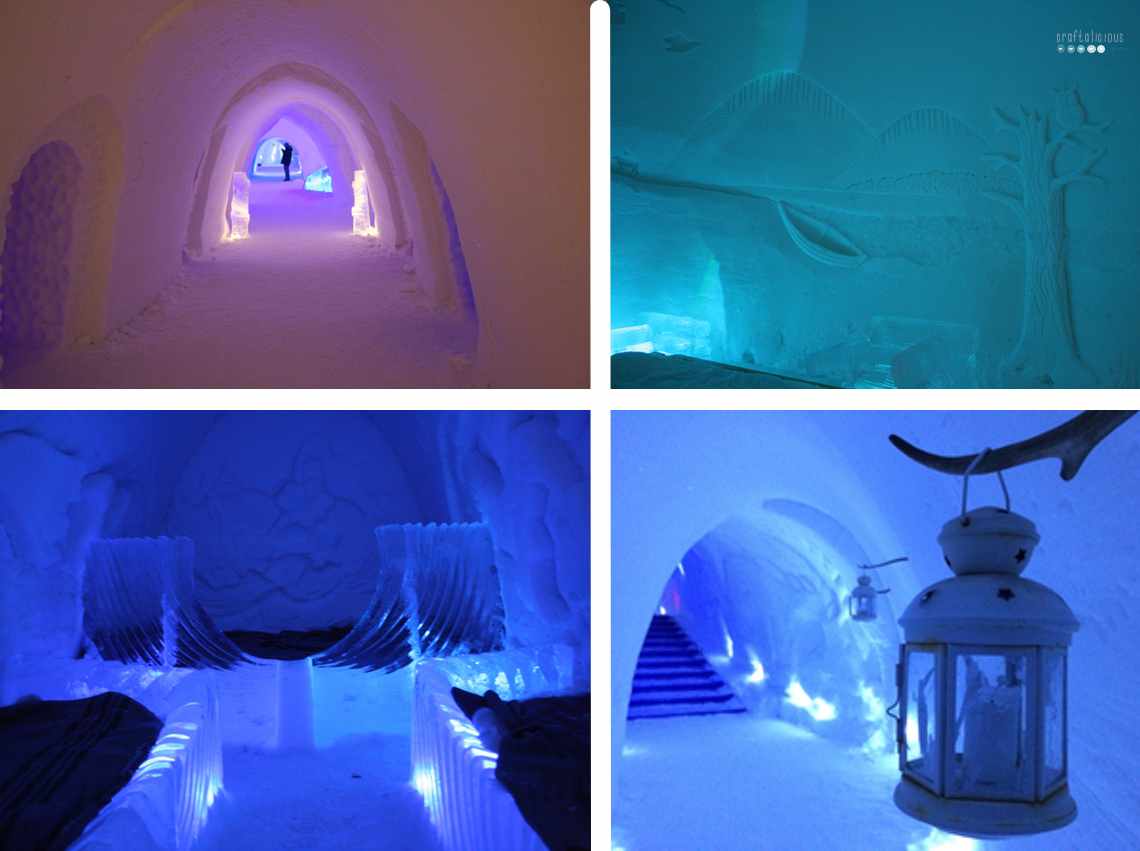 The hotel has a little chapel (were you can also get married), an ice bar (mainly for groups and events) and 15 rooms incl. one suite with a heatable water bed – we didn't have that room…

We went back to accompanying restaurant and invited our waitress to have a drink with us. So we spend the time getting to know each other, exchanging life stories and cultural differences learning words in each other's language and enjoying time together until it was time to get to bed.
We were provided with a sleeping bag, fleece inlays and lots of reindeer furs. We bought matching cross country skiing hats to not freeze our brains of and then off we went into the glacier. Before undressing and getting ready for bed we took a photo and video tour of the hotel, looked into every corner and behind every reindeer hide hanging somewhere. It was dead silent, chilly and a weirded atmosphere. Imagine sitting under a glacier or having a tiny cave in an avalanche. It didn't help much that Rittaa (our waitress/hotel lady) mentioned that the dome steadily sags and that Mr. ♥ vividly described how a murder with lots of blood splatter would look like…
Anyway once we got into a our sleeping bags and finding somewhat comfort on the ice cube that was our bed it was great. I didn't freeze at all, it was a bit chilly but it felt great. Breathing was a whole new experience in this crisp air and I felt totally healthy waking up.
Unfortunately waking up also brought our departure day. Getting to the airport was fun. Exactly three flights were managed that day – 2 arrival and one departure.

And while we very hanging around the airport we realized one not thing: the Fins are bad ass. The runway was covered in snow and ice… And yes it was fully operating.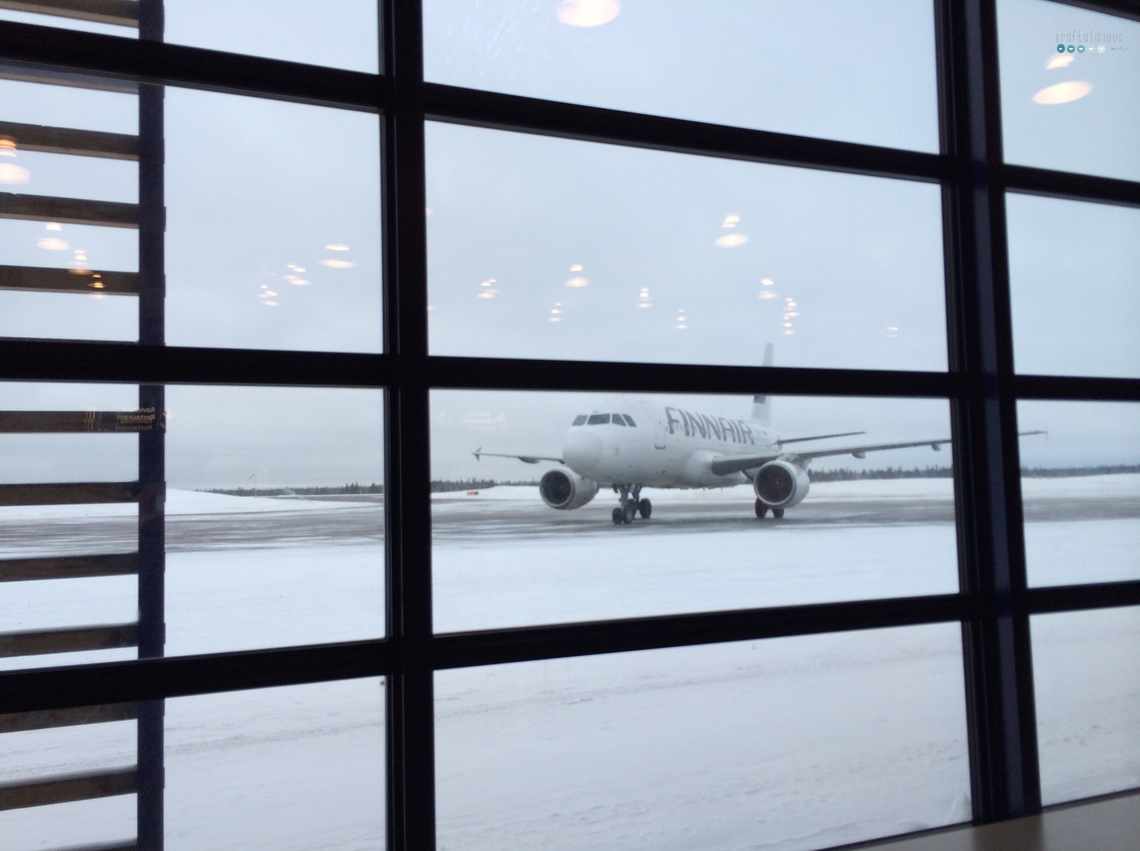 Well so much for our little adventure. So what you think honeymoon in the Caribbean or at the Arctic Circle?!
For all the ones interested in going to Lapland here are a few hard facts
Ski resort Levi: We stayed in a town called Sirkka in the Levi area. This area is the biggest ski resort in Finnland. Levi is the Finnish word for fell – a plateau with no trees. It's 536 m above sea level and offers 43 ski slopes with easy and intermediate slopes. There are also a ton of cross country routes. http://www.levi.fi/en/
Flying: you will most likely have to hop on a connecting flight to Kittilä in Helsinki. We were surprised that it only took us about 4 hours from Berlin. Seems much further.
Our hotel: we are somewhat design oriented hotel travelers so it's not easy to find something but the K5 Levi was a perfect mix between traditional Finnish and modern ambience. Only the food didn't impress me much but than you don't need to eat there.
The glass igloos: We stayed at Golden Crown Levin Iglut which is located on a hill top with a beautiful view over the valley – if there are no clouds. Better pictures can be seen here: http://leviniglut.net/en/
The ice hotel: We stayed in Luvattumaa hotel which is located 7 km from Levi city center and is each year being rebuilt.
Restaurants: it is a ski resort so restaurants are a bit touristy or in a hotel but we found those were good choices:
The Coffee Shop: after walking around we stopped here for cake and coffee and I think more than once: www.raflaamo.fi/fi/kittila/coffee-house-bar
The Pancake House: a million choices for pancakes, dishes are huge so you should be hungry going there: www.pannukakkutalo.fi
The Panorama Restaurant is located in a slope sided hotel. We had burgers there while watching people ski and enjoyed the panoramic view. Did this on the last day and we are glad we went up there: Panorama Restaurant
Well you are all set now. Just remember: Finnland is not the cheapest country for vacation so safe up because it's soooo worth it.