Auf der Liste ungeliebter Gemüsesorten landet Rosenkohl neben Spinat wohl ganz weit oben. Warum eigentlich?
Ich mochte Rosenkohl immer ganz gern. Nun ja nicht jeden Tag und nicht zu allem aber hin und wieder doch ganz gern mal. Der gehört irgendwie zum Winter.
Aber wie bereitet man Rosenkohl eigentlich zu? Einfach in Wasser kochen? Kann echt laaangweilig sein. Mal eine andere Idee: als Cremesüppchen!
The list of unloved veggies are led by brussel sprouts − right behind spinach. Why is that? 
I always kinda liked brussel sprouts. Not only because of the name. Well not every day and obviously not with any dish but once in a while it's nice. It's just part of winter.
But how do you cook them? Just in water? That can be quite boooring. So why not try out a creamy soup?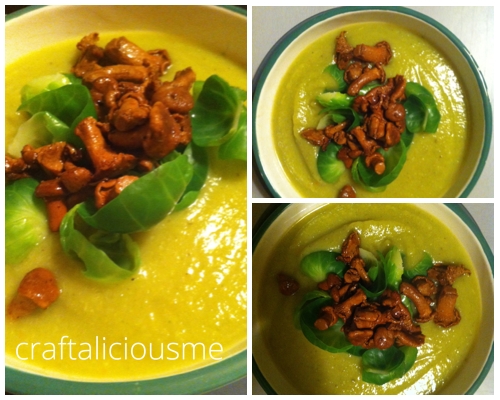 Für 4 Portionen der Rosenkohl-Cremesuppe aus der Für Sie brauchst du:
300 g Rosenkohl // brussel sprouts
Salz // salt
400 ml Gemüsebrühe // vegetable brooth
100 g Pfifferlinge, klein // small chanterelles
1 TL Olivenöl // olive oil
Pfeffer // pepper
50 ml Weißwein // white wine
Muskat // nutmeg
75 g Schmand // sour cream
Und so geht's:
1. Rosenkohl putzen und waschen. Von 2 Röschen die äußeren Blättchen für die Dekoration abnehmen und in etwas Salzwasser ca. 3 Minuten blanchieren. Übrigen Rosenkohl mit Brühe in einem Topf ca. 15 Minuten garen.
Clean brussel sprouts. Pick leaves from two sprouts for decoration and blanch in boiling salt water for 3 minutes. Cook the remaining sprouts with brooth for 15 minutes.
2. Pfifferlinge säubern und im heißen Öl anbraten, mit Salz und Pfeffer würzen.
Clean chanterelles and roast chently in hot oil. Salt and pepper to taste.
3. Rosenkohl pürieren. Würzen und mit Weißwein und Muskatnuss abschmecken. Suppe in Teller füllen und mit Schmand verfeinern. Pfifferlinge und Rosenkohlblättchen als Einlage zur Suppe geben.
Blend brussel sprouts. Season with white wine and nutmeg. Fill plates and add sour cream. Decorate with chanterelles and blanched brussel sprout leaves.
Nutritional Information: ca. 100 kcal, 5 g Eiweiß // protein, 5 g Fett // fat, 5 g Kohlenhydrate // carbohydrates
Ich fand das Süppchen sehr interessant. Es schmeckt stark nach Rosenkohl und eine halbe Portion hätte mir persönlich gereicht. Ganz wichtig ist der Schmand. Denn damit wird der Geschmack etwas abgemildert und es ist richtig lecker.
Habt ihr eventuell noch ein tolles Rezept für Rosenkohl? Lasst es mich wissen.
I thought it was an interesting recipe. It does taste strongly though and you really need to add the sour cream to take back the dominate taste.
Do you have another great idea? Let me know.