Ich habe eine Entdeckung gemacht FENCHEL SUPPE.
Glaubt mir, bis vor einiger Zeit war ich nun wahrlich kein Fan von Fenchel. Vor allem als Tee ist das ja wohl unausstehlich. Damit wird man nicht gesund sondern fühlt sich schon beim Geruch 7.000x schlechter. Wirklich wahr!
Aber dann habe ich mal wieder wertvolle Stunden meines Lebens bei Pinterest verplempert und bin über dieses eine Bild gestolpert und direkt auf der Seite von Dina gelandet.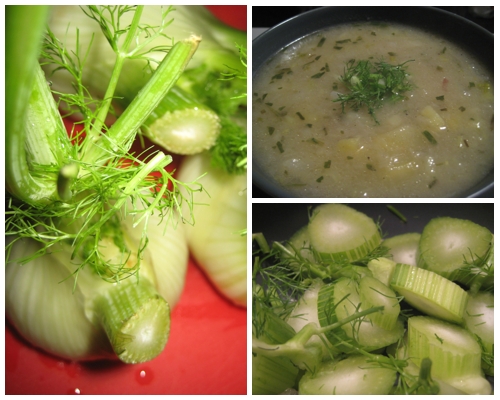 Ich hatte ein wenig unterschätz wie lang die Zubereitung dauert – Rezept erst lesen lohnt sich! Aber es ist den Aufwand wert.
Zutaten:
3 Fenchelknolle
1 EL Butter
1 EL Olivenöl
2 Schalotten in dünnen Scheiben
1 Liter Hühnerbrühe → ich habe den Aufwand betrieben diese frisch zu machen…
2 mittlere Kartoffeln, gewürfelt
1 TL Estragon → ich hab definitiv viiiel mehr genommen
1 Prise Cayennepfeffer → uups den hab ich vergessen
1 Spritzer Weißweinessig (da ich keine Ahnung habe was champagne vinegar sein soll)
Meersalz und Pfeffer aus der Mühle
1. Fenchelknollen in mittelgroße Würfel schneiden, dabei die Kernestücke entfernen.
2. Dabei 2 EL Fenchelgrün für die Deko aufheben.
3. Butter und Olivenöl auf mittlerer Hitze erwärmen.
4. Fenchel, Schalotten und 250 ml Hühnerbrühe hinzufügen und ca. 20 min köcheln lassen bis der Fenchel anfängt durchsichtig zu werden und weich wird.
5. Hitze erhöhen und Kartoffeln hinzugeben. Anschließend restliche Hühnerbrühe hinzugeben und alles zum Kochen bringen. Zugedeckt ca. 20-25 min köcheln lassen.
6. Anschließend Estragon, Essig und Cayennepfefffer dazugeben.
7. Noch einmal ca. 10 min ziehen lassen bis die Kartoffeln weich sind. Mit Salz und Pfeffer abschmecken.
8. Suppe grob mit dem Kartoffelstampfer zerkleinern. Es sollten noch Stückchen da sein. Wenn nötig noch Wasser oder Brühe nachgeben. Die Suppe noch 5 min ziehen lassen damit sich der Geschmack entwickeln kann.
9. Warm servieren und mit Fenchelgrün garnieren und etwas Olivenöl darüber träufeln. Wer mag reib noch etwas Pecorino darüber.
Und dann wünsche ich einen GUTEN APPETIT. Probiert es aus. Es ist ein echte Geschmackserlebnis. Ich bin begeistert und muss mir jetzt gleich ein Schüsselchen aufwärmen.
Ach und schaut euch das Bild von Dina an – die sind tausendmal besser als meine. Mistige dunkle Küche… 
0
Click and leave a ❤︎ if there is no time to comment.