Friends, when was the last time you started a book with no expectations and were completely and utterly sucked into a new world. So much so that you had to buy the followings books no matter what. That you made time for the book any chance given to you. This happened to me with the magic series. How fitting for my word of the year. Talking about April books there was another one that ranked even higher.
This was an amazing reading month. A month full of reading and no audio book. And it showed me that – at least for me – reading books is a better experience than audio books. I do like audio but they just don't engage me as much. So lets dive in:
About People by Juli Zeh | ★★★★✶
Goodreads says: A real corona novel, which takes place in the middle of lockdown in spring 2020 and subtly describes the social and very private consequences of the pandemic. Fleeing stay-at-home orders in the big city, Dora and her dog move to the countryside to sit out the pandemic. She knows that Bracken, a village in the middle of nowhere, isn't the idyll most city dwellers dream of, but she's desperate for space and a change of scene. The quaint old house she's saved up for needs work, weeds have taken over the yard, and her skinhead neighbor fits all the stereotypes. Just what is Dora really looking for? Distance from her boyfriend Robert, whose climate activism has crossed into obsession? Refuge from her inner turmoil? Clarity on how the whole world got so messed up? As Dora tries to keep her demons in check, unexpected things start happening all around her. Juli Zeh's epic new novel explores our present predicaments, biases, weaknesses, and fears, but—above all—it reveals the strengths that come to light when we dare to be human.
What I thought: This was a disturbing read. Juli Zeh manages to suck you right into her world. The words flow easily, it's a page turner while it is also slow reading. It perfectly portraits the struggles of society and individuals. I was appalled (of myself) when I started sympathizing with the nazi – but truly how would you not?! I was angry when I learned about the couple who seems so progressive and still slide into political indifference. I felt annoyed by the child until I felt compassion. This book requires all your emotions. I don't often tell the husband about what I read and retell entire sections but this book needs discussing. I believe it is a great book club book as it sheds so many angles on people, makes you wonder how you would behave in these situations and requires questioning oneself. I would love to say that the society portrait in Bracken is all fiction. Unfortunately I know it is a rather realistic portrait. You could argue why read a book that shows a reality that you do not want to engage in. That humanizes people of different political views and life choices that you don't want to engage in in real life. And exactly that is what reading is about. Stepping out of your comfort zone. Seeing the world from a different angle. I highly recommend.
Medium: hardcover from my parents book shelf
Original Language and Title: German "Über Menschen"
Publications: English "About People" and a few other translation
Recommend to: Everyone wanting to read about life in rural Germany with great character studies and who likes to be challenged while reading.
Read Around the World: I am logging this for Germany as it is good, interesting and contemporary history.
Magic Reclaimed by Coralie Moss | ★★★★☆
Goodreads says: A battle over the Apples of Immortality is at hand.
On an island in the Salish Sea, caretakers of the ancient orchards are vanishing. The earth witch in charge of protecting the groves is on the cusp of losing her magic. And the druid who investigates crimes of the magical kind is carrying deadly secrets.
All Calliope Jones needs to do is survive her Blood Ceremony, keep her teenaged sons' magic from blowing up, and help save Tanner Marechal from the hellion capable of breaking him completely.
Magic Remembered by Coralie Moss | ★★★★☆
Goodreads says: The safeguards have collapsed.
A clan of Fae is seizing lands vital to all Magicals. A Keeper of the ancient trees is using tainted magic against her mother's command. And a bladesman exploited by his longing for redemption is about to commit the unforgivable. A growing circle of witches, druids, and other Magicals make offers to help Calliope Jones and her sons. But for Calli, trust is earned – whether in forming alliances, making friends, or becoming lovers. Tanner Marechal, the leader of the druids, wants to be more than her friend. To properly pursue Calliope, he must confront his tangled history with his former partner and now nemesis, the Apple Witch. The promise of a magic-filled future shimmers in Calliope's imagination. All she has to do is grant Tanner the time he needs, survive the life-and-death machinations of two factions of Fae, and fulfill her given mission: to fix the system of magical replenishment that broke long before she was born.
Magic Redeemed by Coralie Moss | ★★★★☆
Goodreads says: Calliope's earth magic has fractured.
As her fledgling magical skills begin to dissolve, Odilon Vigne, scion of the Fae clan, arrives on Salt Spring Island to expand his family's holdings—and to offer Calliope the one thing she has always desired. Magical beings throughout the world know to defer to Vigne or risk losing their loved ones, their land, or their heads. Where others negotiate, Odilon Vigne plunders.
All Calliope Jones needs is to resist Odilon's charismatic seduction. And do this while keeping track of five boundary-testing teenagers, a larger-than-life gyrfalcon grandfather, and the druid who pursues her heart.
What I thought: Ok you guys, this is a gem for everyone loving fantasy. At least I think so. First off the main character is 41 years old. So good as usually it's all the teenage and 20 year olds getting to discover magic (there is still a chance for me to join the ranks…). Secondly the character is a single mother with two teenage sons who also come into their powers. So it is a rather hormonal ride (don't be scared by the first 10 pages). This book has a fun fantasy world with great new (to me?) elements. But most of all I liked the normalcy in which the world and society was laid out. There are queer people, same sex couples, different species, different talents, different approaches – and Moss weaves all this into her story without making a big deal out of it because it really is not. You read about a dad. A couple pages you read about the dad that does a different thing than the dad prior. Only then did you get the real picture about that family – just to name one. There is a love story here that does get steamy at times but at the same time there is also normalcy in not rolling around the sheets because life is tiresome. The only thing I didn't like too much was that the story was divided into three books. It could have been a really long epic one or the the single books could have been more detailed. At times it felt a bit rushed. It rarely happens that I need to buy the book right when I am on the last pages of the previous one. This is a binge read. Highly recommend if you enjoy the genre.
Medium: ebook from my TBR, freebie + ebooks bought
Original Language and Title: English
Publications: no translations found
Recommend to: Everyone enjoying fantasy set in contemporary times with a character in her 40s, a realistic everyday life while handling magic worlds.
Paradies by Abdulrazak Gurnah | ★★★☆☆
Goodreads says: Paradise is at once the story of an African boy's coming of age, a tragic love story, and a tale of the corruption of traditional African patterns by European colonialism. At twelve, Yusuf, the protagonist of this twentieth-century odyssey, is sold by his father in repayment of a debt. From the simple life of rural Africa, Yusuf is thrown into the complexities of precolonial urban East Africa – a fascinating world in which Muslim black Africans, Christian missionaries, and Indians from the subcontinent coexist in a fragile, subtle social hierarchy. Through the eyes of Yusuf, Gurnah depicts communities at war, trading safaris gone awry, and the universal trials of adolescence. Then, just as Yusuf begins to comprehend the choices required of him, he and everyone around him must adjust to the new reality of European colonialism.
What I thought: I enjoyed this book. It was – specially compared to last months African book – so much more enjoyable. The language is kind. It still contains a lot of struggles, violence, ugly human behavior but it wasn't so disturbing and appalling. It had a more naive touch to it which could be as it was told from Yusufs perspective. The historical elements were subtle and perfectly wove into the story. However, while reading I was wondering if it is a male author things to include mentioning of male genitals and sex if it really doesn't help the story and could have been left out. Am I alone in this wondering? I may pay more attention to it from now on.
Medium: library hardcover
Original Language and Title: English "Paradies"
Publications: German title "Das verlorene Paradies"
Recommend to: Everyone enjoying stories that share a different way of life, time and culture.
Read Around the World: logged for Tanzania in my Read Around the World Challenge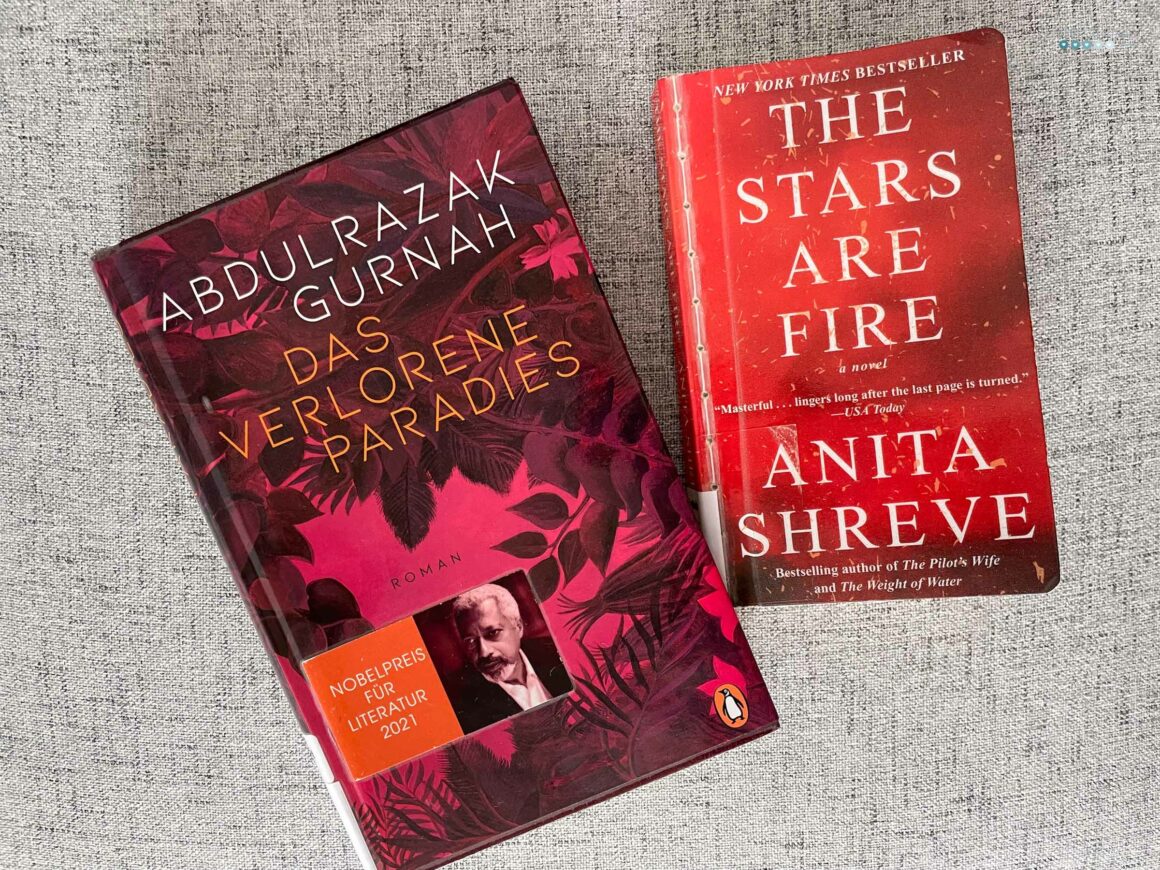 The Stars are Fire by Anita Shreve | ★★★☆☆
Goodreads says: In October 1947, after a summer-long drought, fires break out all along the Maine coast from Bar Harbor to Kittery and are soon racing out of control from town to village. Five months pregnant, Grace Holland is left alone to protect her two toddlers when her husband, Gene, joins the volunteer firefighters. Along with her best friend, Rosie, and Rosie's two young children, Grace watches helplessly as their houses burn to the ground, the flames finally forcing them all into the ocean as a last resort. They spend the night frantically protecting their children and in the morning find their lives forever changed: homeless, penniless, awaiting news of their husbands' fate, and left to face an uncertain future in a town that no longer exists. In the midst of this devastating loss, Grace discovers glorious new freedoms–joys and triumphs she could never have expected her narrow life with Gene could contain–and her spirit soars. Then the unthinkable happens and Grace's bravery is tested as never before.
What I thought: First of thanks to San for recommending this book. I enjoyed reading it. I had never heard of The Great Fires of 1947 and I am always happy when books are based on historical events. I loved the friendship between Rosie and Grace. I enjoyed following them in their every day lives. I was rooting for Grace to discover the joyfulness of life. But somehow I couldn't really really connect. I wasn't so emotionally involved.
Medium: library paperback
Original Language and Title: English
Publications: German title "Wenn die Nacht in Flammen steht"
Recommend to: Everyone loving to read about life in 40's and 50's, woman who are resilient all based on historic events.
Das Herz der sieben Inseln by Tara Haigh | ★★★☆☆
Goodreads says: Spain 1492: Young Laura is to marry a vile nobleman or forever wear the garb of a nun. In desperation, she flees to her family in Gran Canaria. Upon her arrival on the Canary Island, however, a nasty surprise awaits her. Laura finds herself in a world of slave trade, the Inquisition and the insatiable Spanish conquerors. But there she also meets an attractive local who changes her life forever.
Jana will soon be running a luxury hotel in Mexico. For the ambitious tourism businesswoman, this is a dream come true. But then she receives the news that a stranger has bequeathed her a banana plantation on Gran Canaria. Who was the man? And why can Jana resist the fascination of the run-down estate as little as the mysterious stranger who helps her interpret the inscription of a mysterious amulet in a long-forgotten language?
What I thought: I have never visit Gran Canaria. And I had no idea about the history and the local people the genocide that happened there. I also had no idea that Comubus was station there before setting sail to discover America. The overall story was at times a bit cheesy. The archeological problem solving a bit too simple specially that everything was in good shape and was handled with no special care. But it is fiction. And it was entertaining. Definitely worth my time. I just wished I could have read it in a loung chair overlook the sea and mountains of Gran Canaria.
Medium: ebook from my kindle TBR, freebie
Original Language and Title: German
Publications: no further translations found
Recommend to: Anyone enjoying historical fiction and wants to learn more about Gran Canaria wrapped in a love story.
Books I couldn't finish
This year I will also list the books or audiobooks I started but that for some reason will not be finished. I want to keep a bit of track how many pages those books end up being.
The Seven Circles by Chelsea Lugar – this ebook was so uninspiring and boring, stopped 20 % in
Family of Liars by Erin Lockhart – I read the first in this series and enjoyed it but the audiobook could not grab my attention. Might read instead at later point.
Ruhm by Daniel Kehlmann – it wasn't a bad book but I wanted to return it and I didn't manage to finish it. I may read the final 80 pages some time but I won't miss much when I don't. However, it seems that the story ties up in the end.
New books on the shelves
I decided I will also share how many books make it to my TBR list (only books I own otherwise we would sit here in years) and occupy my shelves right above the reading chair and also on my digital home on the kindle. Feel free to ask me in a few weeks if I have read it yet. HA
This past month I truly bought my feelings… Against better judgement of reducing so I won't have to pack so much when we are moving. Oh well. It makes me happy.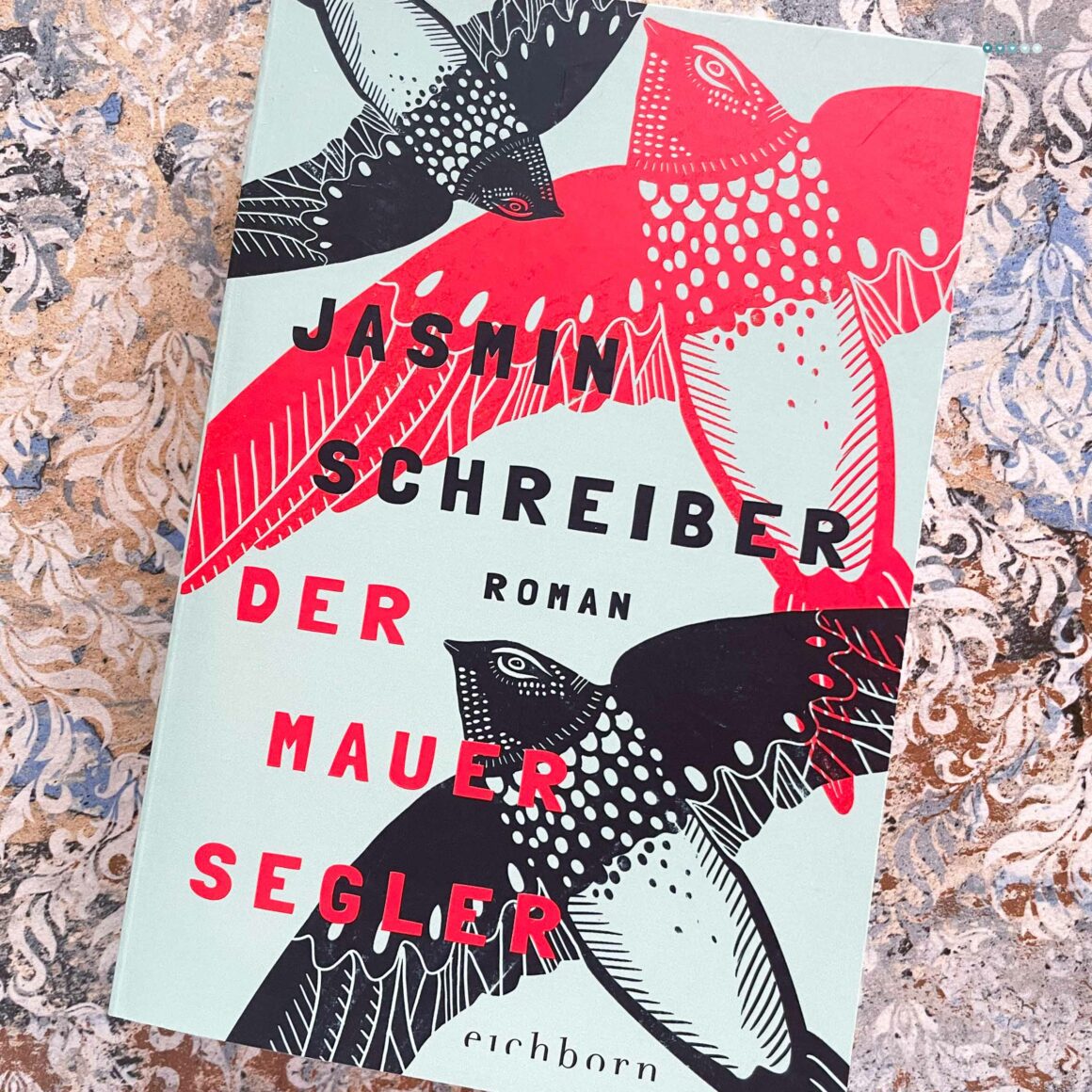 Magic Reclaimed by Caroline Moss – bought ebook
Magic Redeemed by Caroline Moss – bought ebook
The Name of the Wind by Patrick Rothfuss – a library flea market find for 1€
Greed by Marc Elsberg – a library flea market find for 1€
Mittagsstunde by Dörte Hansen – a library flea market find for 1€
Blauwal der Erinnerung by Tanja Maljartschuk – a library flea market find for 1€
Wir sind doch Schwestern by Anne Gesthuysen – a library flea market find for 1€
The Girl with the Leica by Helena Janeczek – a book from a birthday gift card
A Winter Book by Tove Jannson – a book from a birthday gift card
Der Mauersegler by Jasmin Schreiber – a book from a birthday gift card
So much for another great reading months. Have you read any of the books that I added to my book shelf? What has been the last series you bing read and needed the next one no matter the cost? What book did you enjoy this past month? What book was a total fail?