Today I want you to meet Elisa from Globetrotting in Heels. She is last one of my virtual wedding guests. But I've also met Elisa in May last year during The Hive. And just for meeting her it was all worth it. She is truly a person who's seen the world. Or better – lived all over the world, in so many countries and is still hungry for more. I am so happy she is sharing her most favorite place today.
If I had to use one word to describe myself, I would probably say vagabond.
I realize that this specific word has a negative connotation, but hear me out: where one may think of a vagrant who leads such an instable existence that he doesn't have any ties to any specific place, I see a soul who has such a strong wish for freedom and adventure that one beautiful place is just not enough, for so many more are out there calling their name. Where one may see someone who chooses a life of loneliness and isolation with no place to call home, I see someone who wants to make friends everywhere, whose family isn't limited to blood relations, who has not one but many homes, because home is where your heart is, and I have left a bit of my heart in every place I have visited or where I have lived.
So, vagabond it is, then. If it was up to me, I would be constantly on the go, always flying, walking, driving, riding somewhere. My life would literally be a constant journey, each destination just a stop on the way to the next one.
And yet of all the beautiful places I can think of, there is one that I cannot imagine not returning to on a regular basis: my home island of Sardinia, in the middle of the Mediterranean Sea.
When I think of Sardinia, three words come to mind: Wild. Beautiful. Warm.
WILD. This is a land of lush, savage vegetation, sharp cliffs that dive into the emerald-blue sea; a land where often locations can only be reached by boat or by driving on unpaved country roads so bumpy you might wish you had rented a jeep, and often wonder if you took a wrong turn somewhere, until you get to the place and you're all ah, that's what all the fuss was about! Totally worth it.
BEAUTIFUL. This isn't something that anyone who has ever been to Sardinia will argue with – for how can you argue about the beauty of the white sandy beaches, of water so transparent that you can see people swimming in it even while you are standing at the top of a cliff, of the many colors clashing and marrying in nature, from the yellow of the Spanish Broom flowers to the dark green of the bushes, to the pale beige of the sand, to the blue-green of the water?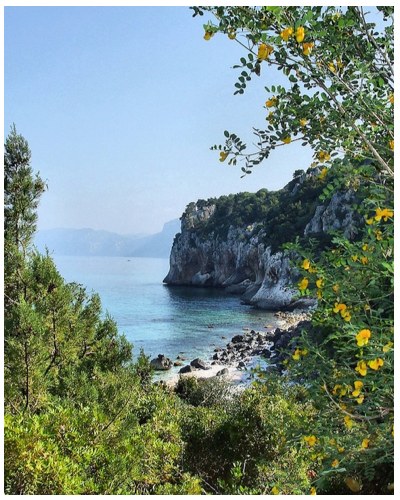 WARM. Sardinia isn't the land of eternal summer, but from where I am standing, in chilly mountainous Switzerland, it may as well be. Three full months of hot summer, warm spring and fall, and mild winters. And in any season, you can go for a walk on the beach, hear the waves crashing on the shore, smell the sea and breathe that fresh, wonderful, revitalizing sea air. I just love it.
Is it because it's home, or is it because it's awesome? Either way, as favorite places go, it'll do nicely, won't it?
Wow. I am enchanted. I do think I really really need to set foot on this island. It is definitely coming on my want-to-visit list. Thank you Elisa for being my guest. I am really honored. All pictures are © by Elisa www.globetrottinginheels.com and may not be used without her permission.