Good Morning!
Today I Love Avocados!
I got a really funny wedding present: an avocado! Actually two! My new relatives in the DR know I love avocado and they also know we never really get any ripe ones here. So hence the wedding present. And let me tell you they are huge! I mean not the tiny things we got. They were at least the size of a big mango. Really. Anyways I already ate them so no pic here.
But I figured it's kinda sad to get an avocado, eat it and then it is gone. So I figured: I GROW A TREE. Now you need to know I am somewhat of a plant killer. During summer time I might manage to keep my balcony plants alive for 2-3 months but either I am on vacation or weather isn't so great i don't go to the balcony daily and tada: dead.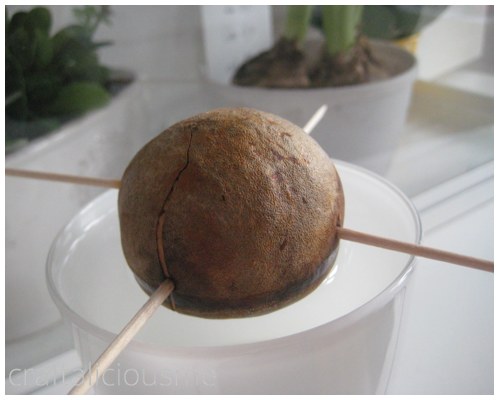 So here it is. I just put it online : my tree and report back once in a while. I hope this way I am eager enough to actually water it. Right now it is easy – it sits in a glass of water. It will take up to 3 months until I get some sprouts. Well, I keep you posted. But now I better hurry to work.
Cheers, Tobia
Make sure to head over to Frollein Pfau to see more Wednesday Loves!
Oh and more wedding news and a Give-Away here.