I was pondering back and forth if I should write a little travel post about our anniversary trip to Oslo. I feel like I will not have something new to say about the city and I will probably not be able to give you the best of tips. But then, this is my party and looking back I always regret not writing my travel posts so lets do it. Hope you stick with me to the end.
We flew in Friday morning and out again Monday night leaving us two full days and two half ones. When we arrived on Friday there was still a dust of snow on the ground and we couldn't be happier. However we could see no 10 meters ahead of us due to heavy mist. We decided to take a walk around the hotel after check-in to get a lay of land. The hotel was build a newer part of town with modern housing on little peninsulas and lost of waterfront. As you know by now our happy place despite the wind and cold weather.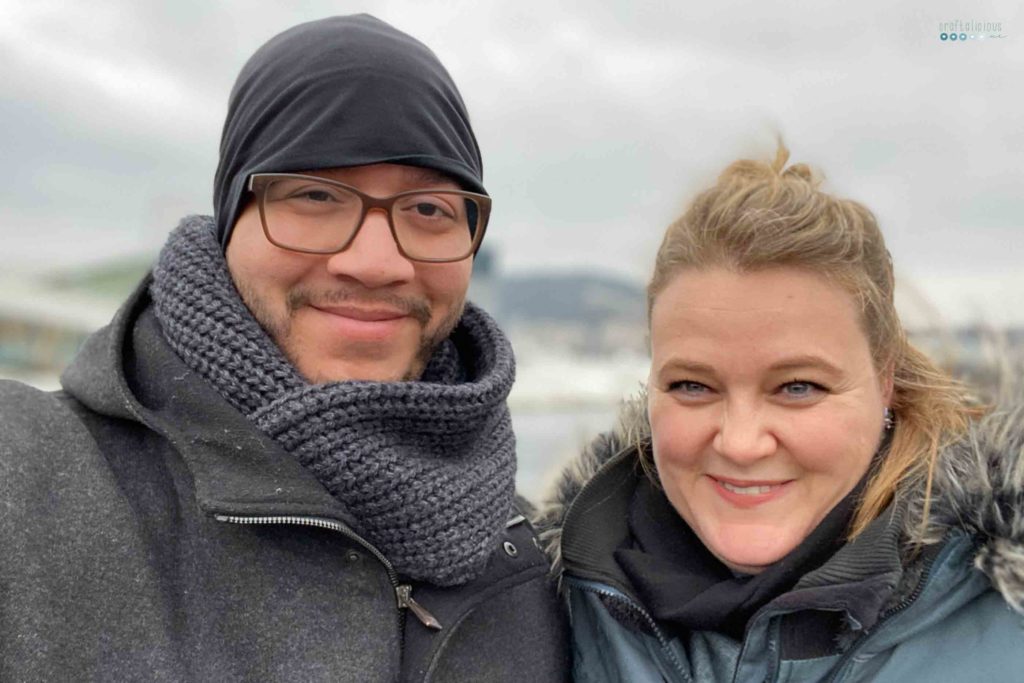 Towards the evening we decided to just find a place to eat and head back to the hotel to relaxe a bit. Unfortunately my shoe broke right there and then and we had to do a little impromptu shopping trip. I didn't want to spend all Saturday doing that. Luckily I found a shoe right in the first store and so we didn't waste much time there. After dinner we went relaxed in the room with some reading, talking and crosswords.
On Saturday we had a wonderful relaxed and late breakfast. The snow was all gone, the mist was all gone and so we decided to see as much from Oslo as we could. The forecast didn't look to promising. We started out by having a look at the opera hose that happened to be right in front of the hotel. It is a modern building modeled after an iceberg in the sea. And the best part is the roof is open to the public and everyone can just clim the iceberg. You could even get up there with strollers and wheelchairs as it was no stairs. Lots of wind though. And a beautiful view of the surrounding city.
Next we climbed the castle hill and strolled around there (not too impressive to be honest) but a nice few to the water. Then we wandered into town looking for the old city center. If we ever found it I was not impressed. When I think old I have midivil towns in mind. This was more like bricks and mortar old I guess. I started drizzling right when we came upon the boulevard Karl Johann that leads up to the castle. So we made a stop in one of the coffee places to warm up. Here we had a lovely chat with a local lady.
Later we strolled to the castle and a look but not inside and then walked down the boulevard because I wanted to see the cathedral. As you know I always need to see those as I love the architecture. Unfortunately this one was very disappointing. I think I didn't even take a photo.
We had our anniversary dinner at an Italian restaurant in a food market. This was a good compromise for us as I was able to have some seafood while Mr. ♡ also had some choices.
Unfortunately on Sunday a big storm hit and it was raining non-stop from morning. So we took our sweet time with another long breakfast. Then we decided to go to some museums. In the end we spend all day in the Nobel Peace Prize Museum reading up on everything and a lot of people. It was nice. Later another coffee break and some relaxing hope the weather would quiet down a bit so we could walk along the marina. No such luck. So we decided to have an early dinner and head back to the hotel.
The next day we had to pack and leave the hotel but not before enjoying another wonderful breakfast. Then we haded to a sculpture park. The artist Gustav Vigeland worked his entire life on filling up and entire park he design with sculptures. Over 200 in total. It was interesting to see even though it wasn't quite my taste in art. As this was a bit more outside of the city center we took the tram there. This way we also got to see a bit more of Oslo. And at least some of those old wooden houses I was searching for. Unfortunately not much time to wonder around. We stopped at the marina and walked around there for a bit before heading back to the hotel picking up our luggage before heading to the airport.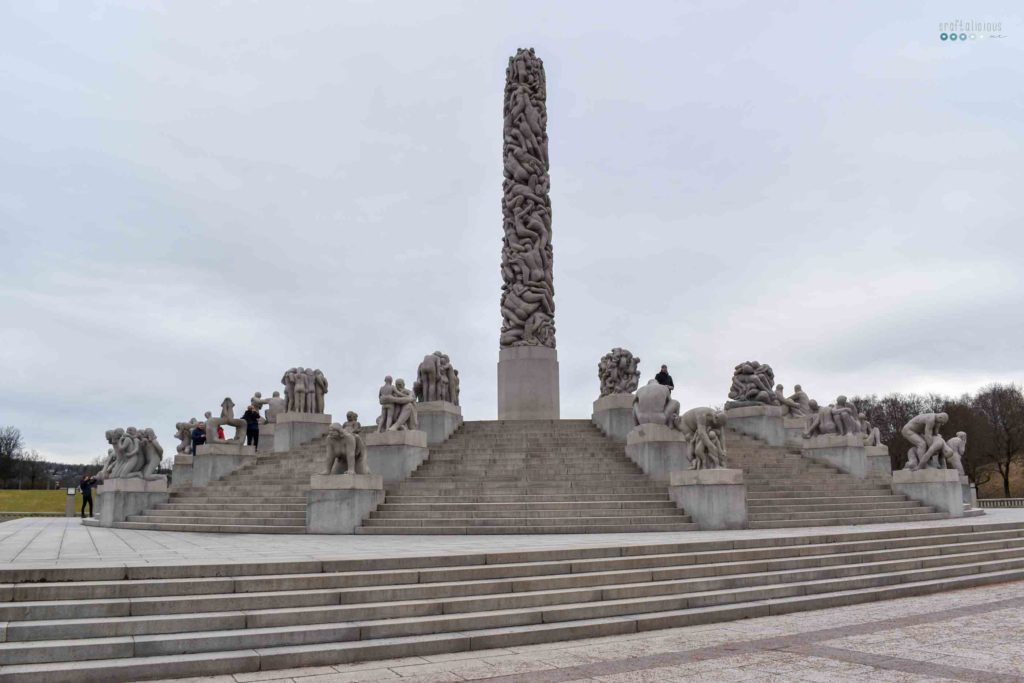 So much for the anniversary trip to Oslo. Here are a few more facts I gathered.
Things I found interesting
Right when you land you realize the Norwegians are more relaxed. The airport felt like a huge lounge area instead of a hectic travel hub.
You can rent a tiny little house boat that contains a sauna. Either with friends or a spot in a public house and then just jump in the Oslo Fjord to cool down. We observed some brave people doing so.
The most peculiar food we came across is a sort of cheese made of whey called brunost. It is eaten on waffles, crips bread and biscuits. We had a chat about that cheese with our waiter and it was very interesting. The taste however is something to get used to. But I am always interested to try local things.
For some reason Thors hammer is present through the city. We have come across a few references and not only because of Netflix releasing a new show.
Travel & Transportation
Boarding a plane from Berlin to Oslo is the fastest way to get there. Specially when only staying for a long weekend. Since bankruptcy of airberlin though it wasn't that easy to find good flights and in the end we did pay quite a bit. But my mind was so set on Oslo that I didn't feel like I should rethink the whole thing due to prices. We knew it wouldn't be the cheapest trip – Scandinavia never is.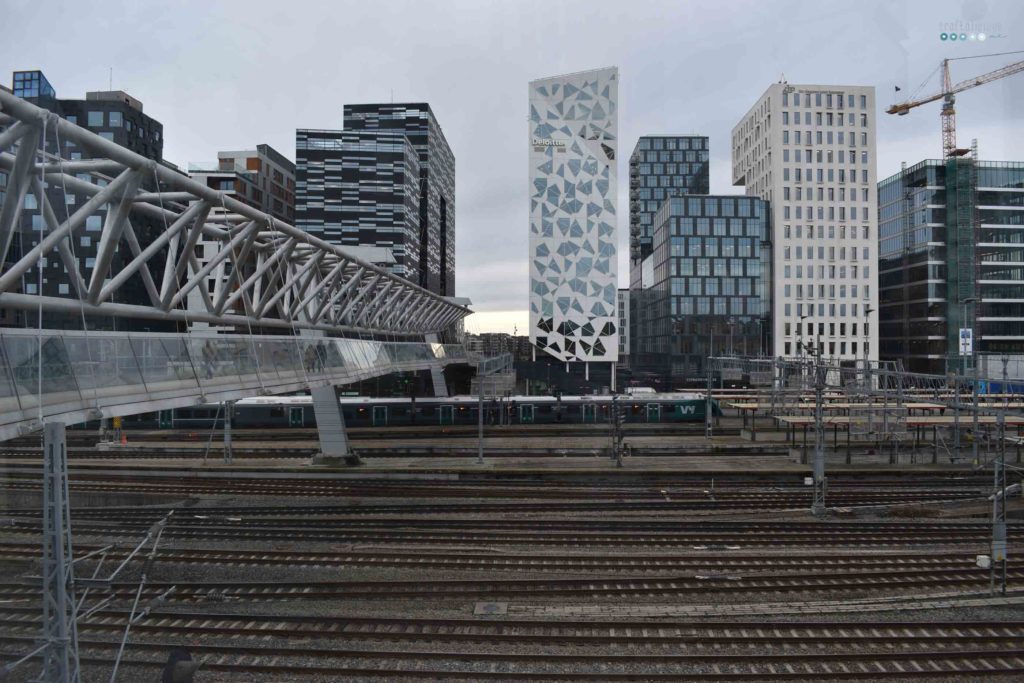 After arriving in Oslo you have two options to get into the city. The airport is about 50km outside the city.
There is the flytoget airport express that is a non-stop ride to the city center and takes 19 minutes and costs around 20€
And then there is the Vy service – the national train company with one stop in-between taking a total of 23 minutes costing only half with around 10€.
But be aware: at the airport the ticket machines for the flytoget are omnipresent while vy can not be found. That is why we took the expensive ride into town. It was a relaxed one though since we were all by ourselves in the train.
Within the city you could walk most of the areas you will look at during a weekend trip. If not you can get the app Ruter Billett to buy your ticket and get around the city. There are options for 24, 48 or 72 hours.
Accommodation
We spent the time in the fairly new "Clarion Oslo" hotel. It is a chain within Scandinavia and we picked this one as it was modern and not too expensive compared to others houses. It was located within walking distance to the main station (Oslo S) and the opera house.
Beforehand I wrote a quick note asking for a quite room with some nice view telling them that we are taking an anniversary trip to Oslo. When we entered the room we had a little treat and a handwritten card from the hotel staff wishing us all the best. This was a really nice touch and I never had anything comparable. Also I was really impressed with the breakfast that was served. It was a huge buffet and you have a ton of options from continental to more local choices. And since the hotel has a cultural and art orientation you will be able to admire a real Edvard Munch in the lobby. So I can definitely recommend this hotel.
Now I wonder: have you ever been to Oslo? Is it on your travel bucket list? And where should we go next for our anniversary trip?
Happy traveling
Tobia
This posts contains links to business. I was not paid to mention them but have found them either helpful or could recommend them because of the service they provided.