If you are a fellow Pinterest addict you'll probably came across jewelry and accessories made of lace. However I've pondering this idea longer than I have my Pinterest account – I just didn't know what to use to make it stiff. Duh me, I say.
This is what you need:
Lace
Scissors
Textile stiffener*
Brush – make sure there is no color in it (no, I do not talk from experience!)
Chain & eyelets
Tools
In my case I dip dyed the lace before, to achieve an ombré look. I threw in the first row of lace flowers and let them sit for 10 minutes, adding the next lace flowers and then 10 min later the last. However adjust accordingly to your desired color.
What I learned: prewash your lace! Mine had something in it, what made color absorbtion somewhat difficult. This will also ensure an evenly dyed result.
Now you have to let it dry. Best over night or in my case a couple days.
Next comes the textile stiffening. Fill a bit of the stiffener in a little lid or something. I wouldn't recommend working out of the big pot. Evenly spread the stiffener with a brush onto the lace. Make sure to work quick put precisely. Don't leave out small holes or deeper layers. Let sit for a bit, then turn upside down and repeat on the other side. Leave overnight to let dry.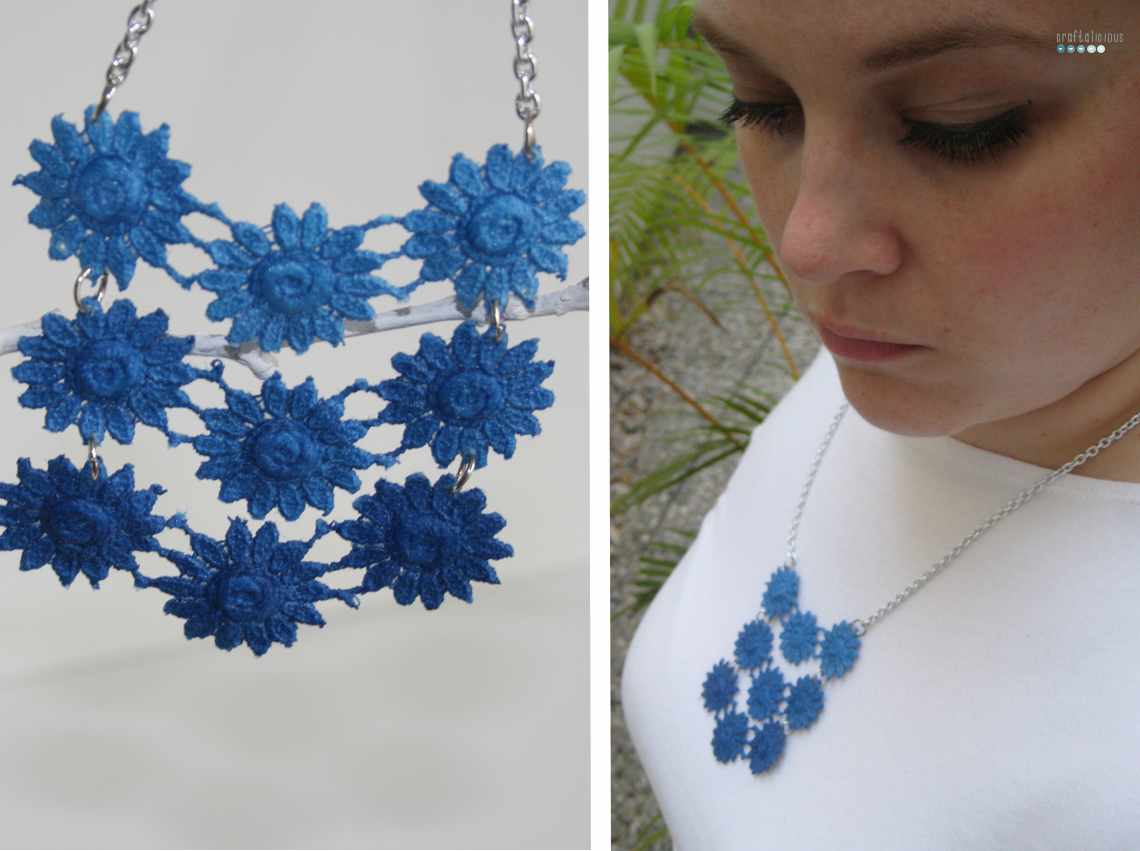 Now you can start the fun part. Work in the rings to connect the lace parts. Depending on your lace it could be better to work them in before you use the stiffener. I would do that with mine as it is quite tightly woven. Attach a chain and you are done. An easy project however it needs time. Perfect to do throughout the week after work.
I'd love to see your version so don't be shy in sharing. For more jewelry ideas check out my Pinterest board.
I am glad I had the chance to finally make something for myself again. That is way I'll submit it to the RUMS roundup.
Cheers, Tobia
*affiliate link (more info here)