I remember my first pair of Espadrilles – well technical they were my moms but I wore them around the house. Don't tell. It was early in the 90's and clothing fashion was more than doubtable. And very colorful. A while back when I read my emails I learnt that burda style was looking for participants of a little espadrilles design creativity. I wrote a quick email and was send one sole to work some magic. I was collecting some ideas on my Pinterest board and had a couple ideas. But when I started I changed my ideas as I went.
My sole didn't come with instructions so I googled a bit and found this measure taking guideline & this step by step tutorial.
First I gathered all my materials.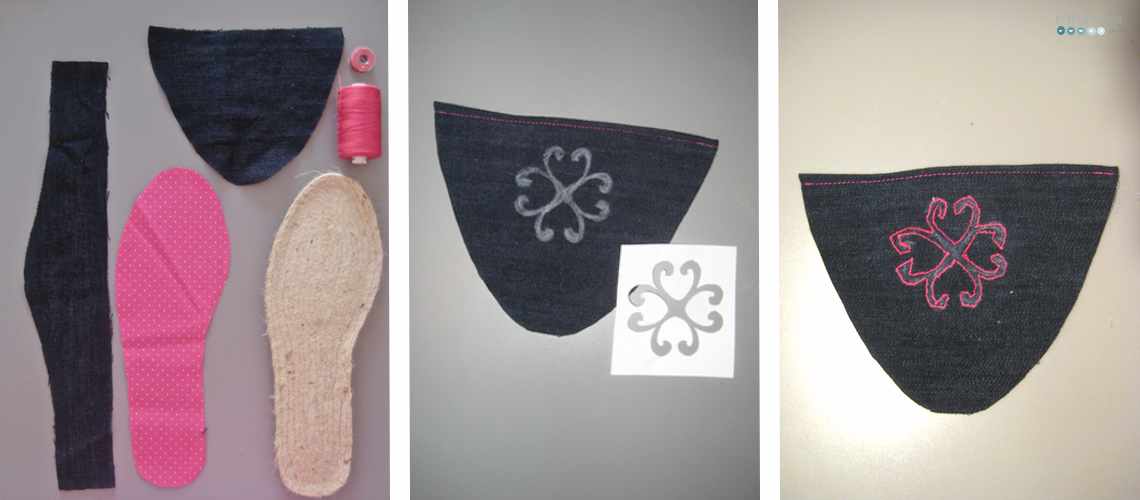 I first wanted to to some white version but than denim jumped at me. And I had this bright denim-pink color combination in my head and it would not leave. So I actually had to leave the house to get the embroidery thread.
I wanted to try out one of the cut out (laser cut) versions you see all over lately.
Sewing the pattern I really wished I had one of those fancy embroidery maschines.
Assemble your pieces. I used textile glue to attach the pink dotted fabric to the sole and then pin needles became my best friend.
I looked into this video tutorial to get the stitches right. New thing learnt right there…
Of course it could be much more perfect but I am quite happy. What do you think?
What I learnt: don't use such a delicate pattern. And it might also be wise to have a stronger fabric with no elastic. Measurements for the front didn't really work out – would have to double check that. And I like it if the heel part is coming up higher.
I had fun doing the shoe but the best thing is I'm no longer scared of making shoes. I've got some old wedges lying around and have some ideas in mind. Looking forward to find time to realize the project. But now with autumn around the corner it's most likely a project for next spring.
Have you ever done shoes? Show them! Always looking for more inspiration.
And because today is Tuesday lets meet other creative people on creadienstag.