Are you ready for the best season of the year? Christmas is just around the corner and decorations are pulled from storage. New things bought. Recipe books are being looked at the planing started. I am reiht there with you. For the last couple years I have been looking at the cute little Christmas villages made of house lanterns. I love how they cast a cozy light to the house. Such a fun way to decorate. And you can start a bit earlier than Christmas too. I decided to make my own DIY House Lantern for Christmas. And as you know I like to recycle materials and so this another fun craft for my ongoing series "Recycle Quick Tip".
This is not a craft I came up with but have seen a few times on Pinterest. And I just wanted to give it a try. It was my first time using milk cartons in a craft. I liked the craft paper look once the packaging was removed. But before I start telling you about my craft experience here is a list of things you need for the house lanterns:
empty, washed milk cartons or any other cartons in different sizes
craft knive
white pen
I popped in a holiday romance and started getting to work.
Making a House Lantern for Christmas
First you have to remove the colored paper to receive the craft Papier unfinished look. Cut the top of the milk carton. Try to make it a straight line but no worries if it is a bit crooked. Then maybe clean again and dry.
I cut down the entire length with a craft knife. make sure to only incise the top layer of the material. It works good if you start where the milk cartons is glued together. Peel off a corner and then carefully remove the entire top layer. I have realized that some packages it is easier to remove than others. I had a few where I couldn't strip the top layer entirely and it left some uneven white paper layers on. I first didn't like it much but later I just embraced the imperfect look.
After I had a few naked cartons I tried to imagine my little Christmas village. I had those cute little old town houses from the Hanseatic in mind. Like you see in Amsterdam, Hamburg or Lübeck. After looking at a few images I just started drawing some windows and doors to my house. And of course the icon roof variations.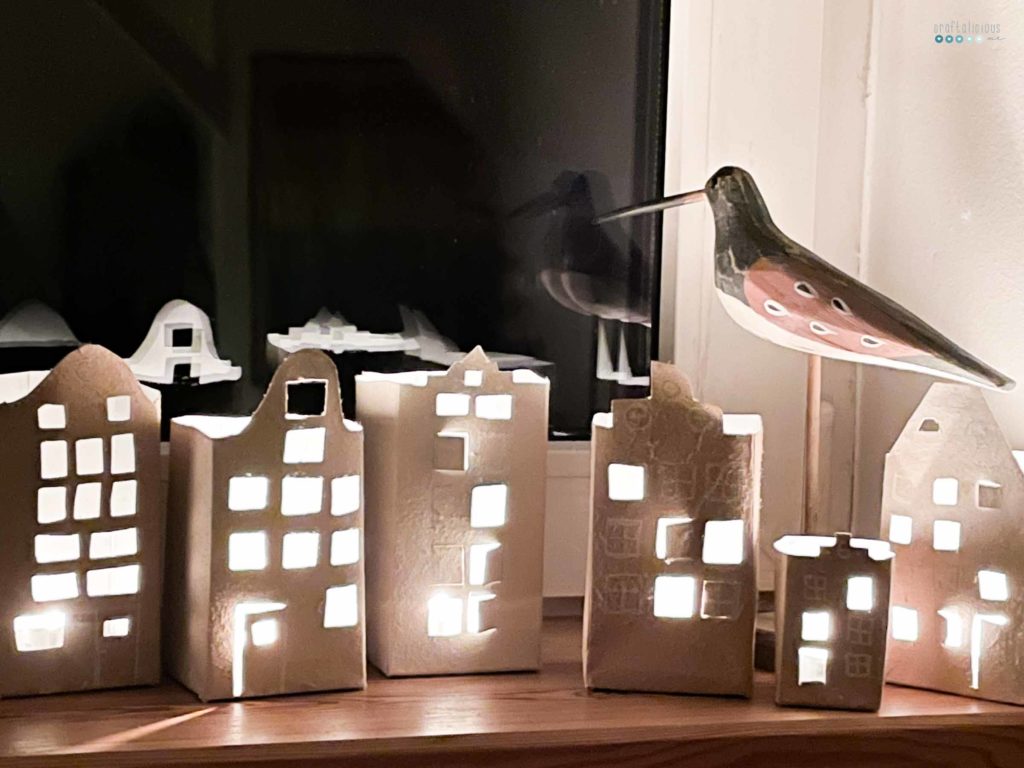 Then I cut out the windows. I realized it sent the smartest idea to cut every window as it takes a way a bit of the mystery. And so I started having some closed and some you could open. I also had my doors slightly leaving light through.
After I everything cut out I added some white ink to make them look cute in daylight too.
As you can see. easy craft that doesn't cost a thing. Add some lights, put on the window sill and enjoy your little house lantern for Christmas.
Happy crafting
Tobia