Good morning,
In the past two years (2015, 2016) I've been writing about my "every day life on a random day" and I figured it's time for a follow up in 2017. I haven't really mentioned what has changed in my life this year and this might be for a mother post. But as of 2017 I am no longer an employee but decided to dare try the life of a freelance. This is way I have started commuting even longer ways. One thing I swore I'll never do again for a job. No comments please… This week I was in Düsseldorf.
6.47am – already awake even though I could sleep some more. Scrolling Instagram and reading blogs.
7.30am – I get up and make some coffee, go back to bed and read more blogs
8.00am – Time to get up and get going… go to the bathroom, wash dishes, pack my suitcase
8.45am – drop off keys at my Airbnb host. Also I have a little present I give her.
9.09am – upps I'm running late… I kind of lost time chatting with her. Of to the tram I go. I am pondering if I have time to stop by the bakery for breakfast and get something for lunch too since I have a meeting over the lunch hours. I decide against it in the end otherwise I miss the bus too.
9.30am – I am at the office turn on my two laptops (yes because one isn't enough!) and check my mails. Then get a coffee. A collogues is stoping by to ask a favor as she is not fluent in German. And another one stops to tell me something about budges. And then a third one for even more random things I don't know anything about. Guess my desk is very cool today.
10.50am – ok let's get something to eat before the day gets too long and my mood crappy. I run to the bakery across the street. A freedom I would have never done when being employed. How come?!
11.05am – I am heading over to the content factory aka the photo studio where I will spend the next 3,5 hours producing photos and content. Of you want to see want my current day job looks like check this account or this one.
2.30pm – time for another coffee before heading to the next meeting. Meeting partner runs late so I work on some presentation. A collogue brings by some products I can take home to try. Don't say no to that.
2.50pm – meeting and munching cookies that I bought for the shooting. You might spot them in December.
3.30pm – back to working on some more content for February and briefing the graphics department about image retouch of our shooting we just did.
5pm – shoot I knew something was going wrong just when I was getting ready to leave the office, why is uploading videos to Instagram such a pain
5.40pm – last time in the Düsseldorf office this year so I better say good by to everyone before leaving even though running late. Again…
5.50 – time to head to the train
6 pm – train got canceled, good thing I always go with enough spare time. I might have a tiny panic phobia here
6.25 – finally at the main station and some time to get snacks and the bi-weekly Starbucks. Today I go with Chai Latte. I somehow can't go with Coffee Nut Latte yet.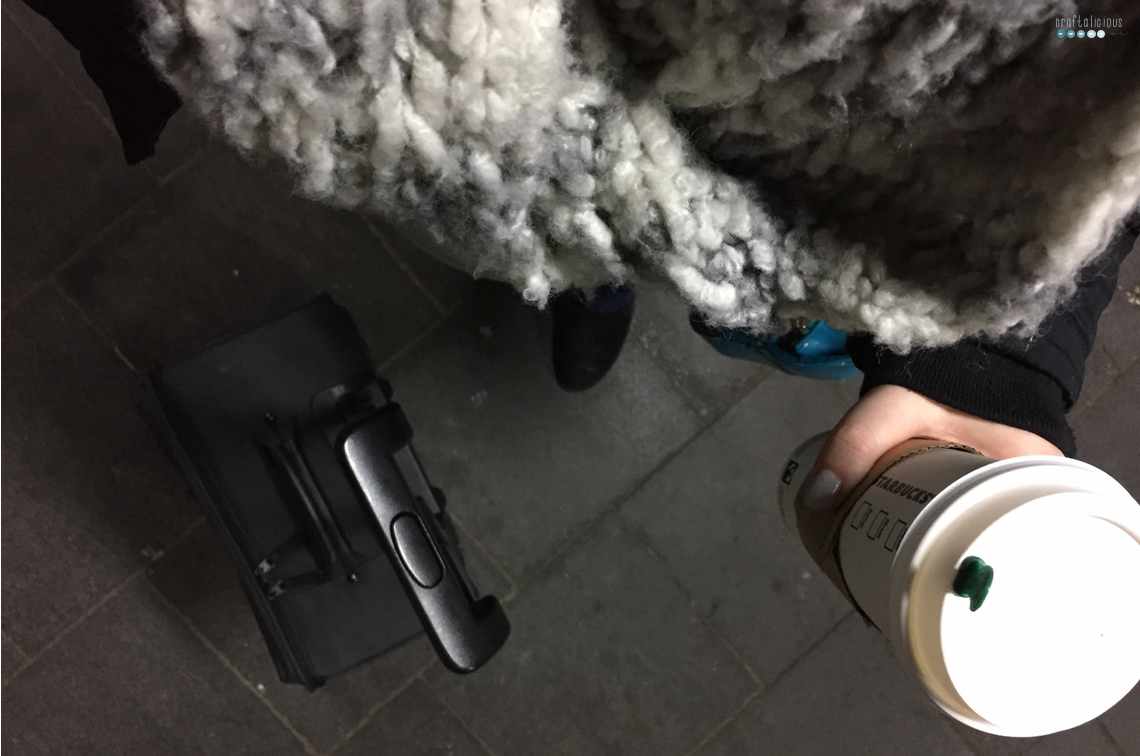 6.35 – quick call to my sis. Lots of hello yells from my little nephew who turns two in February
6.45 pm – the train starts moving… close to 5 hours of travel time ahead. I open my laptop and start working. Still trying to figure out the video upload with a crappy connection. While simultaneously booking hotel rooms and writing blog posts and sipping chai latte
8pm – just passed Dortmund. Starting to get hungry. Lets have dinner.
9.30pm – I am in Hannover. When I am here I usually get restless and just wann be home already. Next stop is already Berlin. Yeah!
9.50pm – ok I think I stop working now for good. Shopping for my favorite tea as they always have some cool Black Friday sale and I need to desperately stock up on tea as I have nothing left. Also get the pictures for this post ready.
11.00pm – I am tired and I want to be home now. Only minutes though and I text Mr. ❤︎ that he can start the car and pick me up.
11.20pm – I've got the best husband ever because he picks me up every time I come home from Düsseldorf. Even when it's after midnight.
11.45pm – finally home. Talking and doing laundry.
00.20am – ordering my tea because I couldn't from the train.
00.35am – scheduling Instagram posts, work work work. Today is really crazy but I rather do it today and be done with it. Tomorrow is my free day.
00.50am – Finally in bed after a really long day.
Well, now I am interested what your day looks like so please share.
Happy Friday,
Tobia
MerkenMerken
MerkenMerken