Juchuuu es ist mal wieder Flohmarkt-Zeit bei Steffi. Was freu ich mich. Denn es gibt so einige Dinge, die hier rumliegen… Und ich bin mir ganz sicher, irgendwo da draussen ist jemand, der genau das sucht. Einfach Kommentar hinterlassen.
Pumps in rehbraun mit Zierschleife
Echte Vintage Pumps in einem verrückten rehbraun mit schwarzer Schleife. Ich hab sie bei einer Wohnungsauflösung gerettet nur leider passen sie mir nicht. Wer mag mit ihnen spazieren gehen?
Facts: Gr.39, Absatzhöhe 7 cm, Wildleder, hellbraun/rehbraun, Sohle leicht abgelaufen
Calvin Klein Gregory Smoking Schuhe in Lack – Hallo Bräutigam
Niegelnagel neue Schuhe von Calvin Klein. Nur in den USA erhältlich. Mr. ♥ hat zwei Größen bestellt, Rücksendung wäre zu teuer gewesen. Gibt es in Deutschland also nur ein einziges weiteres Mal ;-)
Facts: US 10,5 / D 44,5, ungetragen (außer Probelaufen in der Wohnung), schwarzer Lack
Sorry, die Bildqualität ist bescheiden, Lackschuhe lassen sich mal gar nicht fotografieren…
Dampfbügeleisen Phillips Elegance
Wir haben neulich festgestellt, dass wir sage und schreibe VIER Bügeleisen besitzen! Jeder hat eins in den Haushalt gebracht. Eins haben wir auf ner Wohnungsauflösung gerettet und dann haben wir eins gewonnen. Wer hat noch keins?
Facts: 3 m langes Kabel, 2.300 W, 300 ml Wassertank, Antikalksystem, Sicherheitsabschaltung
Paulo Coelho Collection von Jokers 2004
Nachdem ich den Alchimisten gelesen hatte, wollte ich mehr von Paulo Coelho lesen. Alle Bücher sind toll. Aber nur den Alchimisten les' ich noch einmal. Und das Buch hab ich doppelt.
Facts: in ENGLISCH, nur einmal gelesen, beinhaltet: The Fith Mountain, The Alchemist, Eleven Minutes, The Devil and Miss Prim, Veronika decides to die
Mad Men Staffel 1 & 2
Tja was soll man dazu groß sagen: Mad Men eben. Wir haben irgendwann angefangen über Watchever und Lovefilm weiter zuschauen.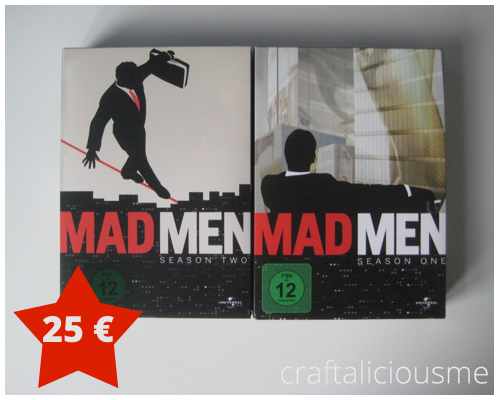 Facts: sehr guter Zustand, nur einmal geschaut

Kleingedrucktes:
Alle Preise zzgl. Versandkosten (ich versende über DHL zum günstigesten Preis also 4,90 € oder 6,90 €). Privatverkauf, kein Umtausch. Schreibt ne Email an me@craftaliciousme.com oder hinterlasst ein Kommentar. Bezahlung per Paypal oder Überweisung und wer in Berlin vorbeikommen will darf das natürlich auch.

Wer noch mehr sucht, wird vielleicht hier fündig: Kleiderkreisel, Mädchenflohmarkt, ebay
So ich starte jetzt mal meine Shopping Tour bei Euch… habt 'nen schönen Freitag,
Tobia