Today I want to take you to an abandoned place outside of Berlin. It is called Beelitz-Heilstätten. It was founded before WWI and used mainly as a tuberculosis sanatorium for Berlin's industrial workers. During WWII it was also used as lazaret. There are 60 buildings on 200 hectare. The history is very interesting.
It has been a while since I have been there, ok I've only been there once, but it was very inspiring, very exciting and I still love to look at those pictures. So with further ado lets have a look.
I was in love with the stair cases. So many interesting perspectives.
And I just loved the chipped paint on almost every item in the buildings.
But I guess the most interesting was the scattered glass windows – they were sparkling in the sunshine looking like crystals.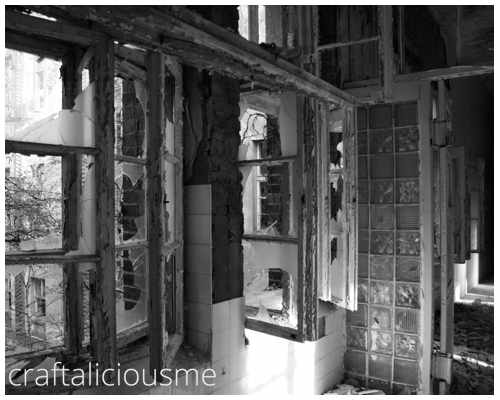 Those were only the black & white pictures. Lots more on my cpomputer. Are you interested? Want to see more? You might actually want to watch your movies more closely too as this places is frequently used as setting.
More gray can also be found at Bine & Andrea's color me happy parade.
Enjoy your Sunday, Tobia