Ich habe zu Weihnachten diese traumhafte Mini-Gugelhupf-Silikonform bekommen in die ich ganz verliebt bin ♥.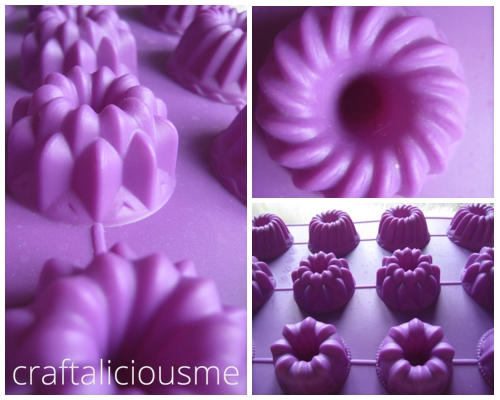 Bisher hatte ich kaum Gelegenheit diese zu benutzen. Aber Ideen gibt es schon einige. Und eine kann ich schon zeigen :-o.
 Könnt ihr euch noch an meine Cake Pops erinnern? Ich hatte viel zu viel Schokolade über − immerhin muss man die Pops ja entsprechend tauchen können. Und da ich nichts entsorgen kann, kam mir eine Idee.
Ich habe kleine Schokotörtchen "gebacken".
Sind die nicht traumhaft? Und lecker…
Ich habe unten in die Formen noch ein paar Zuckerstreusel gegeben. Dann ein bisschen warten bis alles hart ist und fertig!
Das Tolle an den Silikonformen ist, dass es soooo einfach ist die Schoki auch dort raus zu bekommen. Nichts mit anschmelzen oder dergleichen. Echt super.
Ich glaube ich werde das noch häufiger machen. Ich bin ganz verzückt. Ich muss mal nach einem Rezept mit Marzipan suchen… Oder die Schoki mit Chilli, Orange, rosa Pfeffer pimpen… Ooohhh so viele Möglichkeiten!
Ihren großen Auftritt hatten sie dann übrigen als Geburtstagskuchen.
Aber so was ist doch auch super zum Valentinstag, oder? Ach ich werd noch ein wenig in meinem Ideen-Chaos schwelgen. Bis bald…
0
Click and leave a ❤︎ if there is no time to comment.