Eigentlich wollte ich ja einen Kuchen backen der eine Überraschung im Inneren hat. Da gibt es unheimlich viele Inspirationen die im Web umherschwirren. Nur um einige zu nennen schaut mal hier und hier und hier und hier.
Der Plan war ein kleines rotes Geschenk als Kern zu machen. Blöderweise hat sich die Farbe beim Backen an der Oberfläche gesammelt, so dass ich dann einen wundervollen Ombre-Cake hatte – aber DAS war ja nun nicht so geplant. Also musste ich kurzer Hand improvisieren und habe noch einmal Cake Pops gemacht. Da ich diese aber nach Münster transportieren musste, habe ich die Stiele weggelassen und einfach Pralinen daraus gemacht.
Und man merkt es wird Frühling und bunt…. *wie schön*
Die Farben passen so richtig toll zu meiner Frühlingsstimmung. Was so ein bisschen Sonne doch ausmachen kann.
Wie die Verpackung entstanden ist, verrate ich euch ein andermal.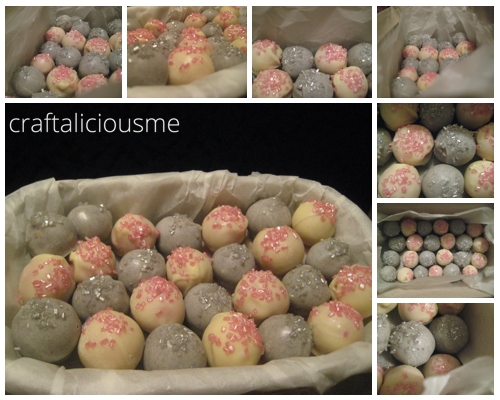 Gerade eben habe ich schon wieder ein super leckeres Cake-Pop Rezept entdeckt. Hüpft mal rüber zu Miss Blueberrymuffin. Das steht auf alle Fälle auf der Want-To-Backliste ganz weit oben….
0
Click and leave a ❤︎ if there is no time to comment.