I don't like nougat that much but these nougat buttons are a favorite in the Christmas Cookie Jar. They get made envy year. At least for the past 10 if not longer. I like recipes that are quick and easy and don't take too much time. This is one. And it taste wonderful too. It has a very smooth almost velvety texture, a chocolate-nougat taste and the white chocolate gives it the extra flavor. I know I am raving but you really need to give them a try. I promise you won't regret
Here is what you need for the Nougat Buttons
200 g nougat
100 g butter
1 egg
1 tbsp vanilla sugar (1 package)
2 tbsp sugar
a pinch of salt
1/4 tsp cinnamon (I use way more)
1/4 tsp of cloves ( or a bit less)
300 g flour
1/2 tsp baking powder
2 tbsp milk
white chocolate
How to make nougat buttons
Melt the nougat. Depending on what kind of packaging it comes you may be heating it inn a water bath.
Add butter. Once it has a smooth constancy add the egg.
Now add vanilla sugar, sugar, cinnamon, cloves and salt.
Combine flower and baking soda and add inn small heaps to the dough while stirring. Add milk in between.
Dough needs to be refrigerated for at least an hour.
Form little balls, set on baking sheet lined with a baking paper.
Press down the balls with a fork and make the pattern.
Bake for 10-12 minutes 180°C (or 360° F) -> I usually only bake around 8 minutes.
Once the cookies are cooled dip in melted white chocolate. I prefer to do only half the cookie. It looks better and the taste is different with covered and uncovered cookie.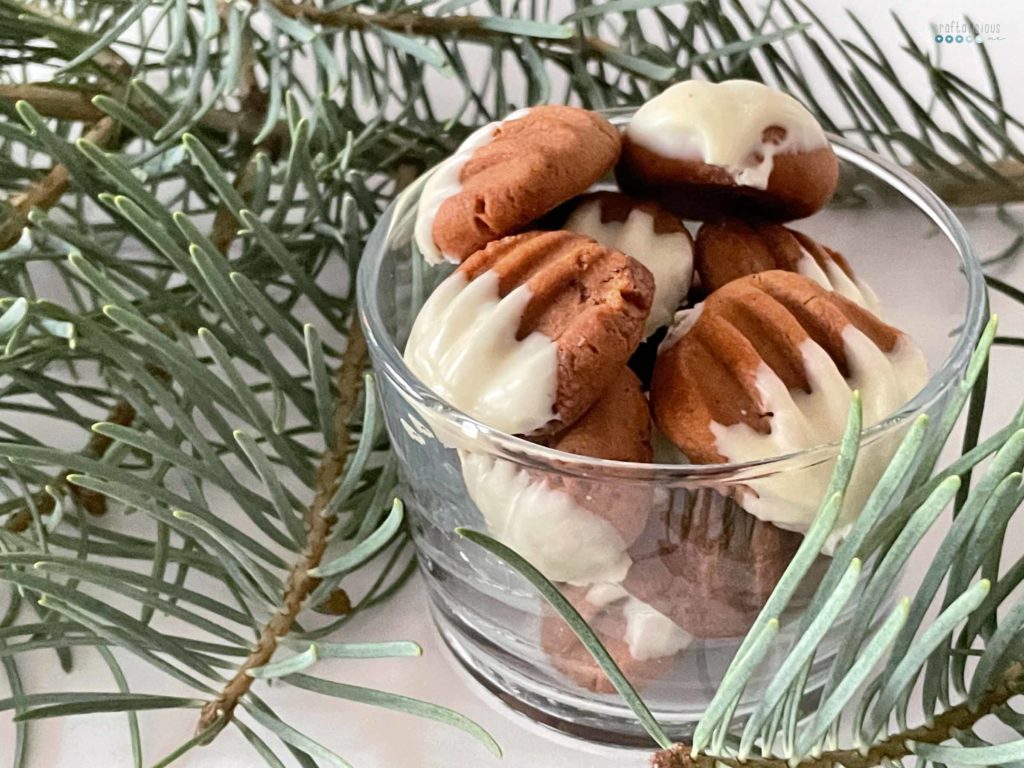 It only took me another 4 years to post another Christmas cookie recipe. Maybe I won't take that long for. the next one to show up here. Do you have a favorite recipe I should bake. Leave me a link in the comments.
Happy baking
Tobia