When I was in school I used to have a planner. But it was more than a planner. It was a diary, planner, timer – all in one. I remember that I loved leafing through it in boring classes, that I drew doodles, that I glued quotes into my planner and that I really really didn't like anyone touching it or going through it. I mean it was personal. But I also remember that everyone wanted to have a look.
I kept all those planners. They are all up on a shelf unter my desk – the one I am currently sitting typing those lines.
After school I downgraded my planners and for a couple years I used a tiny one from moleskin. I always asked St. Nicholas to bring me one so I had enough time setting everything up.
But then I realized I actually don't use it anymore and put everything in my phone anyway. So the planners got smaller and they are almost unused.
Last year however I felt like I need one of those diary planners back in my life and bought a "Ein guter Plan" through crowdfunding. I only used it to journal my three happy things that happened and about three sentences about the day. I liked the mindfulness chart for every day and drew up a few more bullet journal inspired charts.
While I liked the planner I feel like it is not quite what I need. First I thought I will start a bullet journal but lets be honest: I probably won't make it far.
So I am looking for a planner that is my perfect companion. One that has pre-printed most of the things I need but enough space to individualize it.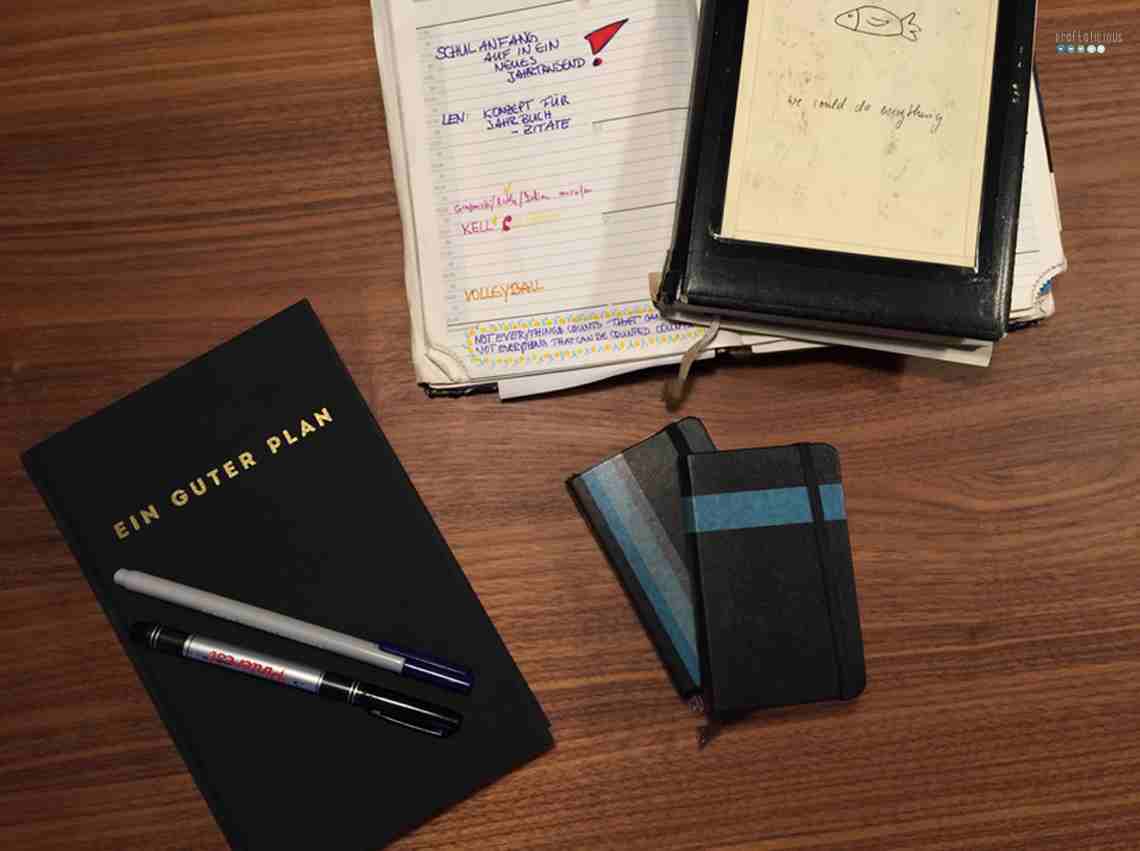 I am currently looking at the following planners*:
Facts:
Size: A5
Color: white and black
Price: 34,90 €
What I love:
– Coaching section with 32 pages for reflections, goals, action steps
– unfold-able 12 month timeline to plan out goals – would work hand in hand with the goal setting from the "Unravel your year 2017" book
– monthly review to stay on track and reflect on successes
– weekly goal setting
– after 6 month there is a section to reflect and regroup
– 40 blank pages
– the company blog shows how to use the pages and gives ideas
What I am missing:
– the book cover looks a bit boring and seems not of as high quality as similar products
What I don't need:
– I don't care that I can number/date the weeks on my own. I guess if you only use it in weeks you work the 52 weeks last longer than a year and might be helpful for some people.
Facts:
Size: A5
Color: black, mint, pink
Pages: 224
Price: 16,90 €
What I love:
– weeks start with a "dump list" for all tasks
– entire page per day with top 3 tasks to get done, timeline and task manager for ABC prioritizing as well as a section for notes and a habit tracker
– seven extra habit tracker page
What I am missing:
– the planner only has 26 weeks… I am a bit confused by that so I guess you need two to get through the year.
– I am not really impressed with the used font/layout. It's just not my style and a bit cheesy in my opinion.
Facts:
Size: A5
Color: white and black
Paper: 90 g/m
Price: 24,90 €
What I love:
– lots of lists for goals, projects, tasks with overview pages
– monthly overview pages for project planning with ABC tasks
– habit tracker per month
– quarter project overview
– ABC prioritizing for the week, timeline, upcoming week preview, note area
– goal setting pages
– lots of sticker, labels etc. available
What I am missing:
– I am not impressed with the layout. It seems bold and uninspiring.
What I don't need:
– the goal setting pages are set for 2023 – too far for me
Facts:
Size: A5
Color: rose/gold
Pages: 256
Paper: 80 g/m
Price: 28,90 €
What I love: 
– the project section for every week
– clean and feminine layout and colors
What I am missing:
– lists, trackers, coaching…
What I don't need:
– The address book pages – its all in my phone so no need for that.
– The budget page that is next to the project page. I have my finance in order and I usually have a pretty good overview so this wouldn't help me much.
While the design of Jo & Judy is the most impressive the structure of the planner just doesn't work for me. The business planner might be a bit too much for what I plan to use it for. And the starryday planner is only half a year (I really can't wrap my mind around it).
So I guess the Klarheit Planner is my best choice. But I am open for suggestions so please share if you have a better option!
Happy weekend,
Tobia
*Some links in this article are affiliate links. Meaning if you buy through this link I get a small provision. This would help me cover some of the costs for this blog. Thank you, I really appreciate it.