Today I have a quick recipe. When it comes to cooking it is not really my favorite activity. Unless I cook for myself. Then I am a bit more enthusiastic because I can try new things. I am not a picky eater and if my creation may not taste that great I will still eat it. I can only remember one time when I actually had to trash a dish because it was uneatable. My body had reactions. The roasted brussel sprouts with salmon is one dish I like to do for myself. It is quick, easy and healthy. Now I am just hoping Brussel sprouts don't trigger strong body reactions for you. I personally believe that Brussel sprouts should get a bit more credit.
Did you know that they are actually called Brussel sprouts because it was first cultivated in the region that is now Belgium? I personally didn't know that. Probably because in German I never heard the term "Brüssler Kohl" that is apparently used in some area. For me it will always be "Rosenkohl" and roughly translated as rose cabbage. I am stalling. Let's get cooking.
Here is what you need
250 g fresh Brussel sprouts
150g salmon – I used one with skin
250 ml organic creamy oat cuisine – alternatively regular cream
salt
pepper
fresh lemon juice
pumpkin seeds
As I mentioned earlier I am a fan of quick and easy cooking. So the instructions are somewhat ridiculous to write down but here they are:
Wash and clean Brussel sprouts
Cut in half and put into casserole dish
Place salmon on top
Add salt and pepper to salmon.
In a bowl mix oat cream with plenty of salt and pepper. I used lemon salt for the extra kick.
Spread over vegetables and salmon.
Sprinkle some pumpkin seeds on top.
Bake at 180°C/ 360°F for about 20-30 minutes.
Sprinkle lemon juice before serving.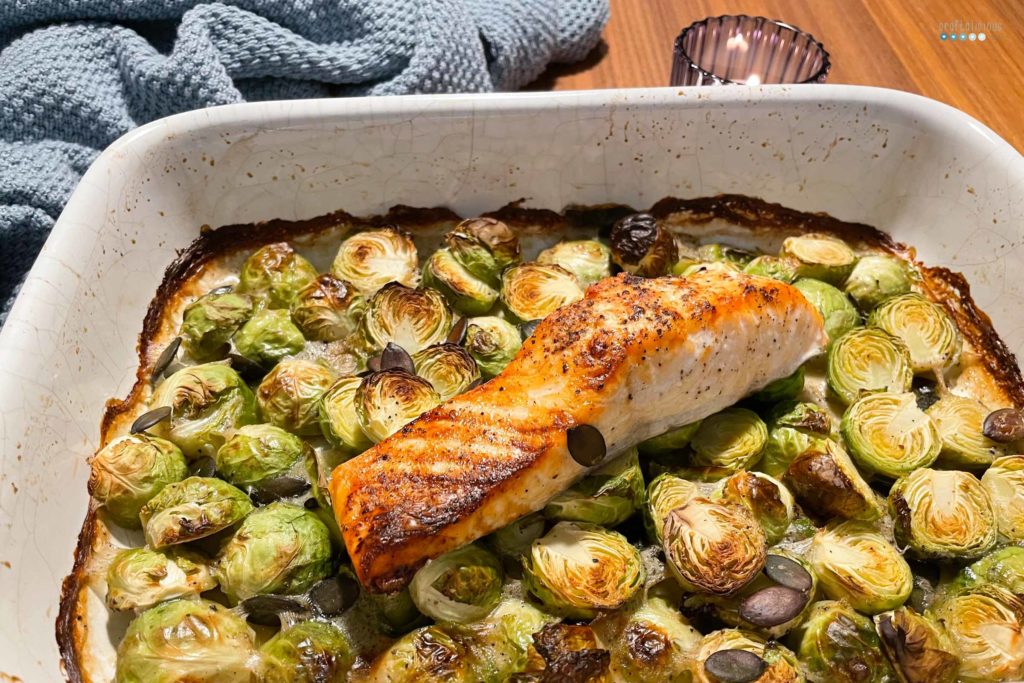 Now let me know if you like Brussel Sprouts and how you usually eat them. If you don't like them tell me what your favorite vegetable is.
Have a great day
Tobia