Today I want to share a recipe for one of my most loved dinners there are. Boiled potatoes with Quark and linseed oil – it does sound rather simple at first. And it actually is. It is the so called poor peoples food from a region called Lusiata.
Lusiatia is a historical region in Central Europe split between Germany and Poland. It is the region I grew up in. I shared a little last year when I took you on a stroll through Noßdorf. The region itself is full of great landscapes.
We have the so called Spreewald here – an area with canals through woods and meadows from the river Spree that you can travel by boat. It is home to an ethnic group called sorbs. They are crafty people if you remember my Sorbian Easter Eggs. There are also sand dunes and deep forests.
The first traces of this very simple but delicious dish can be found in the middle of the 18th century, when Frederick the Great brought the potato to the fields of Brandenburg and Prussia by a trick. Skeptical of the new crop, the interest of Lusatian farmers developed slowly when the king had them mock-guarded in large fields around Berlin. In night and fog operations, the farmers now stole plants to use in their fields. Frederick had achieved his goal: potato cultivation began in Lusatia and in only a short time the nutritious tuber developed into the main source of food for the simple population.
There is a saying by Oskar Lukas "Was macht den Lausitzer stark? Pellkartoffeln, Leineel und Quark." Roughly translated to "What makes the Lusatian strong? Boiled potatoes, linseed oil and quark." – which rhymes in German
Anyway growing up this dish was on the table most every week. and today it is still when its up to me. It is a healthy dish for sure.
Potatoes – The great tubers saturate long-lasting due to their high content of carbohydrates, with a very low fat content at the same time. In addition, they contain many valuable fibers, protein, vitamins, minerals and secondary plant substances.
Quark – Quark makes you strong! The protein-rich dairy product strengthens bones, supports muscle development and ensures a balanced intestinal flora.
Linseed oil – The oil extracted from linseed is well-deservedly called "liquid gold" because it contains more valuable essential fatty acids than almost any other edible oil. These fats are vital for the human body, but it cannot produce them itself.
And in case you are wondering its gluten-free and vegetarian.
Ingredients you need for four servings
500 g quark
milk
1 kg potatoes, smaller size
lineoil seed – preferable from Lusatia (at times this may be called flaxseed oil. should be the same)
spring onions alternative chives
salt
optional: tomoates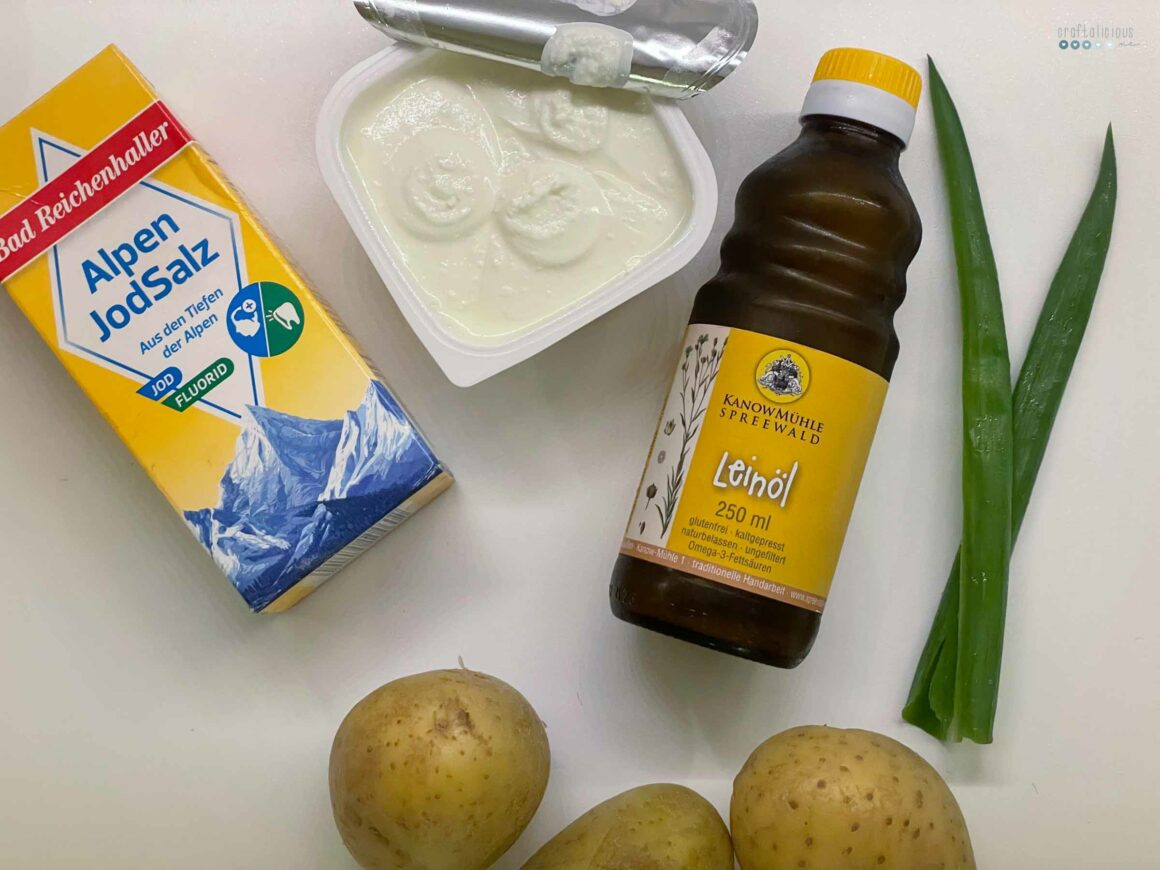 Wash the potatoes – I usually eat them with skin but you can peel them after boiling if you prefer. Put them into a pot and boil until you can easily spike them with a fork.
While the potatoes boil mix in a bowl the quark, salt and add milk and oil and whip until smooth. It should have a constancy of greek yoghurt or pudding.
Note: linseed oil has a very unique taste. If you are not familiar you can leave it out of the quark mixture and drizzle on top instead to taste.
I personally prefer to serve this dish with a side of tomato sometimes as a salad with added onions.
Serve potatoes with a quark, drizzle with linseed oil and top with cut spring onions.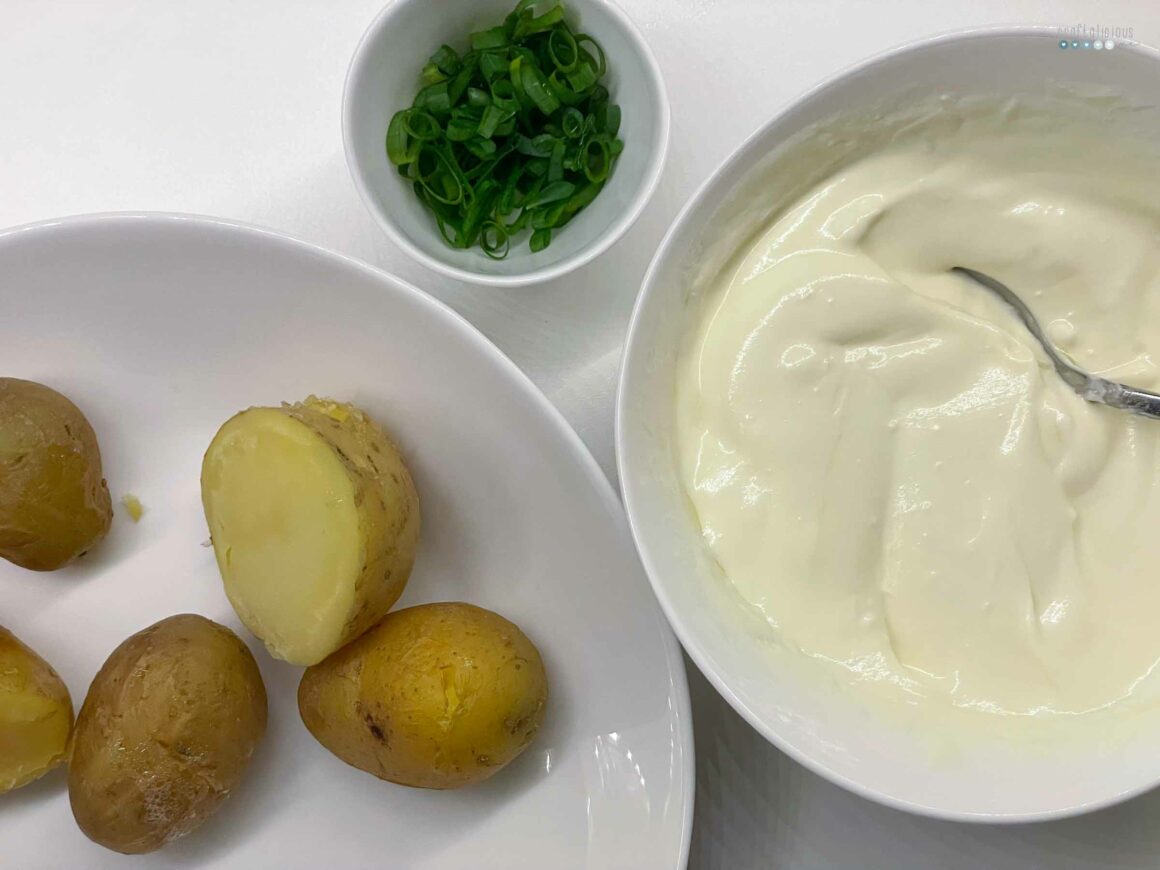 This dish is really great if you need a quick dinner, for hot weather, when budget is tight and when you have to serve gluten free all of a sudden.
I hope you enjoy this favorite of mine and let me know when you tried it.
Happy dinner
Tobia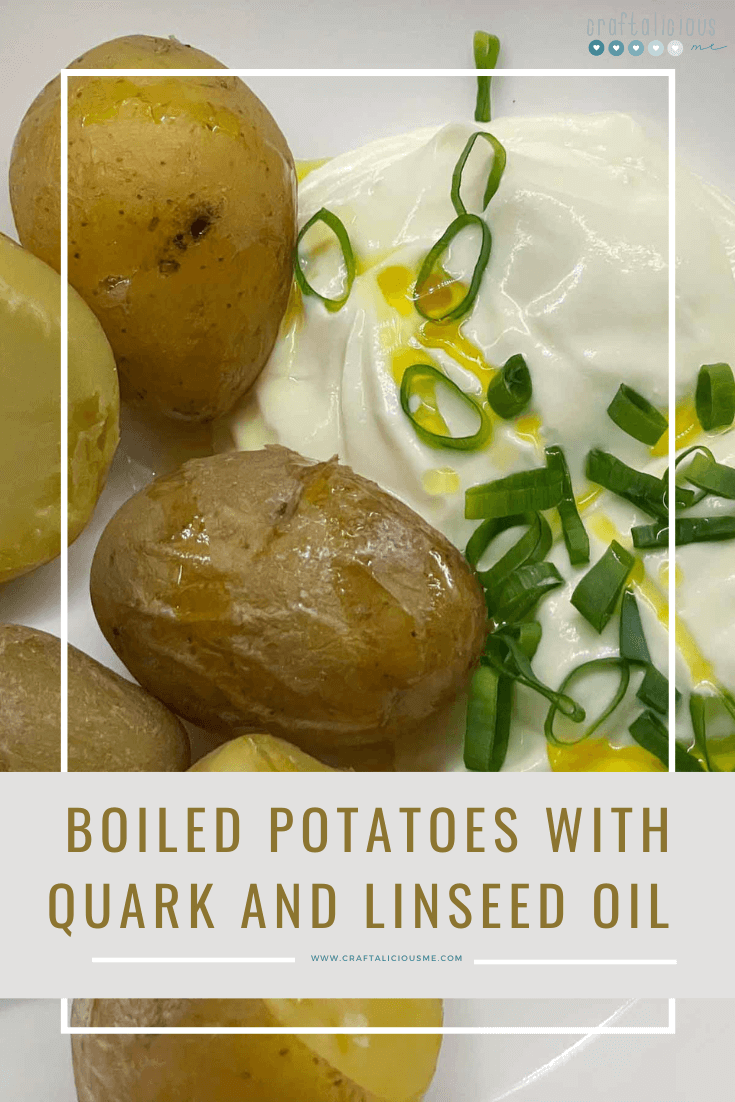 Sources: Lausitz Stark