Hello together,
today I have a guest blogger. My friend Nicole who I met in real life first – yes this does still happen. She recently started to blog as well and today she is showing a lovely sewing tutorial. It will be in German though. My English readers : please come back tomorrow or enjoy todays pictures. You are smart you can figure out what we are doing here. Now enjoy a Star Clutch Tutorial.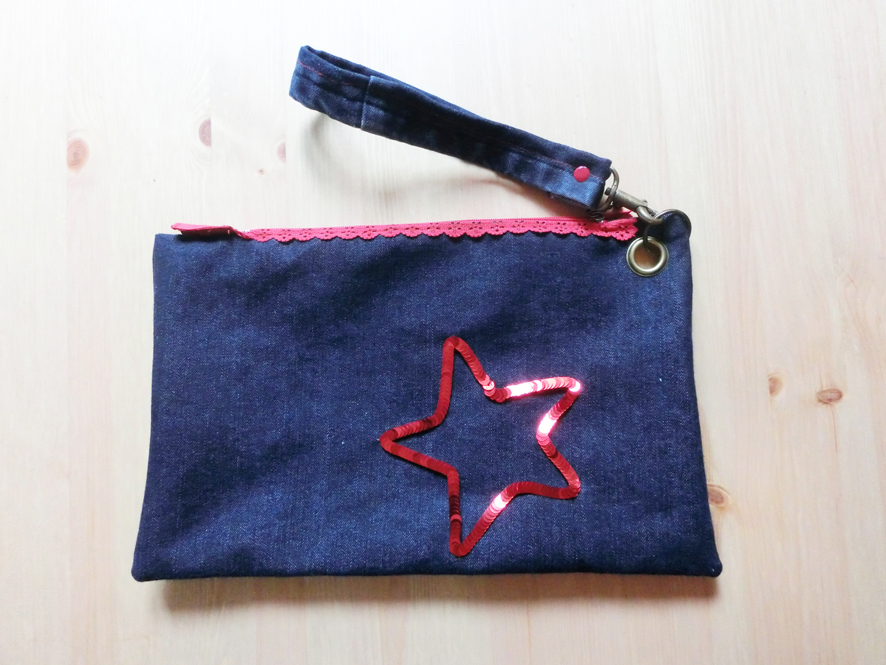 Ich freue mich sehr heute als Gast bei craftaliciousme zu Besuch zu sein. Und heute zeige ich Euch wie ihr euch eine Stern-Tasche aus der alten Jeans näht. 
Material: Eine alte Jeans mit intakten Hosensäumen oder neuer Jeansstoff (Tasche: 2 x 32 cm x 21 cm, und Handschlaufe: 1 x 4 cm x 44 cm cm, inkl. 1 cm Nahtzugabe), Futterstoff (Tasche: 2 x 32 cm x 21 cm, inkl. 1 cm Nahtzugabe), Pailettenband (60 cm), Nähgarn, Spitzen-Reißverschluss (25 cm), 1 Öse (10 mm ø) 1 Hohlniete (5mm ø f. 9 mm Höhe), 1 Spiral-Ring (25 mm ø), 1 Taschen-Karabiner (25 mm breit)
Und so funktionierts: Zuerst einen Stern zeichnen mit max. 5 cm Spitzenlänge. Ausschneiden und mit Schneiderkreide auf eine Seite des Jeansstoffs übertragen. Nun das Pailettenband mit Nähnadel und passendem Nähgarn per Hand aufnähen: immer nach 3-5 Pailetten das Band mit einem Querstich an die Jens nähen. Damit die Sternform umrunden. Das Ende des Pailettenbandes gut vernähen und den Faden unter den Pailetten verstecken.
Jeweils Futter und Jeanstoff an drei Seiten (kurz-lang-kurz) nähen und die Ecken einschneiden. Das Futter wenden und nun rechts auf rechts in die Jeans-Tasche legen. Die linke Seite befindet sich jetzt außen. Den oberen Rand Stecken und bis auf eine 10 cm breite Wendeöffnung nähen. Anschließend die Tasche duch die Öffnung wenden. Die Kanten bügeln.
Jetzt den Reißverschluß mittig auf die rechte Seite außen aufstecken und (mit einen Reißverschlussfüßchen) feststeppen. Ich habe das Ende des Reißverschlusses noch mit einem Stoffrest eingefasst. Die Kanten der Tasche hinten per Handstich schließen.
Für den Henkel den Stoffstreifen längs 2 x 1 cm nach innen legen und längs entlangnähen. Den Henkel zur Hälte legen und den Karabiner auffädeln. Die offenen kurzen Kanten nach innen legen (ca. 2 cm) und den Karabiner mit einer Hohlniete fixieren (siehe Hersteller-Anleitung). Dabei alle Lagen des Stoffes mitlassen.
Vorne eine Öse (10 mm ø) an der Ecke einschlagen (nach Hersteller-Anleitung). Dann den Spiralring in die Öse ziehen.
Nun nur noch den Henkel mit dem Karabiner am Spiralring der Tasche einhaken.
Ein perfekter Begleiter für die Weihnachtsfeier, oder?
Ich hoffe Euch hat's Spaß gemacht wie mir. Und wenn ihr weitere DIY-Tutorials mögt, kommt mal bei mir vorbei: Berlin-Creative. Es öffnen sich noch einige Türchen des Adventskalenders bis zum 24. Dezember.
Liebe Tobia, vielen Dank für deine Gastfreundschaft und ich freue mich auf die nächste DIY-Party mit Dir!
Bleibt kreativ, Eure Nicole aka. Berlin-Creative
So, jetzt kennt ihr auch Nicole. Habt einen hübschen Tag und bis morgen.
Happy crafting, Tobia