I love traveling. A lot! This part of me as not been reflected accordingly on this blog.
I have been fortunate enough to have seen a lot of countries in Europe and just one weekend in September I was able to check off another one. Ukraine. Probably a country I wouldn't have gone to on my own but I'm happy I did. A weekend in Lviv – thanks to family shenanigans.
First off Lviv is a lovely little town close to the Polish border with a stunning city center which is not without reason UNESCO world heritage.
Architecture.
My first view of Lviv was like a time travel. The Uber took us through some grey socialistic part of town (unfortunately no real images). I was in awe by its ugliness and somehow familiarity. It reminded me of my hometown in very early ages. And I felt like I wanna jump out and just go photo exploring. Unfortunately no time.
When coming closer to the city center everything changed and it became a mid evil town with old cute buildings.
Lviv has a stunning market place. Right in the middle is the city hall located. A certain Eastern Europe architecture style as I have learned. The old town contains architecture from Renaissance, Baroque, Classicism  and Jugendstil – the reason why it is under UNESCO world heritage.
Also lots of churches, chapels and cathedral. We came by some cloisters with wooden walkways.
We also went to The Lychakiv Cemetery that I quite liked. It was really crowded with graves and at the entrance area they where majestic.

Crafts.
On our first day we came by a cookie shop. But it wasn't any kind of cookie shop. The icing decorations were amazing. I've once read or saw a documentation about how the icing in some country was in inspired by handmade lace and embroidery.
While walking around during our guided sightseeing we ended up at a cloister. While it was nice it wasn't outstanding. Then we went to their little gift shop and they talked about one of the nuns doing a lot of pysanski I immediately was on alert. Because that is the name for the Sorbian Easter eggs I shared and did. And I knew in Eastern Europe the technique was a bit different. However I could not figure out how the did it. Well I do know now and I was able to purchase the tools. Also a book about the craft. So I am more than happy.
Shopping.
It broke my heart seeing the "babuschkas" sitting on the street selling their meager harvest to people. There was one old lady who sat on her crate all day with a plastic cup of berries and a bag of potatoes and when we walked home at midnight she still sat there – half asleep and sunken. I just felt all the emotions… I didn't take pictures as it felt too intimate. Unfortunately we couldn't buy anything since we couldn't use the products. But if you travel the country go buy from them.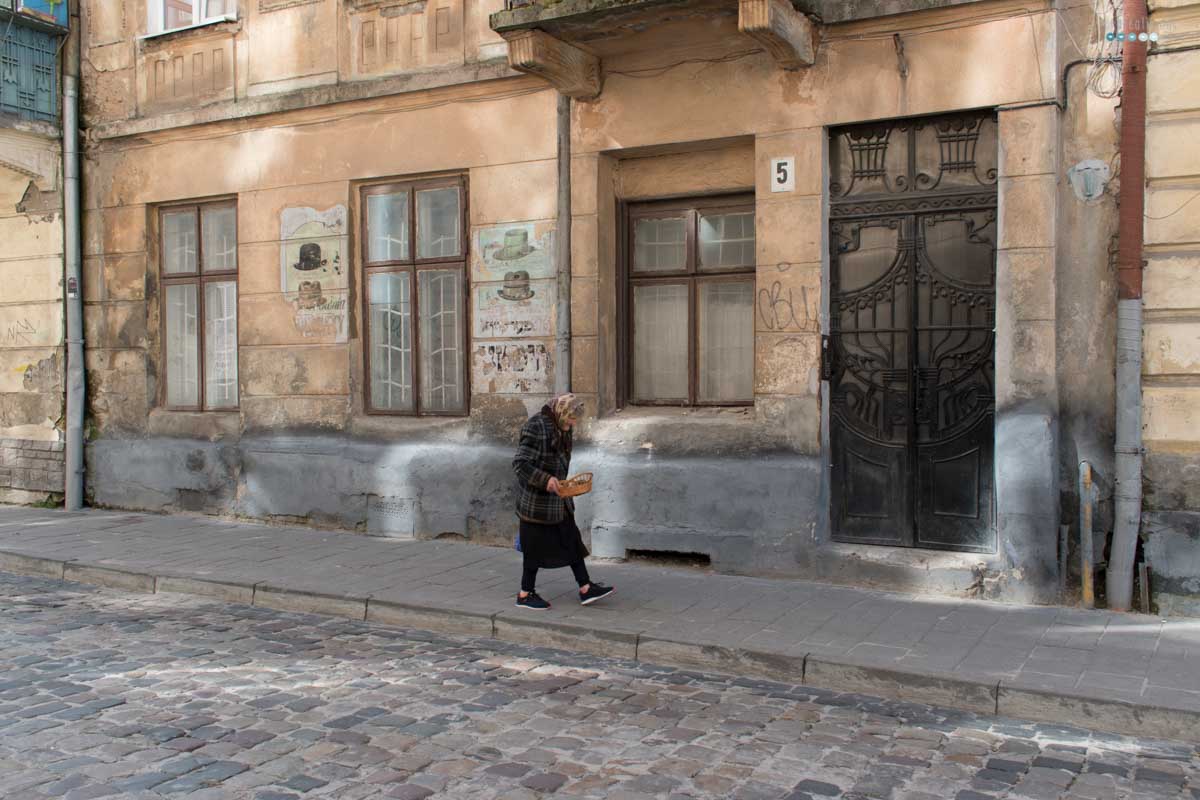 There are also regular market places where produce is sold. The people selling there have bigger harvests and also have to pay a few to secure their spot at the market. Most Ukrainians shop their fresh produce on those farmers markets.
Also, I haven't really seen a supermarket by western standards. There are more little corner shops where you get your things.
Food.
What I didn't know was that Lviv has a flourishing coffee culture. You could probably spend the entire weekend on a coffee tasting tour. We where at one shop where they served it like when it first came to Europe.
Also the region is known for pelmini. It's filled noodles basically but the fillings are very tasty. With mushrooms and pumpkin and meats. The best red beet soups ever was also discovered during this weekend in Lviv.
And my cousin found this cute Strudel shop (Rynok pl. 13, Lviv 79008, Ukraine). Everything strudel in there: sweet and savory and soso yummy.

Accommodation.
We stayed in the Ibis Style Hotel (no sponsoring ;-). It was only 10 min walking distance from the old town and a perfect spot for us. What I personally liked a lot is that you could grab free drinks (coffee, tea, water) in the lobby. Breakfast was pretty good to and offered a variety of western european food and local hearty choices. Bu be aware: everything is spiced with garlic – even fro breakfast!
As for the price range it can be compared to Western Europe standards. One could probably find cheaper ones.
One thing I fell in love with are those cute little yellow busses. I will spare my collection of picture and just share one.
I was really surprised by Lviv. It is a beautiful little town and perfect for a weekend trip. It is not too touristy. And i found mainly locals where visiting over the weekend. Of course you do have some international tourist but they seem more like the individual travelers. And I was surprised how cheap everything was if you exclude flights and accommodation.
Now let me know, would you travel to Lviv? What place had you totally surprised?
Happy traveling,
Tobia
MerkenMerken
MerkenMerken
MerkenMerkenMerkenMerken
MerkenMerken