Wenn das alte Jahr am Ausklingen ist und das neue Jahr sich anbahnt, versuch ich mir immer etwas Zeit zu nehmen. Nur für mich. Und meinen Kalender. Der wird nicht nämlich traditionell mit den Guten Vorsätzen eingeweiht.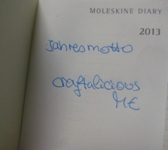 So auch in diesem Jahr. Nur diesmal lass ich euch daran teilhaben.
When the old year is fading away and the new one is on the horizon, I always try to take some time. Just for me. And my calendar. Traditionally I start my calender with a list of good intentions.
Same procedure as every year. But this time I'll let you have a peek.
1. Einen Blog starten! → Juchu das ist ja schon geschafft…
Lange habe ich mich mit dem Gedanken herumgetragen. Und dann ging es ganz flink. Kurz vor Weihnachten hab ich Mut gefasst.
1. To start a blog! → Check, this one is already done…
I've been having the thought for quite some time now. But suddenly everything was falling into place. Shortly before Christmas I just gave it a try and here we are.
2. Ich möchte mindestens 5 Bücher lesen.
Letztes Jahr habe ich das geschafft. Aber ich muss es mir immer wieder vornehmen sonst schaff ich das einfach nicht.
2. I want to read at least 5 books.
Last year I made it. But I always have to put it back on the list otherwise I'm not doing it.
3. Ich starte den Veggi Wednesday.
Früher war ich Vegetarier – ganze 8. Jahre lang. Irgendwann hatte ich wieder Appetit und nun ess ich viel zu viel Fleisch und merke es tut mir nicht gut.
3. I'm starting a Veggi Wednesday.
A few years back I was a vegetarian – for 8 years. Sometime I started to develop an appetite for meat and now I eat more than I need to. And I feel that it is not good for me.
4. Ich habe Jahresmotti ins Leben gerufen. 2013 ist es: "craftaliciousME"
2012 habe ich das Motto "Projekt Ordnung" nicht richtig umgesetzt. Es gibt noch einiges zu tun.
4. I have a yearly motto. 2013 it is "craftaliciousME".
2012 my motto was "project tidiness". That wasn't that successful. Lots of things on the list.
5. Einen Nähkurs machen.
Ich habe nie wirklich nähen gelernt. Naja, ich hatte ein Nähwochenende mit meiner Mutter, da habe ich die Grundlagen gelernt. Alles andere war eher "Learning by Doing" & "Try & Error". Einen Gutschein habe ich schon seit einiger Zeit in der Schublade liegen. Dieses Jahr löse ich ihn endlich ein.
5. To take a sewing class.
I've never really had any teaching in sewing. Well there was a Sewing weekend wit my mom, but thats about it. Everything else was more or less "learning by doing" and "try & error". I have a coupon laying around for some time now. This year I'm gonna use it.
6. Eine Winterhochzeit planen.
Ja genau im Winter 2014 wird es eine traumhaft tolle Hochzeit im Schnee geben. Ich muss nur noch herausbekommen wir das mit der Schneesicherheit funktioniert. Alles andere ist machbar.
Das sind meine Pläne. Wie sieht es bei euch aus?
6. Planing a winter wedding.
Yes, winter 2014 there will be an wonderful dreamy wedding in the snow. I just need to figure out how to ensure the snow. Everything else is manageable.
Those are my plans. How about you?