Saturday mornings are quiet around here. We sleep in and wake up when we feel like it. Mostly I am up way earlier than Mr. ♥ and its my time to write blog posts, take pictures or just think.
Last week was exhausting (I fell asleep at the couch twice) but yet filled with happy moments.
It started of with a nice get together at my parents house and my mom went crazy on baking cookies. Since I haven't come around to it this year it was great and we even got a little bag to take home. Dad also introduced me to whiskey.
Of course every morning I am excited to open my DIY advent calendar by my fellow blogging friends and it's just so amazing. All those ideas. Lets have a look what I found:

#6 some fabric tags by Undine | undiversell #7 was my number and I packed my Lettering Christmas Cards and was given this red crochet heart key chain. Unfortunately I don't know by who.
#8 3D paper tags with heart by Michaela | michaelavoit #9 a hazelnut necklace (I love it!) makes one feel like Cinderella and sugar for my tea and a DIY bookmark by Madeleine | dekorausch
#10 Christmas ornament made by Steffi | hauptsachemeer #11 tomato herb pesto kit by Miri
#12 a tiny wooden house ensemble with candle and star by Karin | fadenspielundfingerwerk. I am so in love with this one. It made it to my winter wonderland on the window sill and I will light it tonight when it gets dark.
I also had some nice lunches this week. And a lunch can make so happy, no?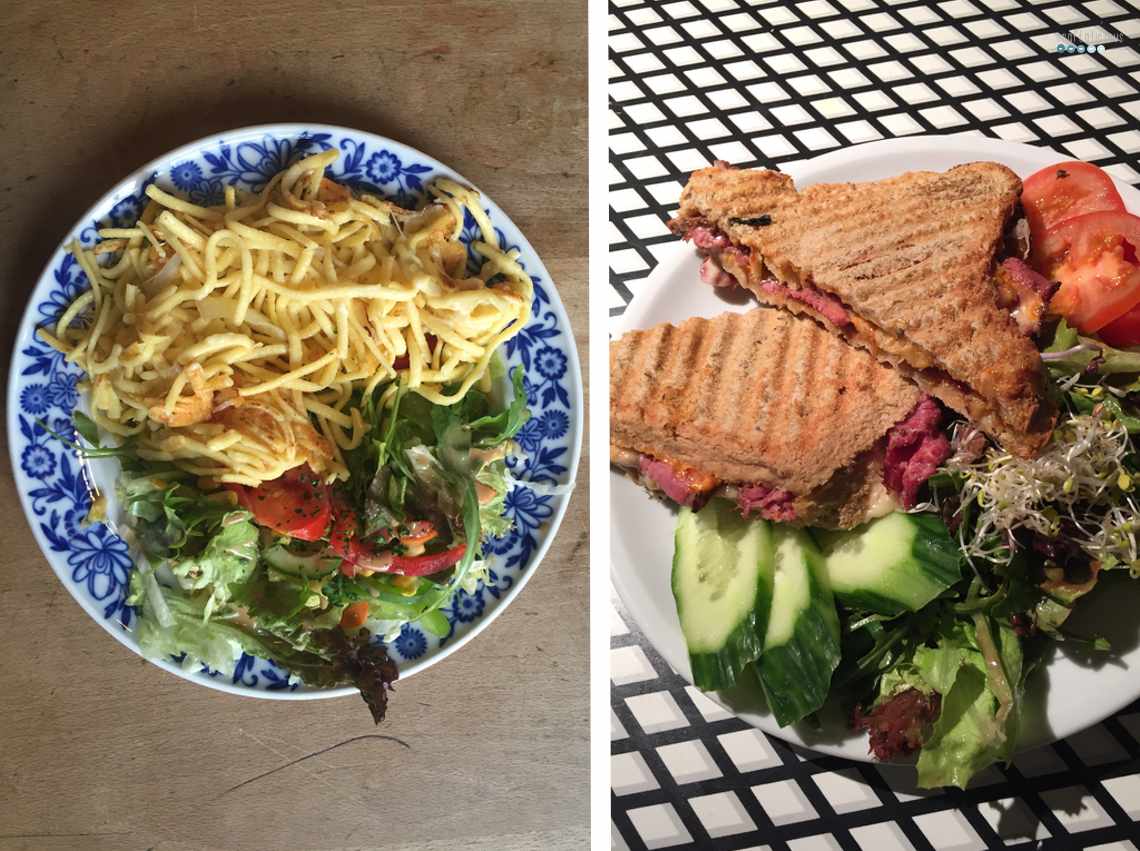 Traditional Käsespätzle and a Reuben Sandwich.
And then there was St. Nicholas last weekend. I was part of the #DIYnikolauswichteln Annett hosted on her blog. My secret santa was Verena blogging on hamburgvoninnen. Unfortunately the package only arrived on Wednesday. One happy moment for sure. Look at all the goodies!
Thank you Verena I really enjoy them all. The stars will make it to my Christmas Tree, the Gingerbread man however will not live to see Christmas Eve. The pompoms complete my little winter wonder land on my window sill and the notebook waits for its calling. And the rum cake… well I still need breakfast.
My week was spoiled with little gifts of people I don't know. And that is the real happiness right here. In a world where lot of terrible things happen, where often you wonder what will become of mankind those little gestures to people you do not know can make all the different. I believe in it but I often forget.
Wishing you a wonderful advent weekend and i will hop over and see what Denise has been up to.
Happy candle lighting,
Tobia
PS For some happiness yourself make sure to enter my giveaway I am hosting!