Happy Thanksgiving to my American readers and friends of this American Holiday.
Now comes another story of my year in the USA. If you are here to get the recipe you could skip ahead but I dare you not to.
Thanksgiving made me forget about my vegetarianism!
When I came to the US in '99 I was a vegetarian going on 9 years. I never really cared much for meat. Most the times I didn't like the taste. So it was no big deal to me to skip the meat. Honestly though it wasn't merely about the animals. Of course I felt sorry for the coneys my grandpa farmed and which ended up on the table every holiday. And when I started back then it was a big deal to me. But it was never the main reason.
So coming to Idaho did change me quite a bit. Soon after I arrived you could see me hunting, climbing hills up and tracking down quail or going fishing. I loved to be outside and enjoyed the countryside, lots of family vacations were based on hiking and so I felt happy. And it was all about the American way of life for too, right?
I was also impressed about the attitude of the Idahoians (is that even a word). They hunted because they ate the meat. Elk hunting was to have meat for winter! If you didn't shoot one – tough luck. They knew about wildlife, didn't shoot the young ones and observed a lot. During hunting season lot of people at school were missing but that was just the way it was. It was a healthy way and I didn't vehemently condone hunting and eating meat. It changed my attitude.
So it was all the American experience right? And Thanksgiving was around the corner. This was to be the time for me to eat meat again. And it was delicious this turkey! It was so delicious that I ate turkey at every house I came by. All this turkey eating resulted in me receiving a smoked turkey in the mail a year later back in Germany.
But you might wonder now what with the pumpkin gugl? Well pumpkin pie is just as important as the turkey. And I hated it! Yes I did hate pie!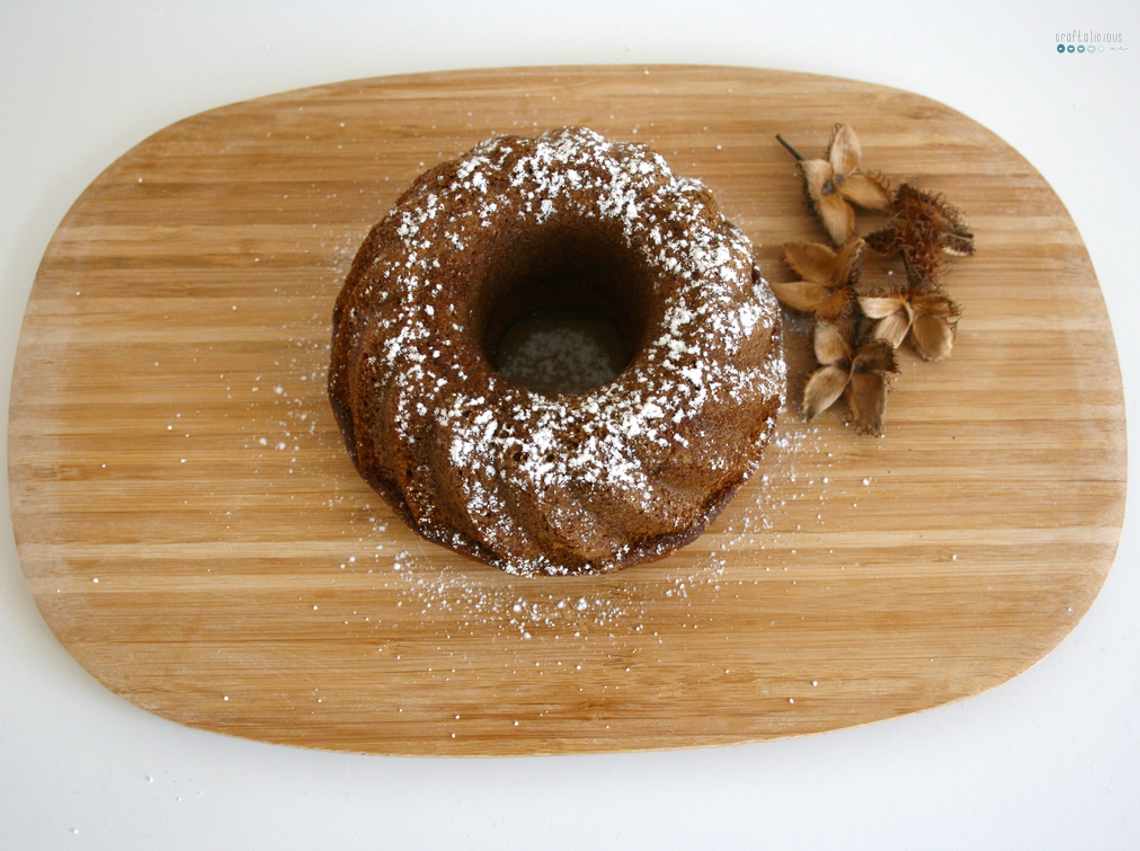 But a couple weeks I gave pumpkin pies second chance when being in Munster – but what can I say… Not my kinda pie. But I was intrigued with pumpkin and pie and veggies in sweet stuff.
So I looked at my go to carrot cake recipe and made something up on the go. And this will be my pumpkin pie for Thanksgiving!
But now let's bake! Get the following ingredients:
5 egg yolks
250 g sugar
250 g almond (grinded)
250 g mashed pumpkin
100 g flour
3 tsp baking powder
1-tsp cinnamon
1/2 tsp nutmeg
5 egg whites
1 pinch of salt
icing sugar
1. Combine egg yolks and sugar into a bowl and beat until foamy. Then combine almonds and pumpkin mash.
2. Add flour, nutmeg, cinnamon and baking powder and combine well before mixing into punmpkin-sugar-mixture.
3. Whip egg whites and salt until foamy. Fold into dough.
4. Grease pan with butter or oil and coat with flour. Fill dough into cake pan. Bake at 175-200°C for about 50 min. Don't forget to proof dough throughout with a wooden stick.
5. Let coal and remove from cake pan. Sprinkle with icing sugar and enjoy your Pumpkin Gugl.
How to do mashed pumpkin:
Cube pumpkin and boil in water until soft. Blend it well and let cool before using. You can add a pinch of nutmeg and cinnamon already.