Na habt ihr den Valentinstag schön verbracht?
Ich habe mich gestern selbst beschenkt und endlich mal eine Idee umgesetzt, die schon eine halbe Ewigkeit in meinem Kopf umherschwirrt.

Vielleicht seid ihr bei Pinterest auch schon einmal darüber gestolpert. Nachdem ich also festgestellt habe, dass Nagellack sozusagen multitasking-fähig ist, habe ich mir die selbstauferlegte Zwangsjacke abgenommen und kaufe fröhlich Nagelack in allen Varianten…
Meine Schlüssel sind mittlerweile alle schon bepinselt.

Da fielen mir also neulich ein paar Modeschmuck-Ohringe von vor ähhh 5(?) mhm nee 10 Jahren (?) in die Hände.

Hey did you have a great Valantines Day? I got a present for myself and finally realized a project which is haunting me for quite some time. You've probably came across those projects on Pinterest. Well all my keys are already painted so I needed a new canvas. I came across some old earrings.
Silber waren sie mal. Abgenutzt rockig im Vintage-Look hatte ich sie auch schon ausgeführt, aber wegwerfen? Neee irgendwie hängt mein ♥ an denen. Und wisst ihr was? Dank meiner Unmengen an Nagellack kann ich den Hängerchen nach Lust und Laune ein neues Kleid anziehen. Passend zur Kleidung, zur Handtasche, zum Schuh, zur Laune … ist DAS nicht großartig?

They used to be silver, I already wore them as rock-vintage-somehing but I just couldn't get rid of them. And since I have way too many shades of nail polish to wear on my 20 nails I figured why not give my loved earrings a new dress. I can now have them matching my clothes, my purse, my shoes, my mood… Isn't THAT just great? I decided to go with a neon nail polish I bought in NYC last summer.

Ich habe mich ganz im Trend des aktuellen Zeitgeist für NEON entschieden. Den Lack habe ich im vergangenen Sommer im NYC ergattert für sage und schreibe $1,99. Leider war ich mal wieder zu geizig auch die anderen Farben mitzunehmen…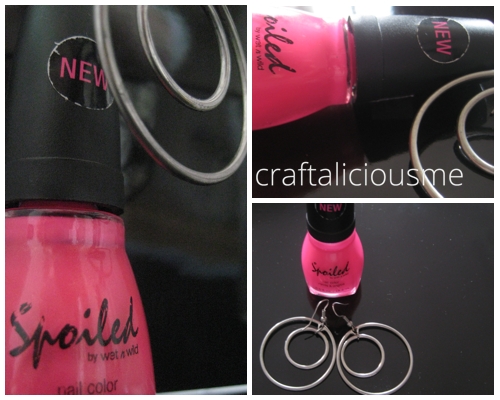 Ich habe die Ohrringe erst einmal mit Nagellackentferner gereinigt und trocknen lassen. Anschließend habe ich ein Schaschlikspieß über zwei Gläser gelegt, die Ohrringe angehängt und los gepinselt. Semioptimal. Der Lack lief logischerweise nach unten und so war der Farbauftrag etwas ungleichmäßig. Also nochmal den Nagellackentferner raus und ab damit.
Besser ist es mit etwas Alufolie auf dem Tisch, Ohrringe darauflegen, einpinseln, trocknen lassen, umdrehen, einpinseln, trocken lassen, eventuell zweite Schicht auftragen. Ganz nebenbei entsteht noch etwas Kunst.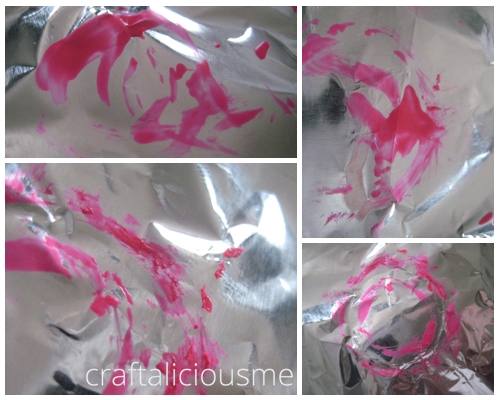 First I cleaned the earrings with nail polish remover. I tried painting them while hanging. Not really working as the paint is dripping down and you get a weird shade of color. Use some foil instead, lay down the earring, paint, let dry, flip earring, paint, let dry and apply a second layer if necessary. And now check out how they look when done.
Und so sieht das ganze dann fertig getrocknet aus.
Mhm ich glaube ich werde noch eine dritte Schicht auftragen um die letzten unhübschen Stellen zu beseitigen. Oder ich teste eine neue Farbe….
Nun los Mädels, es gibt was zu lackieren. Viel Spaß und lasst mich wissen was ihr tolles gemacht habt. Würde mich freuen!
I think I need to apply yet another layer for a more even look. Or maybe I just go with the next color… Anyway now go and paint yourself crazy. Would love to see your results.