Guten Morgen und ich wünsche euch einen fröhlichen und sonnigen Sonntag.
Es gibt so Tage an denen ich in Gedanken an meine Zeit in den USA denke. Und meistens träum ich dann vom Essen… Als ich damals vor fast 14 Jahren vor langer Zeit dort ankam, hatte ich jedoch Mühe mit der Frühstückskultur. So ein ordentliches Brötchen habe ich sehr vermisst. French Toast (oder wie ich später lernte in Deutschland Armer Ritter) oder Porridge oder Pancakes – irgendwie nach dem 3 mal laaaangweilig. Und überall kam da Ahornsirup drauf den ich nun mal gar nicht mochte. Ich habe das dann mit Apfelmus substituiert und musste mir irgendwann meine eigene Ration kaufen…
Tja und heute sind das genau die Sachen auf die ich dann ursplötzlich einen Hipper bekomm. Und wie ich nun festgestellt hab, ist das auch gar nicht mal so schwer. Ich zeig euch heute mal ein kleines Experiment was aus meiner Pfanne hüpfte.
Good morning everyone and a happy and sunny sunday. There are days where my thoughts wander to my days back in the U.S.. Back than almost 14 years ago a few years ago when I arrived I did have my difficulties with the american breakfast culture and was just craving my traditional german Brötchen (rolls). French Toast (word by word translation in German would be "poor knight") or porridge or pancakes – they were just boring to me after the third time. And I just didn't like maple sirup. I substitute the sirup with apple sauce and I ended up paying for myself as I just used too much.
Well and today those dishes are exactly what I am longing for. I figured out there are not so tough to make so here is my experiment fresh out of the pan.
♥ 1 Ei | 1 egg
♥ 2 EL Crème fraîche | 2 tbs crème fraîche
♥ 2 EL Vanillezucker | 2 tbs vanilla sugar
♥ ordentlich verrühren | wipp thorougly
♥ Zimt | cinnamon to taste
♥ gemahlene Walnüsse | ground walnuts
♥ alles ordentlich verrühren | wipp together all ingredients

Jetzt das Apfelkompott vorbereiten | prepare stewed apple compote
♥ Apfel in Scheiben scheiden | slice apples
♥ Zimt | add cinnamon
♥ Butter in der Pfanne erwärmen | heat butter in pan
♥ Apfel darin andünsten | braise apples lightly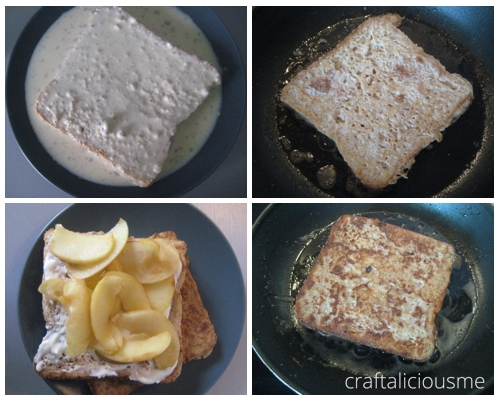 ♥ 2 Toast in der Masse wenden | dipp 2 toast in prepared liquid
♥ jeweils von einer Seiten goldbraun anbraten | bake until gold brown
♥ die angebratene Seite mit Crème fraîche und Äpfeln belegen | put crème fraîche and apples on baked side 
♥ Toast zusammen klappen so dass die ungebratenen Seiten außen sind und fertig braten |  put toast together so that unbaked sides are on the outside and finish baking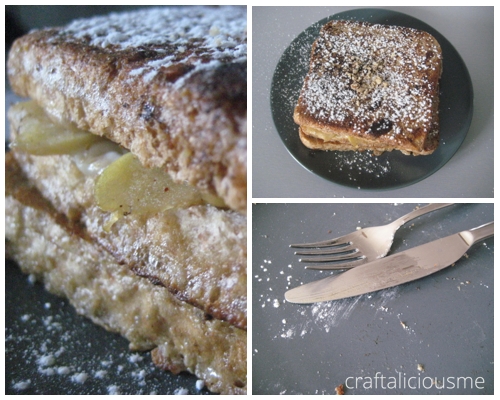 Lecker lecker sag ich euch. Kennt ihr das? Erst schmeckt es gar nicht und dann ist es solo lecker? Lasst mal hören!
Yummy yummy I tell you. Have you experienced this? First you don't like it and then it is just yummy? Let me hear your story!