Hey everyone,
I have sometimes actually always a hard time cooking for two.
I come from a family of five. So does Mr. ♥. One pack of spaghetti or a whole net of potatoes was quite common. Unfortunately that is how I'm still measuring to the day. I also tend to cook in big pots enhancing the problem of "it doesn't look enough".
So when the Landwirtschaftsverlag ask me if I would like a copy of their new book "Rezepte für Zwei" I couldn't yell yes fast enough.
I like that the book is structured in times of the day you can eat: mornings, lunch and evenings and then there are four chapters for specially occasions: desserts, dinner, snack and outdoors.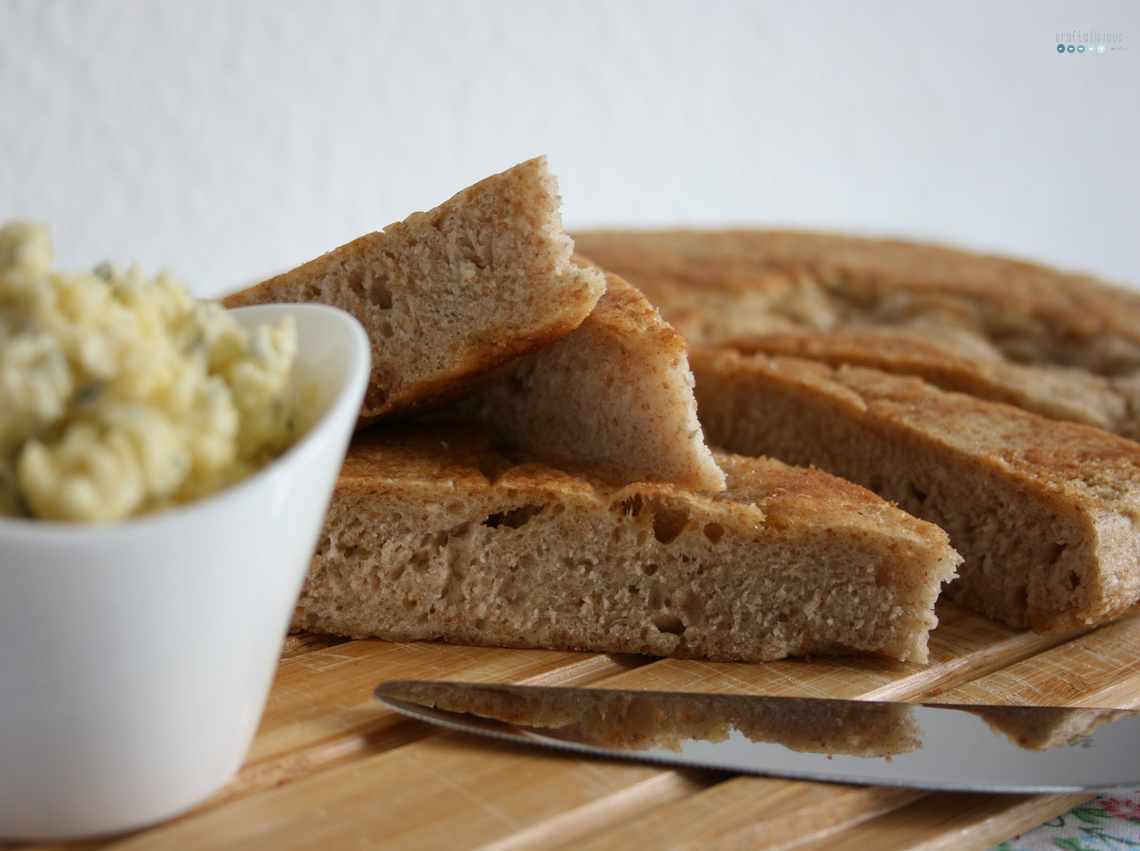 When going through the book I always had this romantic picture of a summer picnic in mind. That is maybe why the bread recipes have spoken to me the most. I tried something I've never done before:
Bread out of the pan – Pfannenbrot
you need:
20 g yeast (fresh)
1 tsp honey
220 ml lukewarm water
150 g flour
120 g spelt flour
1 tsp salt
shortening or oil for baking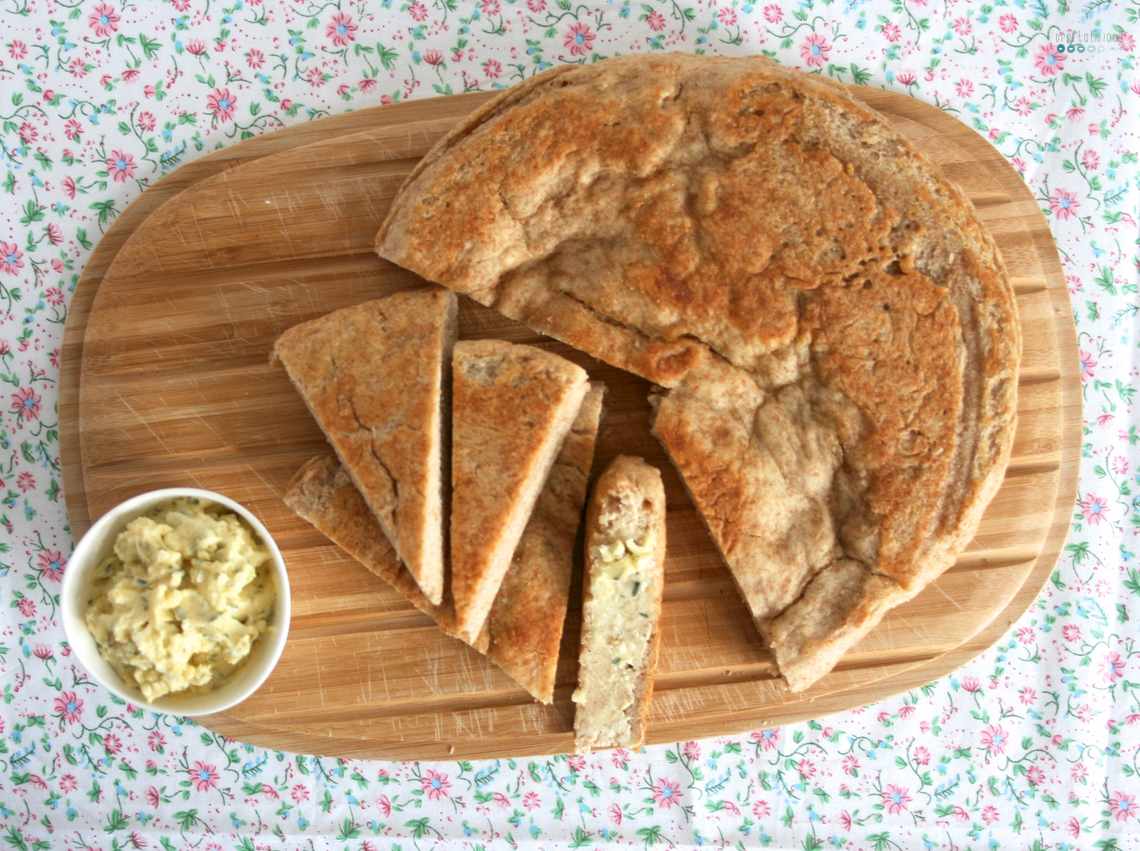 and that is how it's done:
Put yeast in a glass and add honey. Let sit for 2 minutes. Now add 110 ml of the lukewarm water and stir until dissolved.
Mix flour and salz in a bowl. Add yeast mixture and rest of the water. Mix well until you have a pasty consistency. If necessary add more water. Let rise for 30 minutes while covered.
Heat a pan, add shortening or butter and let melt. Turn down heat and add dough. Push gently down so it is flat. Let bake for 10-15 minutes on lowest heat while covering up with a lid. Then turn dough and bake another 10 minutes.
Let cool a bit before serving.
Lemon Butter
you need:
2 lemons (organic, unattended)
1-2 tsp brown sugar
1-2 twigs of tarragon
125 g butter (room temperature)
1 pinch of salt
how you do it:
Wash lemons and dry. Grate lemon skin of one lemon. Squeeze both lemons. Add lemon juice and lemon zest into pan. Add sugar. Let boil and then reduce heat to low temperature. Let simmer until 1/3 of mixture remains. Let cool.
Wash tarragon and hack finely. Whip butter and herb. Add lemon concentrate. Add salt to taste. Let sit 1 hour in refrigerator before serving.
I served mine with spinach salmon salad and it was really tasty.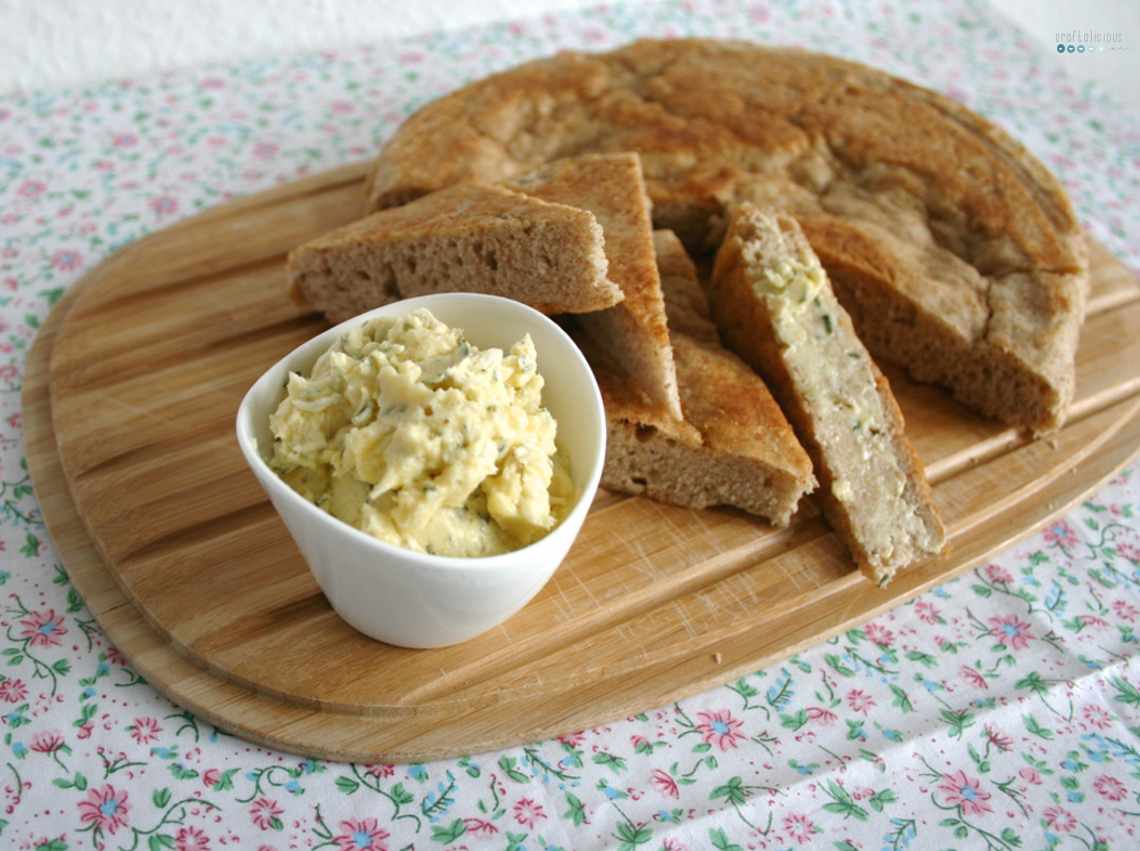 Rezepte für Zwei is a fun book with lots of recipes – traditional dishes with a new interpretation or classics from other countries. The only thing I wished for was nutrition infos.
I think it would make perfect Valentines Day gift. Isn't cooking together one of the most romantic things to do together?!
And I also think this book might be my go to present for every one moving together for the first time. Maybe even with a Pfannenbrot and some butter.
And because I just made myself a yummy flat bread sandwich and will really enjoy it, it's going to Wednesday Favorites over at Frollein Pfau's.
Happy Wednesday,
Tobia
PS: I received a copy of the book from Landwirtschaftsverlag to review. I choose the recipes myself and my opinion is my very own. Thank you for letting me have a copy.