Seit ich im regelmäßig im Netz unterwegs bin, füllt sich mein Nähliste mit Baby-Sachen. Die sind einfach so hübsch klein. Man kann sich am nähen üben ohne Mengen an Stoff zu versauen verbrauchen oder man kann aus alten Klamotten noch etwas hübsches zaubern. Bisher hab ich nur nie gewusst wohin danach…
Vor einiger Zeit nun gab es Familienzuwachs. Also nicht bei mir. Ich bin jetzt nur Tante… ABER ich bin ne Tante, die jetzt einen Grund hat kleine feine Dinge zu nähen. Also habe ich mich an mein Maschinchen gesetzt und mal einige Willkommens-Outfits gezaubert.
Ever since I read a lot of blogs I get hooked by all the cute little baby clothes which are sewn all over. I just never really knew what to do with the sewn pieces. Well a while ago there was a family addition. Not me. No I'm just a brand new aunt.

BUT I'm

an aunt who now has a reason to sew all those cute little things. So here is my welcome-on-earth-outfit.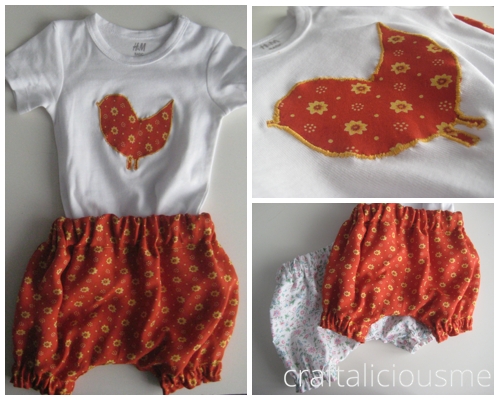 Der Stoff stammt von einem geliebten Wickelrock. Also die Mutter liebte diesen Rock – damals mit 16. Eigentlich hatte ich mir den Stoff ergattert, um daraus ein Tascheninnenfutter zu nähen. Die jetztige Verwendung finde ich aber noch viiiieeel passender. Mal schauen ob er erkannt wird. HIHIHI
Und weil die Mutter eigentlich ein Grün-Kind ist, gab es noch ein grüne Hose. Ich war ja grad eh dabei ;-)
Der Schnitt für die Hose (Bloomers) stammt von Kate und ihrem Blog see kate sew. Der Blog ist eine Sammelstelle für Tutorials (Kleidung, Babysachen, Accessoires…). Ich les den unheimlich gerne.
I used an old skirt which actually belonged to the mother. Highly loved back when she was 16. I originally wanted to use the fabric for a tote bag but I love this use even more. I wonder if the pattern will be recognized… Well and since I was already sewing I made one pant in green too. The bloomers pattern is from Kate and her wonderful blog see kate sew. It's full of tutorials (clothes, baby stuff, accessories…) I love visiting her.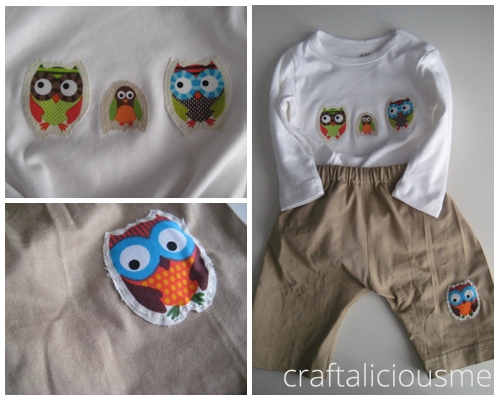 Das zweite Outfit ist etwas weniger bunt. Hier kam der aktuelle Eulentrend durch. Den Eulenstoff habe ich aus der Restekiste einer Freundin erstanden. Der beigefarbende Hostenstoff war in seinem früheren Leben ein Polohemd von Mr. ♥.
Den Schnitt für die Hose habe ich von Rae und ihrem Blog made by Rae. Auf dem Blog gibt es eine ganze Menge an Schnitten für Baby und Kinderkleidung.
Ich find das ist eine ordentliche Ausbeute für die kleine Madame. Habt ihr einen tollen Tip/Schnitt den ich unbedingt auch noch nähen sollte?! Immer her damit.
Es grüßt
Tobia
The second outfit is not as colorful. I got caught by the current owl trend. The fabric is from a friends scrap basket. The beige fabric used to be a polo shirt from my Mr. ♥. I found the

pattern at Rae's blog made by rae.
There are quite a few patterns for baby and kids. Do you have any patterns worth sewing. Let me know. Thanks Tobia