I am invited to a birthday party. I like birthday parties. Especially the ones were family comes together and sits around a table to have cake and (hello I'm German) coffee. It's one of those traditions. In my family we always had the table decorated with smarties. And we usually ate them all before the cake was served. It is such a cute look when you come to the table – like eatable confetti.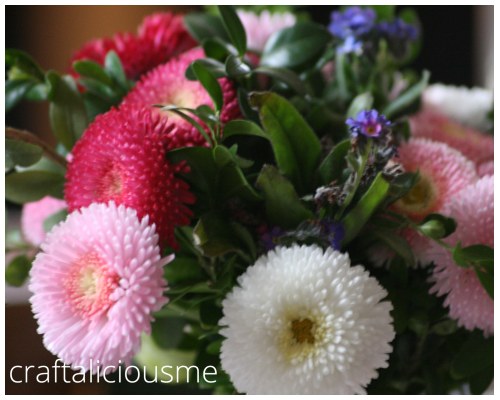 When being a guest it is almost mandatory to bring a little something. As much as I love birthdays and cake I really have a hard time finding the presents. I always want to give something meaningful, unique to the person, cute and not too expensive. But being invited to birthday party for a one year old almost gave me a headache. You can't just come along with candy (nowadays no sugar and all that) but giving toys is not really necessary either. Kids do have it all it seems.
So I came up with my idea of a birthday garland. Now give me some shoulder tapping and hand clapping. Isn't that such a great idea? I mean come on every birthday party from now on can be easily decorated! You can even hang it in the kids room (in case anyone forgot who's living there). And not to underestimate – you can just throw it in the washer. Take it out for a picnic in the park…. oh the possibilities.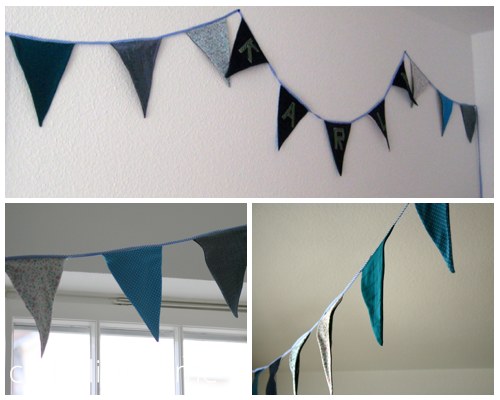 Here is my how too:
1. Gather your materials: I cut up an old jeans to have my triangles. For the other side I used scraps of fabric I had lying around.
2. I used gift wrapping ribbon to make the letters. This is a bit of a puzzle to get the letters all one size and I believe names with S, O and G are a pain. Luckily didn't need those. Once arrange on the fabric sew them tight. I used a zigzag stitch and white yarn to have them pop out a bit more.
3. Sew triangles together (right sides facing each other), turn inside out and press.
4. Now comes the part I hated the most. Add bias tape to the triangles leaving enough ribbon on both sides to tie it somewheres e.g. a tree (remember that picnic!). Be sure to catch the fabric on both sides. I didn't. It's really just a pain. Or I am no good seamstress. Or I am too impatient. Anyway I got it done.
Now I hope my present will bring lots of joy and can be found on many birthday photographs to come.
What is your present idea for a one year old? I would love to hear more ideas…
Have a wonderful sunny weekend, Tobia