Another one in the books!
If you followed along on Instagram in the last months you couldn't miss my crafty endeavor. I challenged myself to learn more about watercoloring and aquarell painting and so I joined the annual fun of #the100dayproject where artist meet and challenge themselves to try new things, dabble with new techniques and just play around.
You may also know that this was my third year in joining (read about #100daysofcraftaliciouspatterns here). And it was the easiest year yet.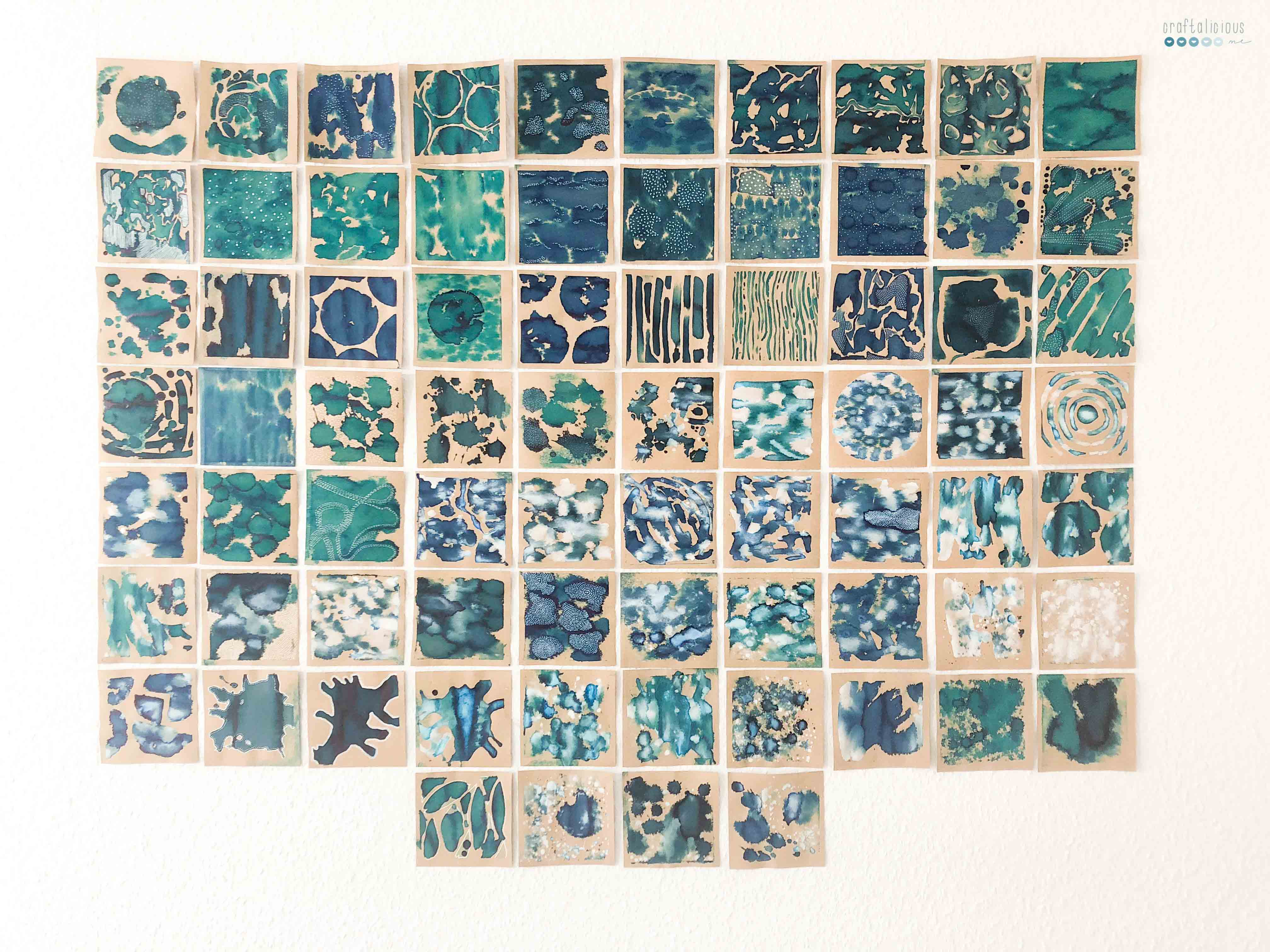 Let's see if I can come up with a little fun list of noteworthy things and stuff I learned along the way:
You don't need much to join and get started in this project. Overall I spent approximately 30€ in paint and pens. It could have been even less because in the end I mainly used 1-2 pens. As for the paper I recycled the inner core of where wrapping paper is rolled on to. Of course this took some time preparing and cutting up in my squares but I appreciate using materials that are otherwise a waste.
To be honest the kraft paper was a real challenge. It had some coating that was water resistant – not ideal for watercoloring. And so I was actually thinking about scrapping it on day 50 to experience with real aquarell paper. (I already got a pad.) I just couldn't manage to make the edges look all fringed and cool. I am glad I stuck with it though because it made me think outside the box and figure out new ways to achieve what I was trying to get.
I think I used about eight different techniques for all my images.
It is very calming to watch the paint move around on paper and find its way.
I usually only spent a maximum of 15 minutes on the project. A bit longer when I took a process video. (Check it out a compilation on my Instagram highlights).
Sometimes I felt guilty for not taking longer to do it. I asked myself if I didn't take it seriously.
I never really had the feeling I want to quite. I actually complained a week before it ended to Mr. 🖤 that the project will end and that I am so sad.
I always painted on the assigned date but was slow on posting to Instagram. However I have to admit there where two days where I completely forgot because I was so tired and one day where I deliberately decided to do two pieces the next day.
I like the blue ones with white pen the best. I actually think they look much more interesting if pen is added.
I already have two ideas for the next 100 day project. That only proves: Creativity breeds creativity!
When I started the project my goal was to end up with at least 50 pieces or art. In the end I got 74. Here are a few of my faves:

Now check out the whole collection #100daysofcraftaliciousdrops and let me know what your faves are. Also if you are interested you can check my highlights on Instagram for a few process videos.
One thought that I had during this project was: When are you being an artist? When is the time you become legit? Who defines what an artist is? Do you have to sell a piece? Do you have a gallery show your work? Do you have to call yourself an artist? I really don't know and would be interested in your opinion.
Happy weekend and stay crafty,
Tobia