I find it always quite hard to figure out the best birthday present for mom. It needs to be something great, meaningful and hopefully something she enjoys and loves. And as I mentioned previously in my Christmas wishlist we all are lucky enough to not need anything really. But of course gifting something is fun. So back in September my sisters and I were thinking what gift we could surprise our Mom with.
After some back and forth we all agreed that the thing mom would wish for is spending some time with us. We are all busy living our lives. When there are big family gathers there is not really much time to have in-depth talks. And so it was soon decided we would invite her to a dinner and cook for her.
Here is what our invitation looked like:
Preparations
A couple of weeks prior my sister and I hopped on a FaceTime call and discussed what menu we would like to cook. We discussed going with certain cuisines (Mexican or Dominican were evaluated), then we discussed certain favorite foods. Options were discussed if it is better to have it fancy or more down to earth and easy dinner. We ended up decided that the main course should be something we can prepare beforehand so we have enough time to talk and no one needs to be in the kitchen all the time.
My sister mentioned we should do something with pumpkin because it is a) in season and b) mom loves that. I said I recently read a wonderful recipe by my blog friend Bine about a casserole. Once we had that we discussed what goes well with it and if we can find a common theme. After an hour we were happy enough and agreed I would shop all ingredients beforehand and my sister is back-up in case I can't get anything.
Thursday I made a shopping list and went to get all the ingredients we needed. I almost got everything within that oe trip. Win. I wrote my sister the three items missing and the planning was done.
Only the cleaning of the apartment. Sigh. That is what happened on Friday and then on Saturday after breakfast.
The Dinner Day
My sister arrived around 4pm. We started out slow with a coffee and a chat in my new reading chair (separate post to come) to quickly catch up and get a plan in order. Before we start and I know you are curious about the menu here it is:
Starter
Swabian Pancake Soup
served with homemade walnut bread
*
Main Course
Pumpkin Gnocchi Casserole
with Citrus Spaghetti Salad
*
Dessert
Apricot Quark Trifle
My sister and I worked really well together in the kitchen and it was fun to cook with her. I enjoyed it really and apart from about 10-15 minutes prior to 7pm – the time we expected our mom to arrive – there was no stress. It was just an easy flow. We dint get to talk too much about ourselves and what is going on. For one we wanted to talk together with everyone and not repeat everything and for the other thing we had a job to do and were focused. Yet it was nice and I did enjoy it.
While we did the cooking in the kitchen Mr. ♡ started some more cleaning and setting up decorations. I didn't have time to look what he was doing ans so the surprise was really great. Didn't he do a fantastic job? I am really proud because I would have never done it so nicely.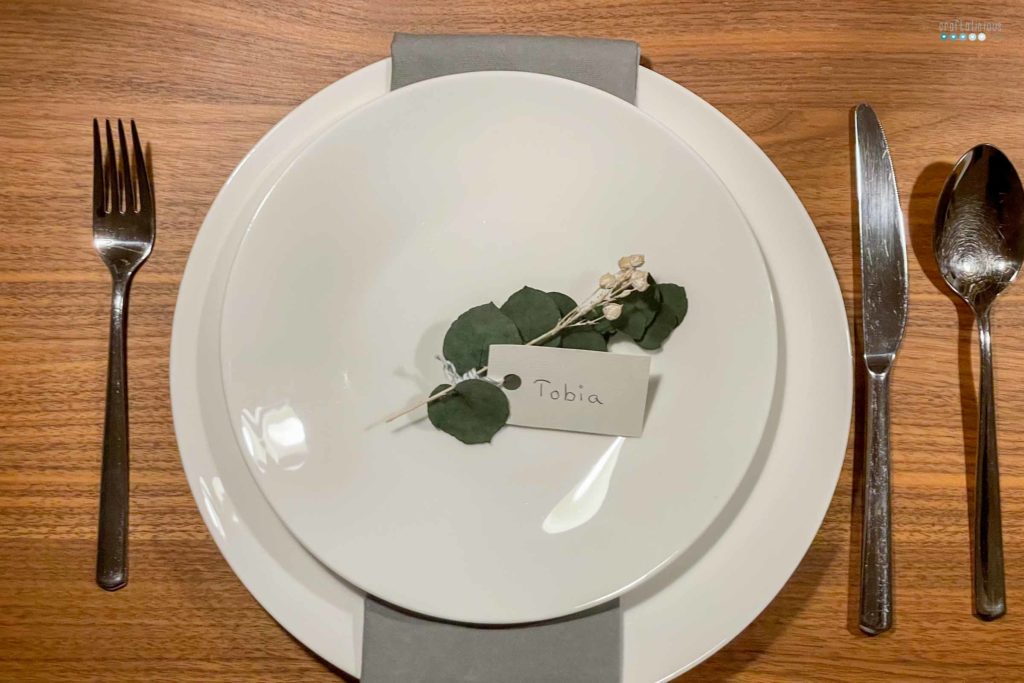 My mom arrived a few minutes after seven after some chat we served a grenadine gin cocktail (not the best and a cartoon of our own) but since we are all not so much into alcohol it was not very relevant. But it sure looked fancy.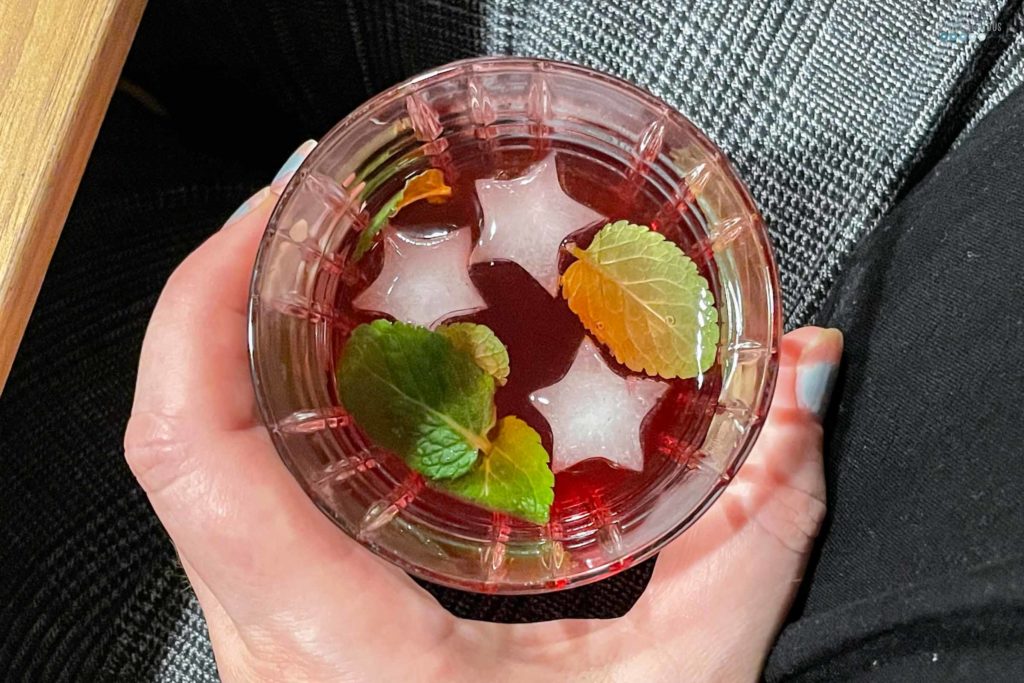 After some chatting I started to serve the soup. We decided to serve the carrot sticks, chives and pancake stripes for the soup on the plate and then come in with the big pot of broth and serve up at the table. Some more Flädle and chives were at the table for seconds.
When we finished the soup and I cleared the tables I put the casserole in the oven. It only took 15 minutes to bake – it was all pre-cooked earlier. Some more time to chat. We talked about how home office effects teams and how efficient it is. Mom and Mr. ♡ are both bosses in the company and my sister a new work and agile coach so it was actually really interesting seeing the different views. Apparently the struggles are all very similar no after were you look. And for leadership roles it is a lot of organizational effort while for the team members the personal focus is all they (can) see.
Then the gnocchi casserole was served. I think I have a new favorite dish. So yum. So creamy. And I am a bit happy that there were left overs I can eat. Oh and that salad was so good too. I think that also needs to be done again.
Now we needed some more time for talking. Lots about memories and your teenage years. We were so stuffed and needed some time, drank some more – I had to skip the wine. My migraines was setting in again. Of course. Then my sister served up desert. The dish we had to improvise the most because we didn't get the fresh apricots but she came up with a good alternative with dried fruit. it was really good.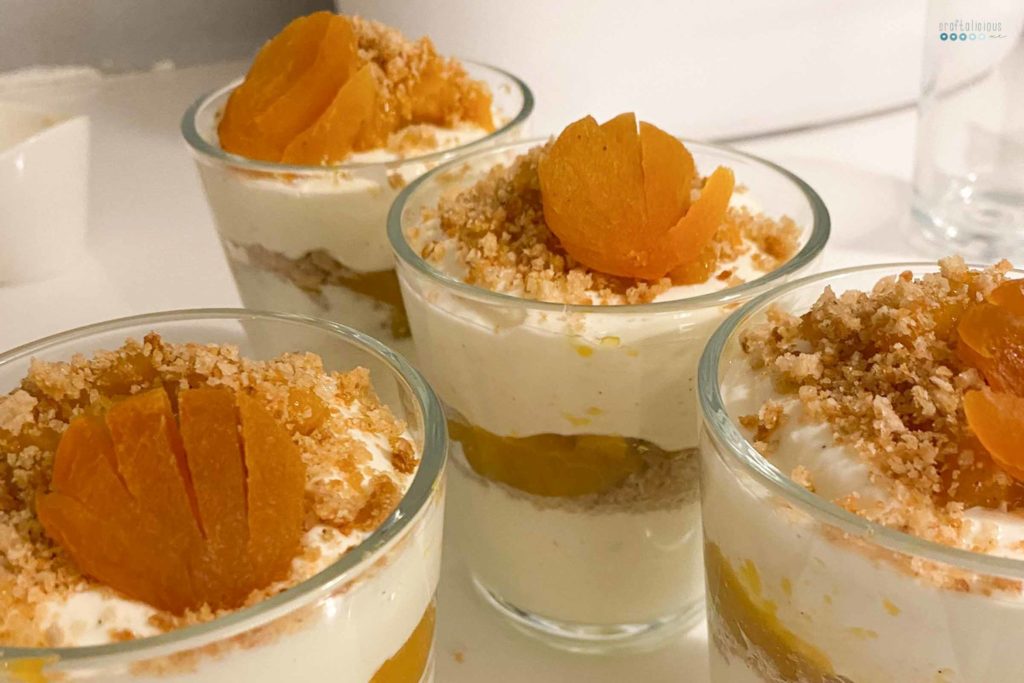 Close to midnight my mom said she would like to catch the bus a quarter to midnight. So we wrapped up, hugged and said our good byes. It was a wonderful Saturday evening. I was tired but cleaned up half an hour before heading to bed.
I think my mom enjoyed her birthday present. Have you done something similar for a loved one?
Thanks for reading along
Tobia
In case you are interested in the recipes
Swabian Pancake Soup – oriented on this recipe
Walnut Bread – recipe from this book
Gnocchi casserole – minus the meat and curry
Citrusy Ribboned Salad – we didn't add the goat cheese and forgot the pine seeds
Apricot Quark Trifle – improvised due to no fresh apricots
Since most of the recipes are in German let me know if you are interested in and I may post the translated version.