Do you think your life is the same old same old? Specially now with the pandemic and nothing new happening? I personally believe life happens exactly in those routine days. The days that feel normal. I am not saying I like it when everything is always the same. But I do say that those random days are probably the majority of the life I live and you probably too. So I really enjoy recording an every day life on a random day in 2021 and then look back in a couple of years realizing what has changed. Because change always happen. Todays post documents my life on November 15th 2021. Enjoy following along.
6.50 am – waking up because of back pains. A little earlier than I wanted. Trying to go back to sleep is failing and so I take my kindle and start reading "Pachinko" in the warmth of my bed.
7.30 am – ok, lets get this day started. Getting up, going to the kitchen. Starting the coffee machine. While it heats up I usually empty the dishwasher. This morning though I didn't need to as it was full last night. Just putting a few things away.
7.50 am – after a quick breath on the balcony I snuggle up on the couch with my coffee. I start scrolling Instagram and Co.
8.10 am – Enough scrolling time for my serious book I read in the morning. Currently a book about creativity and how to add it into the every day life. Its really good. Ill write more about it soon.
8.30 am – Mr. ♡ just got done in the bathroom so I head in and get ready for the day. I don't need long.
8.45 am – dressed and ready for the day. I have 15 more minutes before work starts so I practice my Spanish with the Duoling app.
9.00 am – Work day starts. Always with lighting a candle. I have enough time to check mails and the daily press clipping for one of my clients before we start with the daily meeting at 9.10 am. After that I am publishing the daily social media post and after that I am doing some content creation. Another call with a co-worker.
11.00 am – unusual stop off the work day. I have breakfast and while doing so looking in my grandma's old recipe books for her famous "Christstollen". I discover the recipe and am more than happy it still exists.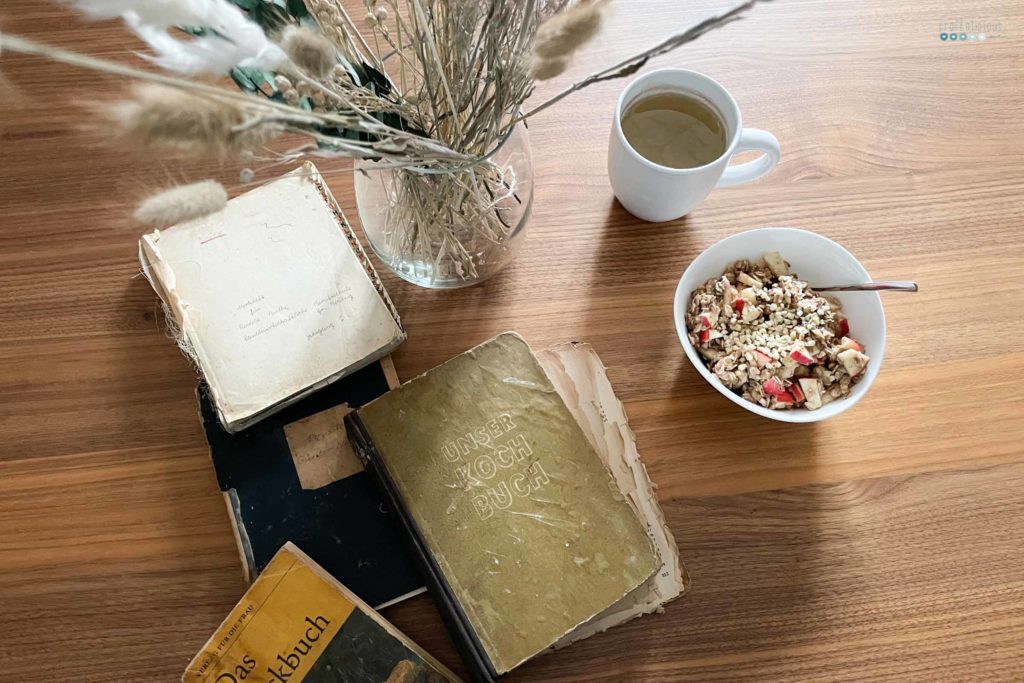 11.30 am – I decided to head out today to run some errands. The Covid number indicate, that we are going back to some sort of lock-down and so I figured I get some things early in the day when there are no crowds in the mall. I grab my bike and head for the Mall at Alexanderplatz. I need to get shoeboxes for my volunteer work, also a little something for my Secret Santa Mug Swap partner. I ended up browsing the bookstore for most of the time. Upps. But I did get 3 Christmas presents so all good.
1.30 pm – back home. I move the robot vacuum who worked while I was gone to the next room. Then its back to the desk. I continue my content creation work. Unfortunately the systems are very slow today. I need to create a tone of videos for a year review and rendering and uploading takes forever. Also the mail system is down.
4.00 pm – I decide I need a break and its kind of a waste of time sitting at the laptop watching the upload bar. Also I am hungry. I head to the kitchen and make some lunch/dinner. I need to eat all the things that are expired and close to so its a left-over improv meal. Spätzle with ground beef sauce.
4.20 pm – I sit down in front of the tv turn on a hallmark show and eat. When I am done I work on some crafts I hopefully can show before the month is over. I also start covering the gathered shoe boxes in nice papers.
6.00 pm – Back to the desk. On my way I to my "office" I throw in a load of laundry. I finish the 3 videos for my client. I then finish up a website for another client. The only thing left on my to-do list is a bit of community management but I will (maybe) do that later from the couch.
7.30 pm – I type up a bit of this blogpost before I forget what happened while sipping my favorite winter drink.
7.45 pm– the husband calls and lets me know he is on his way home. Rather early – throws me off a bit but I am happy we can spend the evening together.
7.50 pm – I decide to jump in the shower quickly. When I come out I fold a bit of laundry.
8.15 pm – the husband is home. I get back to the laptop and do a few blog things, book things, researches and stuff.
8.45 pm – I head to the living room where Mr. ♡ and I browse the apartment listings. Nothing fun.
10.15 pm – typing up the last part of this post
10.45 pm – Getting ready for bed. Mainly brushing teeth and getting my hot water bottle.
11.00 pm – tugged in bed. Writing my journal.
11.20 pm – lights out and good night after I read a few more pages. I usually fall asleep within seconds. Tonight I have trouble and can't find peace of mind. It's going to be a tough night
This was every day life on a random day in 2021. It actually looked a lot like a day pre-covid. The husband was at work. My eating schedule was like it used to be because it fit my biorhythm. I had a long lunch break to go outside. I liked it. I could have worked more. But then my goal is to work 6 hours a day and that is what I did today. And I got other things done.
I thought I had written about an average day in the last years too but apparently I only documented it in 2015, 2016 and 2017. I am glad I sat down and wrote everything down today. I could have taken a few more pictures though.
Now before you leave let me know one thing you find surprising in my daily schedule. And then go and write a post yourself.
Happy Wednesday
Tobia