I can not believe how time is flying by. Just a few days ago I started thinking about advent and christmas ideas and now looking at my calendar it is only 2 weekends away. Where did the time go? I had so many things planned I wanted to show you. But my life keeps interfering. How mean is that?
I really hope I find some time to at least come up with an unusual advent wreath this year. Otherwise you might think me crazy – gathering all the great ideas and than come up with , huh nothing? No not gonna happen. So here is for you an acorn wreath.
I was inspired by Dana.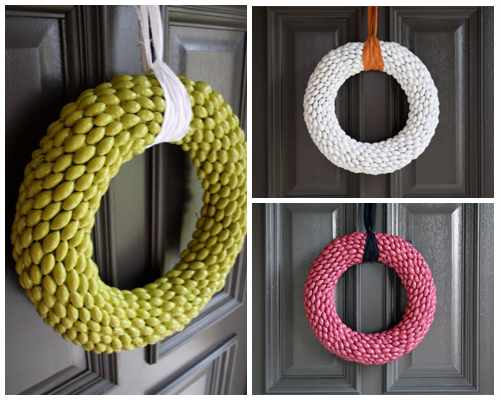 Make sure to read Dana's tutorial AND #2 is a must do.
I used to work at a place where I had to walk nearly 1 km through the forest every morning and night. First I thought I would hate it but it actually became one of my favorite times of the day. Around autumn I stubbled upon a trillion of acorns on the forest floor. I immediately had Dana's wreath in mind and made my own version.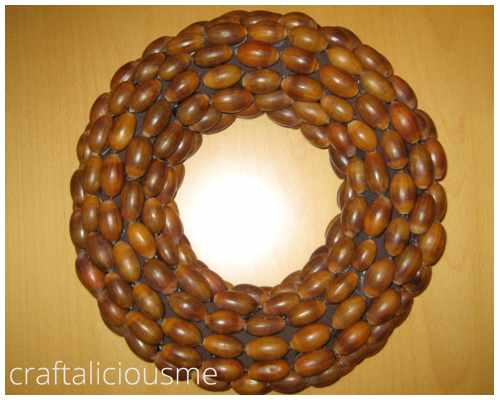 What I learned on the way:
I wrapped my wreath form in brown fabric using an old shirt from Mr. ♥
Try to use same size acorns for a more even look.
Stock up on glue sticks, you don't wanna run out in the middle of the project.
Really take instructions seriously (#2!!!) I didn't do it and the year later I wanted to reuse it and it smelled very very moldy. I deodorized it and put it on a radiator and it's ok now, but better do it right away!
The wreath is very heavy. I mean heavy heavy. Don't underestimate the weight of those acorns.
And here is what I decorated my wreath with. I was aiming for forest cosy velvety feel:
Unfortunately the candles where a bit big but otherwise I really liked my wreath. Others do too and I'm still a bit proud. So what do think? Still having acorns lying around? Let me know how yours turned out.
Bye for now, back with more inspirations,
Love Tobia
Need more inspiration check out my Pinterest board or read through the previous post:
Nature inspired wreath ideas (part 1)
Moss wreath ideas (part 2)
Candy wreath ideas (part 4)
Pom pom wreath ideas (part 5)
Walnut wreath 2013