Hello,
well today I show you my wreath of 2009 – my moss wreath!
Usually I start to collect my advent wreath ideas around October. The whole wreath mania started about 10 years ago. I was invited to an incentive where I learned how to a tie a fir wreath. Ever since I've made my own unique advent wreath. A few years I had a traditional wreath and just decorated it differently.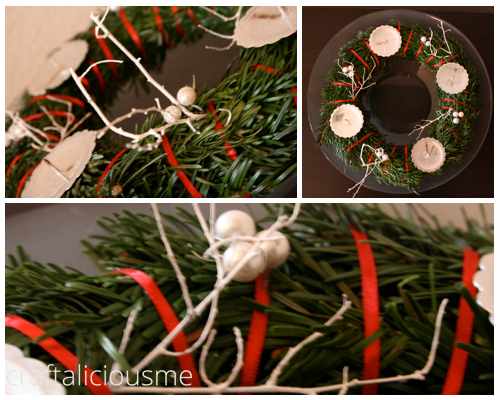 But than I wanted to be more creative and started experimenting with different supplies and ideas. So I came up with moss. I have seen some moss wreaths on the internet and at our florist.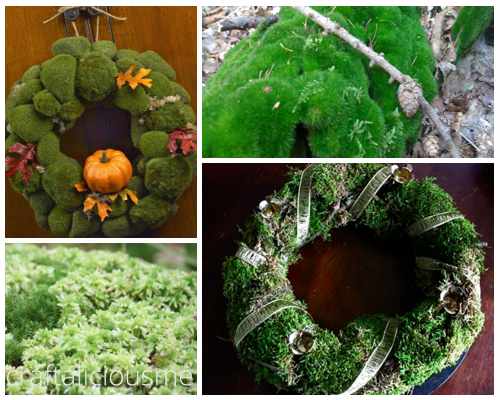 photo credit: wreath made of moss rocks by Sharon, moss wreath with ribbon made by Leah 

Then one night at my grandmas backyard, while walking over the lawn, I had this squishy feeling beneath my feet. I was walking on moss. And my idea was born.
I cut a huge tiny square right out of the lawn. I had two pieces which nearly covered the entire form I used. I didn't want to puzzle smaller pieces. I like the clean look. I put it on the radiator to dry. Make sure it is really dry. When I worked with mine it wasn't and it made gluing tough.
I don't have really good pictures because in 2009 I never would have thought to show my moss wreath on the internet yet alone on my very own blog. So sorry for the crappy look today. 
Anyway. I love it. It has been in my house, my parents and this year I'm giving it to my friend for the season. What are you doing with the wreath you make? Does it end up in the trash after the season? Or do you have a swapping party with friends?
Looking forward to you comments. Love Tobia
PS. This post is submitted to November's color me happy challenge over at waseigenes.
Check out the other posts:
Nature inspired wreath ideas (part 1)
Colorful acorn wreath ideas (part 3)
Candy wreath ideas (part 4)
Pom pom wreath ideas (part 5)
Walnut wreath 2013