It's this time of the year…
The crazy wreath making time of the year. I was going to show you a different one from what you see right now. The one I planned (for two years), made and then I realized I can't show you because my mom reads along… So I had to come up with another idea.
Looking around in my chaos that is my craft lab the idea of a cozy advent wreath hit me. Well maybe it was because I am all crazy about my french knitting lately. So why not combine the two and make a nice simple french knitted advent wreath, right?
Let's make this french knitted advent wreath:
1. You need: a wreath form, glue (gun), wool and a french knitting tool.
2. First you have to make your yearn thread (or as I call them sausage). I used a ball of 50 meter yarn for a xx cm wreath form.
3. Decide your layout. You could wrap it around the form or you could layer it starting in the middle. I decided on the latter.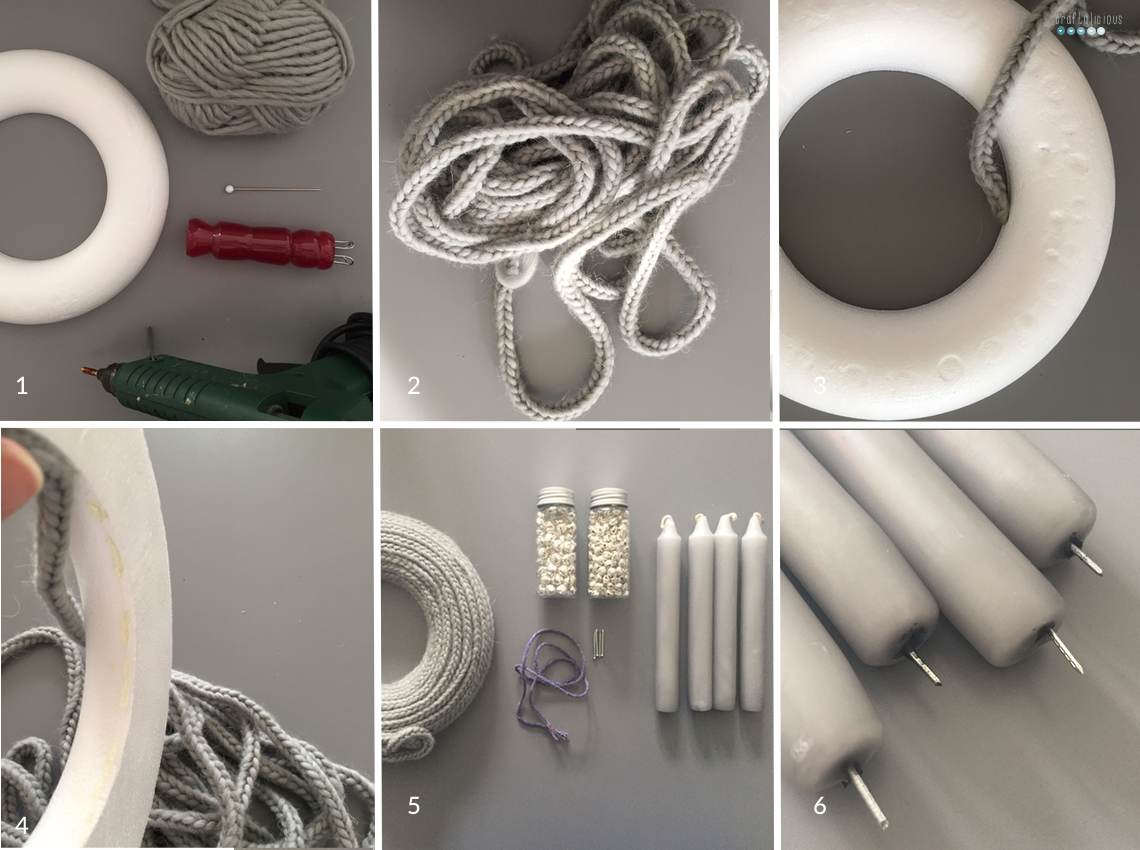 4. Next one is simple. Glue to the form. You can pull the thread a bit if you need. I did that towards the end because I thought it might not be enough. In the end I was left with a bit extra to make the little bow.
5. Time for decoration and candle attaching. You need four nails, candles and deco material to your liking.
6. I clipped of the nail heads with pliers. Then I heated the nail over a candle flame and drove them into the candle. I learned that the candle will not break as easily if you heat the nail. Due to the wick it is often tough to place it directly in the center. If you manage that would be preferable so that the candle will be straight on your wreath. Otherwise it could be a bit tilted.
Now comes the fun part of decorating your wreath. I already liked the clean look of the braided style of the thread so I just added a few sparkles by glueing little bells onto the wreath. (As you can see I didn't use the lavender ribbon I originally intended.)
And done.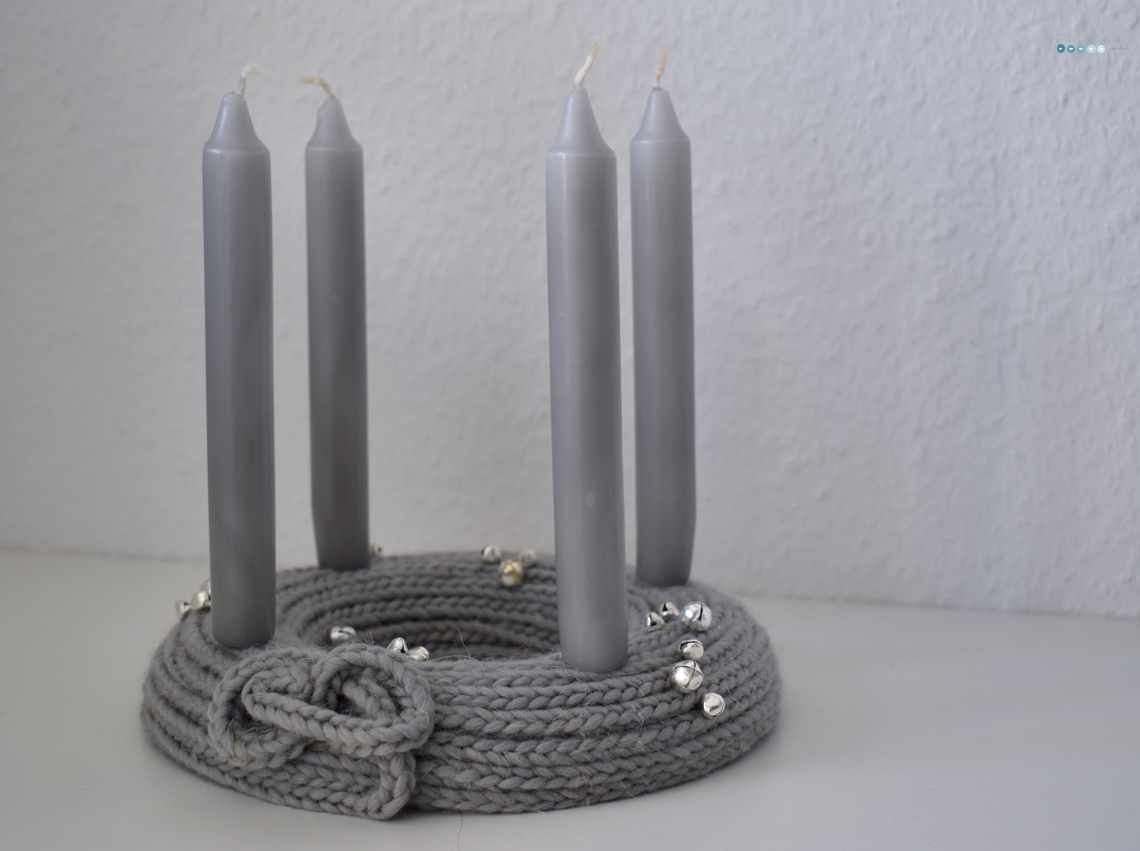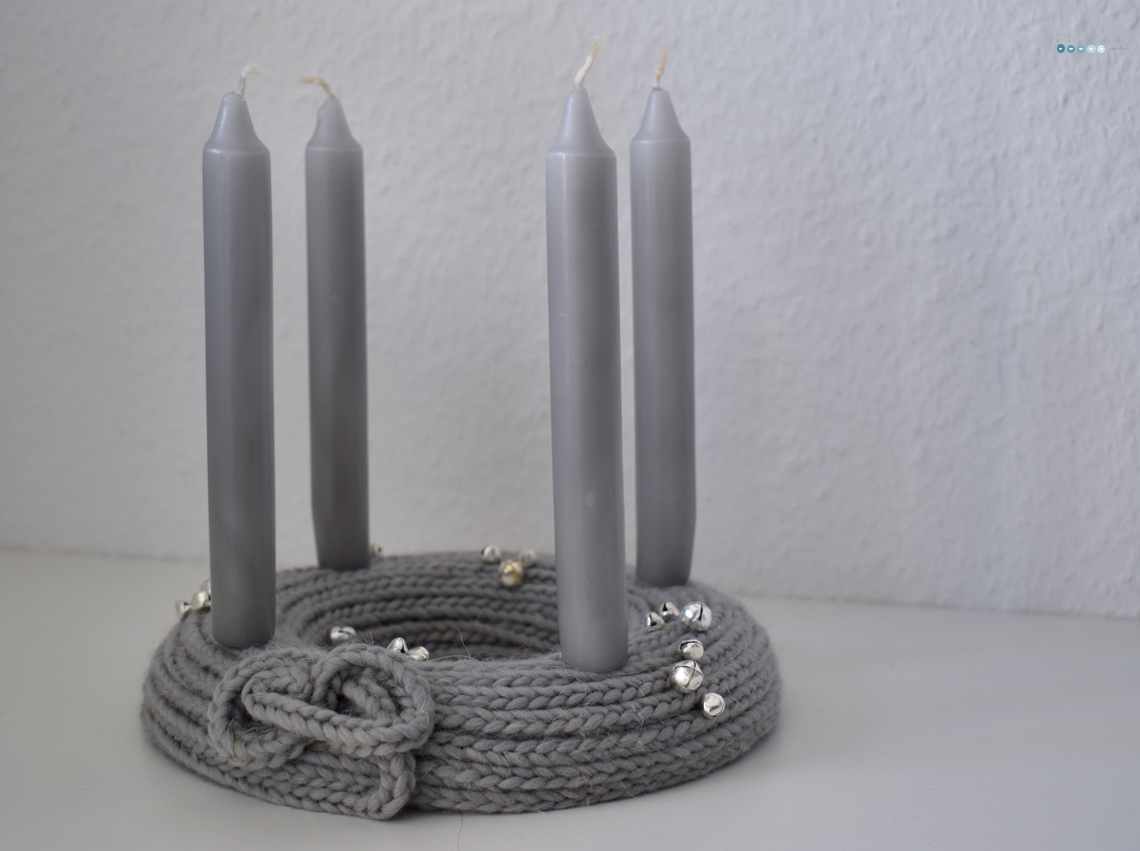 As this wreath is made of wool and tall candles it's really nothing I want to leave unattended in a room. So maybe I would add some metal candle holder in a future project.
Now I am curious. Have you made your advent wreath already? What does it look like? Please leave a link if it is on your blog/Instagram. I always love looking at other creations.
Lovely crafting y'all,
Tobia
Need more ideas for wreathes? Check out the 2015 Snow Wreath, 2014 Snowball Star Wreath or the 2013 Walnut Wreath. Still not enough? Here are some collections of inspirations with different themes 1, 2, 3, 4, 5.
Submitted to creadienstag, Handmade on Tuesday, Dienstagsdinge, Herzlich eingeladen, Herzblut, sonntagsglück and Kreativas.