How was your February? For me it seems like currently time just drags on. The monotonomy of the every day makes me so tired. I feel all my energy is drained constantly. And so it feels time is passing slowly. I could often fall asleep in an instant. Many times do. Everything is just so uneventful. But then we already check of February. So time does pass. Does it pass without anything happen or is that just a misconception though. I am not sure.
Before I dive into the things I got done how I intentionally lived by my word this year – lets start off with this quote:
It is never good to be alone. But if you really have to be alone, then be alone with a friend.

The whale at the end of the world – John Ironmongerthor
FEBRUARY Reflections
Reflecting on my set intentions.
I started this month with the following intentions:
gracefully converting my office space into a more cozy thing.

selling things on ebay
looking for a reading chair
throwing out one thing a day that I don't need or know where to put
I can proudly say that I have spend a lot of time thinking and planning working on making the home office aka craft lab a more inviting space. My eBay game is strong and if people would actually pay and pick up I would be further along. I sold my book shelve and within minutes it was picked up which put some pressure on the whole situation. I already ordered a new one and it will be delivered tomorrow. I already had a reading chair picked out unfortunately delivery time is 12-14 weeks and I am not sure it will be comfortable. I will have a look if I find an alternative with better delivery time but if not I'll go ahead and order. I wanted to get it done in February but I have waited so ling so I don't need to rush things now.
on writing a letter to an elderly who might be lonely. Also sending birthday wishes to family and friends
I wrote five birthday cards and sent off little gifts to some people and hope I cheered them up.
continue my hula hoop practice.
My hula hoop practice was not as successful – in numbers of practices as well as performance. But I will keep practicing. I really want to be able to do it. Its been a minute since I had that feeling.
continue to breath daily before having coffee.
This is becoming a habit. A good one for a change.
giving myself grace by not limiting my coffee intake.
I fully committed to this one. I had lots of coffee in February 6 cups a day. Maybe more. And I enjoyed every single one. I actually realized I was more mindful of drinking coffee. Not every time but more often.
I also started and continued the 100 day project. You can follow in Instagram #100daysofcraftaliciouslinearart.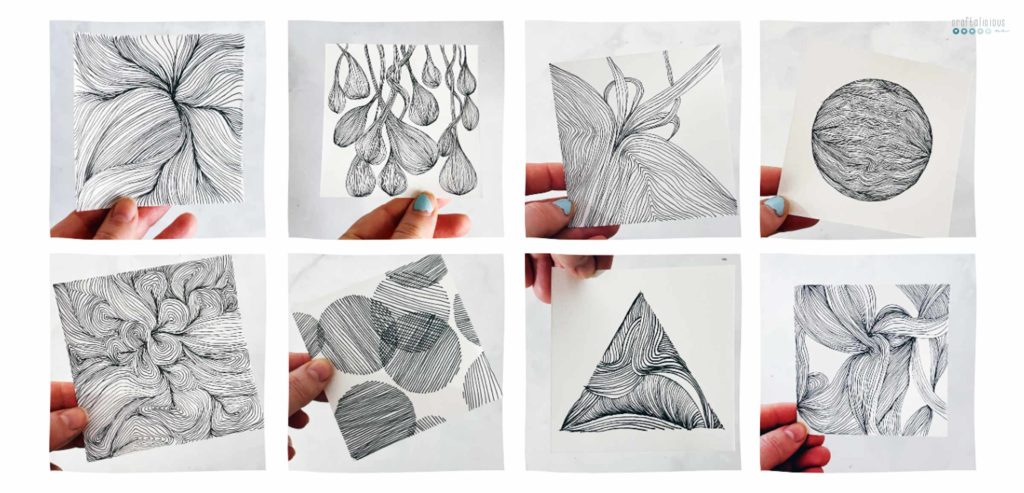 How did I incorporate my word of the year GRACE?
Incorporating my word felt a bit tougher this month. A lot of my activities very focused on the secondary word moxie. But this is what I came up with:
Continued my new habit of deeply breathing fresh air on the balcony in the morning.
I didn't limit my coffee intake and decided to enjoy it.
Also decided to not do anything for lent this year as it felt like another restriction wasn't good for my mental health.
I journaled daily and tried to find things that made me happy, thankful, proud or remembering what new things I discovered.
Read about my turtles hedging and making it to the sea
MARCH Intentions
And just like that we are heading into March. Here is a list of thing I want to tackle and hopefully achive:
I will focus on letting people speak before I jump in with an response
I want to get back to a more regular hula hoop practice – even if it is only 5 minutes
I will look into ways to spread some kindness
I will go through my closet and get rid of 5 items I do not love
I want to start learning Spanish again
Ok, I think I will stick with those things. It looks like a small list but I know I have to put some effort in it to make all the things happen. And I am actually already feeling a bit overwhelmed so I better stopp.