Nach langer Abstinenz bin ich heute mal wieder bei Steffis Frage Foto Freitag dabei.
Was hast du vor? Ganz spontan rief mich das Schwesterherz an: Hast du Lust auf Eis essen? Na klar. Zwei Stunden später saßen wir in einem kleinen netten Café.
Fazit: Sollte man viel häufiger machen! Und dabei kann man ja auch ein Haufen neuer Cafés kennenlernen…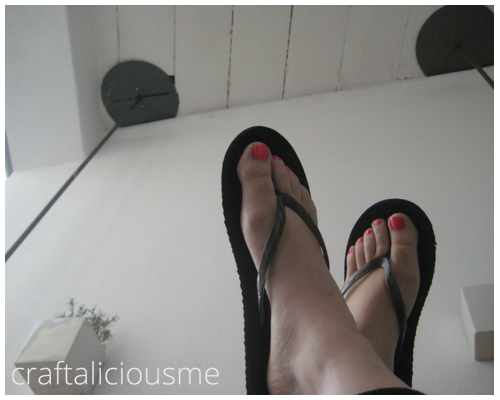 Was hast du an? Ein paar Tage Sommer und endlich wieder FlipFlops. I ♥!
Was findest du "wow"? Mittwoch urplötzlich Heißhunger auf Brownies gehabt. Da fiel mir ein Pin von Pinterest ein. Und seither gab es schon drei mal Tassen-Brownie aus der Mikrowelle. Am optimalen Rezept bastle ich noch. Heute zum Frühstück mit Haferflocken, Mandeln und Pfirsichen… Also fast gesund! (Es schmeckt auch definitiv leckerer als es aussieht.) Was hättest du gern? Mehr (technisches) Wissen rund um WordPress und den Online-Kram. Seitdem ich bei The HIVE war ist meine To-Do-Liste seeehr lang geworden (Google Analytics, SEO, neues Theme, etc.) . So viele Pläne. Der Wichtigste aber wohl das Thema Backup. Danke Dani. Hat jemand hier eine Empfehlung? Wie macht ihr das? Oder sichert ihr gar keinen Backup von eurem Blog?
Was muss heute sein? Sushi mit der Freundin! Einmal im Monat treffen wir uns. Und das seit nunmehr 6 Jahren (?) Mein Tipp: Immer direkt den neuen Termin ausmachen. Verschieben geht in fast keinen Fällen.
So ich mach mich jetzt auf dem Weg an den Stadtrand und freu mich auf viel Zeit zum Schnattern.
Habt einen guten Start ins Wochenende, Tobia
0
Click and leave a ❤︎ if there is no time to comment.