Ohhh I am so excited and I start with a confession: I am loving the advent and christmas season. There is nothing better than this time of year. It is getting dark early, the light is mystical, candles will be lit, church bells seem to toll louder. I have a hot cocoa or tea by my side, a good book or movie and a blanket to keep me comfy. I just love it. And just when I start to enjoy its all over again. So no wonder when I have to put away my decorations I am already looking forward to the next season. Crazy huh?
And that is way I start a little mini series. It's all about advent wreath ideas and inspiration. And I hope when the 1. Advent is coming around you are all inspired and ready to start the season. Until then I will get in touch with Mr. Linky and we can all add our creations. Are you up for it?
Let's start out with the nature inspired advent wreath ideas.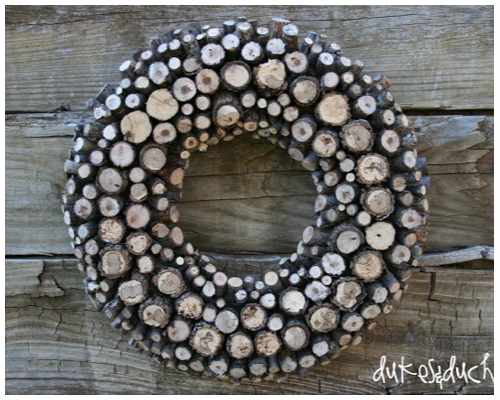 photo credit: Randi from dukesandduchesses made this wonderful log wreath

Doesn't this one just wanna make you start a fire and make some s'mores?  Well for me it does. I might need to go and get some twigs on my next walk through the park. And while I'm at it I should gather some pinecones too.
photo credit: Janet over at Today's Fabulous Finds has raided her Grandma's backyard to make this pinecone wreath.

Those two were not yet so christmasy (it's not a word, is it?!). You can make those wreaths as fall decoration and then just add a touch of glamour and sparkling and voila christmas. For the busy people among us… Now two with a more seasonal touch.
 photo credit: Xenia has made a regular pinecone wreath her own by adding sparkles & color

I like the elegant look of white and red. Reminds me of Snow White. The next one really speaks to me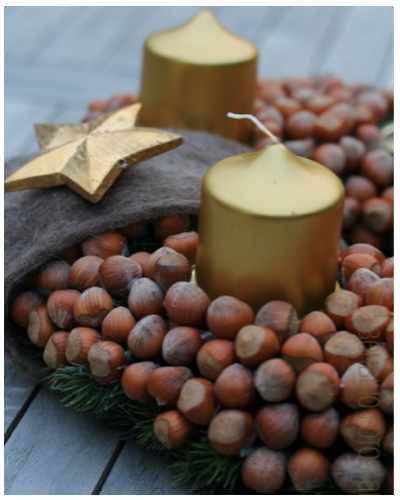 photo credit: Ute is blogging on Benbino and shares a lot of ideas

My grandparents have two huge walnut trees in their backyard. Honestly you just can't eat so many walnuts. Ever. So this might be an idea to use the older ones which don't taste that great anymore. Good thing I am planning a visit.

Need more ideas? Check out my Pinterest board Wreaths all year round.

Looking forward to my next wreath post. It's gonna be very green. Excited? Sure I am!

Love Tobia

Check out the following posts:
Moss wreath ideas (part 2)
Colorful acorn wreath ideas (part 3)
Candy wreath ideas (part 4)
Pom pom wreath ideas (part 5)
Walnut wreath 2013