Who would have thought last year that we are still in lockdown mode and that another Easter will be celebrated in the smallest circle possible – Mr. ♡ and I. Well it is what it is. So I will continue with my own little traditions. For many many years I have been making a braided easter bread for breakfast on Easter Sunday. Hot steaming fresh from the oven. It is one of the things I am looking forward to all year. Of course this braided yeast bread could be done any time but for me it is an Easter Bread.
This recipe is actually from one of the first baking books I received. And while many others are good this one actually has quite a few pretty good recipes in there and many I have adapted over the year and that have become staples in my family. The Easter Bread is only one.
Can you remember the first own cook or baking book?
Here is what you need to make the Braided Easter Bread
500 g flour
1 package of dry yeast (alternatively 1/2 cube fresh yeast)
70 g sugar
250 ml milk
75 g butter, melted
4 egg yolks
1 tsp lemon zest, ground
1/2 tsp salt
3 tbs cream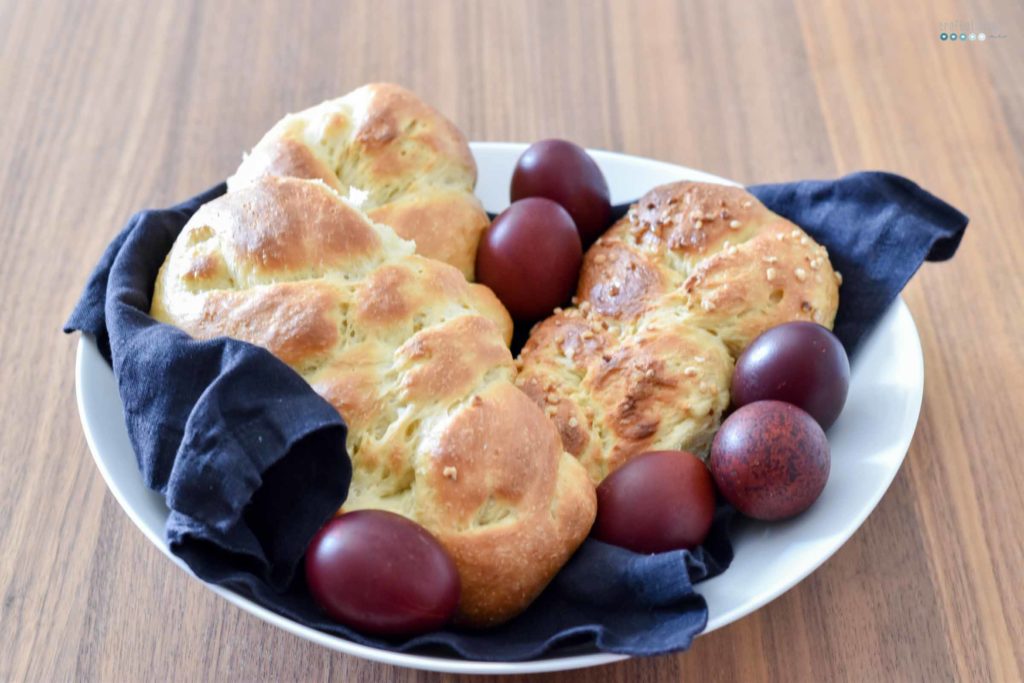 How to make it
I usually start putting together the yeast dough the night before. This will give the dough enough time to rise and makes it extra fluffy. So I highly recommend doing it too for the perfect soft bread.
If you are using fresh yeast: crumble yeast, add 1 tsp sugar into lukewarm milk. Cover bowl and let sit at warm room temperature for 10-15 minutes.
If you use dry yeast: skip this part and add yeast to flour.
Combine flour, melted butter, 3 egg yolks, lemon zest and salt. Add in prepared yeast milk (or just milk and yeast) as well as remaining sugar. Knead until your dough is smooth.
Now let it sit for at least 30 minutes. If there is time you can have it rise even longer.
Dust your counter with a bit of flower, knead dough a few times. Divide dough in three parts and make 35-40 cm long strings. Braid your Easter Bread. I often do little easter braids for everyone on the table. Then just divide according to your guest and make three strings from each piece.
Place braids on a backing sheet covered with baking paper. Make sure there is lots of space between braids if you decided to make smaller ones instead of a big one. Cover baking sheet with a dish towel and place sheet in cold oven. Go to bed.
Next morning: check oven and rejoice how much the braids have risen.
Take sheet out of oven. Pre-heat oven to 200° C.
Combine egg yolk and cream. Coat braids with mixture.
Bake for 25-30 minutes. While doing so prepare breakfast.
Enjoy!
I hope you like this Braided Easter Bread as much as I do. It tastes best when fresh from the oven. But even cold it is yummy.
Do you have some traditional baking going on for Easter? I've heard from many people about carrot cake. I have never done that for easter it is more a fall recipe for me. By the way, my go to recipe also from the same baking book. Apparently the book is no longer available. But if you like carrot baking for Easter you might enjoy the Finnish carrot rolls.
Happy baking
Tobia